Having either been tied or owning the lead in the third period in each of their last 5 games the Buffalo Sabres have zero regulation wins to show for their efforts.  Finishing strong and closing out contests have been an impossible task for this Sabres squad.  It hasn't mattered who has been at the helm either, both under the stewardship of Lindy Ruff, and now Ron Rolston, Buffalo finds ways to snatch defeat from the jaws of victory. Many organizations point to losses of this ilk as a growing process, getting young kids acclimated to doing what it takes to win in the National Hockey League.  Youth and inexperience may play a small role in their struggles, but this Sabres team boasts its share of veterans who have been there and done this before.  The bigger problem is Buffalo's lack of leadership. When games hang in the balance there needs to be a player who can will their team to a higher level of play and seize the moment.  When someone on the team habitually commits positioning errors or is noticeably not exerting maximum effort there needs to be a player who will get in their face and let it be known that kind of play is not to be tolerated.  Who on the Sabres could be that player? Vanek & Pominville have the talent, but not the personality to lead this team. (Getty Images) Jason Pominville is the team's captain but he doesn't fit the mold of the great captains this league has seen.  Pominville is a true professional, he plays well at both ends of the ice, and he's straightforward and accountable with the media, but he doesn't inspire the kind of performance out of his teammates that this Buffalo team needs. Of course there is more than one way to skin a cat, many will point to Nicklas Lidstrom's tenure in Detroit as evidence that the lack of a fiery captain had any effect on Lidstrom's significance and the success of the Red Wings.  Nicklas led by example on the ice, but Detroit sported a team that played such an efficient system and essentially ran itself without the need for someone policing the locker room.  Clearly that is not the case with this Sabres team. The bigger question then becomes, if Jason Pominville isn't the leader this team needs to find their way out of the abyss, can anyone else on this roster fill that void?  If you had asked that question last week I would have immediately said "no".  None of the other core players, Thomas Vanek, Drew Stafford, Tyler Myers, or Andrej Sekera fit the personality type coupled the skill set to be that guy.  However I've seen one player seemingly growing into that role these past few games, Cody Hodgson. In their loss to Carolina, down two goals, short handed, and with less than two minutes to play in regulation Hodgson scored one of the prettiest highlight reel goals of the season to cut the deficit to one.  It wasn't the goal that impressed me most, it was his demeanor.  Immediately after scoring the goal he skated back to center ice, with a determined look in his eye, pointing out where he wanted his defensemen to stand, and took the faceoff.  He had this aura about him that if Carolina wanted to hang onto this game, despite the impossible odds, they would have to stop him to do it.  It was the first time this season that someone on this team appeared to be taking charge on the ice. Hodgson's development as a leader has been one of the few bright spots this season. (Getty Images) Since the calendar flipped to March, Cody has 4 points, and is a +4, in 4 contests.  He was an even rating or better in each of those games.  With the strength down the middle of the opponents the Sabres have faced in that span, it is showing a lot of maturity and growth out of Hodgson that he has fared so well in his own end after struggling defensively much of the early part of the year. When Buffalo acquired Cody Hodgson last season from Vancouver he was brought into the fold with the hopes that he could develop into a bonafide top line center.  He wasn't going to get that opportunity with the Canucks, but in Buffalo the job was his for the taking.  Thus far he making the most of that opportunity, and perhaps a silver lining in what otherwise may prove to be a lost season is that somewhere along the way Cody is growing into the player Buffalo had hoped he could be.  By season's end he may not just have established himself as a legit top line center, but he may emerge as the leader this organization needs heading forward.   Can Cody Hodgson be the leader this team has lacked the past few seasons? Let me know on twitter: @SabreHess The post Follow the Leader appeared first on Queen City Sports.
Original Story:
http://queencitysports.net/nhl/follow...
MORE FROM YARDBARKER
NHL News

Delivered to your inbox

You'll also receive Yardbarker's daily Top 10, featuring the best sports stories from around the web. Customize your newsletter to get articles on your favorite sports and teams. And the best part? It's free!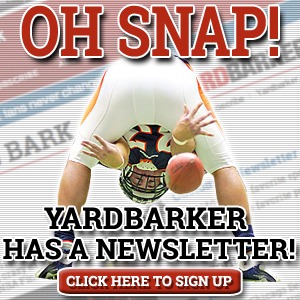 Latest Rumors
Best of Yardbarker

Today's Best Stuff

For Bloggers

Join the Yardbarker Network for more promotion, traffic, and money.

Company Info

Help

What is Yardbarker?

Yardbarker is the largest network of sports blogs and pro athlete blogs on the web. This site is the hub of the Yardbarker Network, where our editors and algorithms curate the best sports content from our network and beyond.