Found April 01, 2013 on Fox Sports Arizona:
PLAYERS:
Sidney Crosby
,
Jarome Iginla
,
Brenden Morrow
,
Carey Price
,
P.K. Subban
,
Sergei Bobrovsky
,
Taylor Hall
,
Matt Greene
,
Ken Holland
,
Jordan Leopold
,
John Tortorella
,
Evgeni Nabokov
,
Mike Fisher
,
Eric Staal
,
Alexander Semin
,
Jiri Tlusty
,
Jay Bouwmeester
,
Miikka Kiprusoff
,
Martin St. Louis
TEAMS:
Pittsburgh Penguins
,
Detroit Red Wings
,
Montreal Canadiens
,
Columbus Blue Jackets
,
Boston Bruins
,
Edmonton Oilers
,
Toronto Maple Leafs
,
Los Angeles Kings
,
New York Jets
,
St. Louis Blues
,
New York Rangers
,
New York Islanders
,
Nashville Predators
,
Colorado Avalanche
,
Carolina Hurricanes
,
Philadelphia Flyers
,
Calgary Flames
,
Tampa Bay Lightning
The Pittsburgh Penguins winning streak stands at 15 games entering the week, two shy of the NHL record. It certainly doesnt appear that captain Sidney Crosby (broken jaw) will be back in time to help lead the Pens get there. Cushioning the departure of the leagues leading scorer (56 points) will be a trio of acquisitions: Jarome Iginla, Brenden Morrow and Douglas Murray. Count on several other clubs to be active before Wednesday's deadline, too. Teams are trying to add pieces for a playoff push, and next years smaller salary cap could make it even more interesting. 1. Penguins 28-8 -0 -- That pickup of Jarome Iginla certainly looms larger about now, especially from a leadership standpoint. The Pens will be without captain Sidney Crosby indefinitely after surgery to repair his broken jaw. 2. Blackhawks 26-5 -3 1 A 7-1 thrashing of the Red Wings on Sunday helps mask the fact that the Blackhawks have lost to the Ducks twice in the past two weeks. Its no big deal now, but the playoffs are less than a month away. 3. Canadiens 22-7 -5 1 Habs goalie Carey Price certainly didnt languish over getting yanked on Wednesday, maybe aided by the fact his team beat the Bruins 6-5 in a shootout that night. He made 34 saves in a 3-0 victory against the Rangers on Saturday for his third shutout of the season. Another bright spot for the Habs down the stretch: former holdout defenseman PK Subban, who had a goal and three assists in the game. 4. Ducks 23-7 -5 -2 At least Anaheim can beat the Chicago. The Ducks victory over the Blackhawks on Friday was their only win in a six-game span. Granted, Anaheim tossed 17 shots at Blue Jackets goalie Sergei Bobrovsky and scored only once a tally that forced OT, where Columbus prevailed on Sunday. 5. Wild 21-11 -2 -- Minnesotas seven-game win streak was snapped in Dallas on Friday, but at least it didnt become a streak headed in the other direction on Saturday. The Wild came back from two goals down to the beat the Kings 4-3 in a shootout. The Wild entered this week 10-2-0 in their past 12 games. 6. Bruins 22-8 -4 -- Its not good to encourage fighting, but the Bruins havent been bad when they drop the gloves. The Bruins are 11-4-2 this season and 41-16-3 the past two seasons when theyve been assessed one or might fighting majors. 7. Canucks 19-10 -6 -- It was ugly. Oilers forward Taylor Hall scored three goals in the first eight minutes of Saturdays 4-0 loss. The loss was the first for the Canucks since March 18, snapping a six-game winning streak. 8. Maple Leafs 20-12 -4 -- Party like its 2004? The Maple Leafs took more strides toward their first playoff berth in nine years, the latest coming with a 4-0 victory over the Senators on Saturday. The Leafs entered the week with three straight victories a nine-point cushion on the ninth-place Islanders. 9. Senators 19-10 -6 -- Just as troubling as that 4-0 letdown against the Leafs on Saturday has been goalie Craig Andersons progress after a sprained ankle. He hasnt played since Feb. 21, although he has returned to practice of late and could be back in the lineup as soon as later this week. He was a Vezina Trophy candidate before his injury. 10. Sharks 17-11 -6 7 Its obvious that defenseman Douglas Murray was the issue in San Jose. Well, not really, but the Sharks have moved on after Murray was dealt to the Penguins last week by winning three in a row. 11. Kings 20-12 -3 -- Los Angeles entered this week 15-6-1 in its past 22 games, the latest victory coming in a 3-2 decision against the Stars on Sunday. A Kings defense that still lacks defenseman Matt Greene (herniated disc) allowed only 15 shots on net during the game. 12. Devils 15-11 -9 -- The Devils had gotten points in six consecutive games entering this week, even if the last three were losses either in OT or in a shootout. An extra session could have been avoided the last two games (Lightning on Friday and Panthers on Saturday), as the Devils held a lead in each. 13. Blue Jackets 15-14 -7 1 A three-game skid that ended Friday with a victory over the Flames didnt help the Blue Jackets playoff chances. But a 2-1 OT victory over the Ducks on Sunday moved Columbus into the eighth and final playoff spot in the West. It also showed that these Blue Jackets could be for real. 14. Red Wings 17-13 -5 -4 Detroit was outscored 9-1 total in losses to San Jose (Thursday) and Chicago (Sunday). Those are the kind of losses that make a general manager re-examine things this close to the deadline, but its doubtful Ken Holland will make any rash decisions. 15. Jets 18-16 -2 -- Winnipeg isnt exactly running and hiding with the Southeast Division. The Jets entered this week with two wins in a six-game stretch. On a positive note: The Jets are on the road with games against the Rangers (Monday), Islanders (Tuesday) and Canadiens (Thursday). Winnipeg is 10-7-2 on the road and below .500 at home. 16. Blues 17-14 -2 -3 Losers of their past three entering Mondays game against the Wild, the Blues have gotten away from the stingy defense they opened the season with. Maybe the addition of defenseman Jordan Leopold (acquired from the Sabres over the weekend) will change things. 17. Oilers 14-13 -7 9 The Oilers closed March with three consecutive wins, outscoring the opposition 13-4, with two shutouts, in the process. Forward Taylor Hall set a record Saturday, scoring the quickest hat trick in Oilers history (7 minutes, 53 seconds) in a 5-4 win over the Canucks. 18. Rangers 16-15 -3 -- Rangers coach John Tortorella said there is no sense in dragging your (butt) around after Saturdays 3-0 loss. (The Rangers had also been shut out a game prior by the Senators.) The Rangers have 14 games remaining and are clinging to the final playoff spot in the East (via a tiebreaker) entering play Monday. 19. Stars 16-15 -3 -3 Dallas is 1-2 since dealing captain Brenden Morrow to Pittsburgh. The Stars were listless for a decent portion of Sundays 3-2 to loss to Los Angeles. Sure, the Stars are three points out of a playoff spot entering play Monday, but this doesnt look like a playoff team at the moment. 20. Islanders 16-16 -3 5 Only four goalies have played more games than Evgeni Nabokov, who has seen action in 30 of the Islanders 35 games. Theres a good reason: No other Islanders goalie has earned a victory this season. He was again solid in Saturdays 2-0 loss, holding Pittsburgh scoreless for the first 48 minutes. 21. Capitals 16-17 -2 -2 Sundays loss to the Flyers was a letdown of literally historic proportions, at least as far as the regular season is concerned. The Caps lost for the first time in franchise history when holding a lead with 10 seconds left, according to the Elias Sports Bureau. The Caps actually had a two-goal lead late that turned in what turned into a 5-4 OT loss. Not that kind of game that helps a playoff push. 22. Predators 14-14 -7 -2 Center Mike Fisher, one of the Preds few bright spots offensively, was forced to sit out Saturdays 1-0 OT loss to the Colorado Avalanche. Fisher (day-to-day with an upper body injury) has an eight-point (five goals, four assists) streak going entering this week. 23. Hurricanes 16-15 -2 -2 Powered by a first line (Eric Staal, Alexander Semin and Jiri Tlusty) that has scored a combined 95 points (40 goals and 55 assists), scoring hasnt been the issue this season in Carolina. Defense and goaltending has. The team hasnt shown much consistency, either even strength or on the penalty kill. 24. Flyers 15-17 -3 3 The Flyers rallied from two goals down late to beat the Caps in OT on Sunday. Philly will need a comeback almost as dramatic to make the playoffs. 25. Coyotes 14-15 -6 -3 The Coyotes had fewer wins last week (a 4-2 victory over Vancouver) than new suitors (AltaCorp Capital chairman and CEO George Gosbee as well as Capstone Affluent Strategies CEO Darin Pastor, according to FOXSportsArizona.coms Craig Morgan). The chances of the Coyotes making the playoffs are about the same as them heading out of town: 50-50. 26. Flames 13-16 -4 -3 Already dealing captain Jarome Iginla, the Flames are certainly sellers come the trade deadline. Defenseman Jay Bouwmeester and goalie Miikka Kiprusoff are the next who appear to be on the block on a team that has sat in the West basement much of the season. 27. Sabres 13-17 -6 -3 The Sabres closed out the month with four consecutive losses, a run that came after a three-game winning streak. There are lots of problems in Buffalo, including the power play. Buffalo is second-worst in the league with the extra man (13.1 percent). 28. Avalanche 12-18 -4 -- Like the losses, the injuries have piled up for the Avs. Colorado has lost 93 man-games to injuries this season. 29. Lightning 15-18 -1 -- A 5-4 shootout victory over the Devils on Friday gave the Lightning consecutive victories, the second time they accomplished that feat in March. Maybe more uplifting for Lightning fans was the news Martin St. Louis wouldnt be traded. 30. Panthers 11-19 -6 -- The Panthers have allowed the most goals per game (3.44) this season. It comes to no surprise that Florida has averaged 4.36 goals in their 11 victories entering the week (including the goal awarded for a shootout win).
Original Story:
http://www.foxsportsarizona.com/nhl/p...
THE BACKYARD
BEST OF MAXIM
RELATED ARTICLES
GET WELL SOON
Sidney Crosby is unable to speak as he recovers from his broken jaw. He is also on a liquid diet for the foreseeable future.
Pittsburgh Penguins star/captain Sidney Crosby has enjoyed a serious comeback this season after numerous false starts last year due to his bout with concussions. Now that he's on a roll, it's not likely that he will let a few missing teeth stop him from helping his team lunge for the NHL's consecutive wins record. Please click here to read this story. The post Sidney Crosby...
Don't hand the Stanley Cup to the Penguins just yet. Pittsburgh captain Sidney Crosby will be missing games indefinitely after undergoing surgery for a broken jaw on Saturday night, according to the team. The Penguins star was hit in the face by a puck in Saturday's win against the Islanders. Crosby "underwent major dental work and will have additional dental work later in...
Pittsburgh Penguins captain Sidney Crosby is out of the hospital after breaking his jaw Saturday. The Penguins confirmed on their Twitter account Tuesday that Crosby had been released a day earlier. He will be out of the lineup indefinitely after undergoing surgery. Crosby was hurt in the first period of the Penguins' 2-0 win over the New York Islanders when he was struck in...
Sidney Crosby was hit by a puck in the mouth early in Pittsburgh's 2-0 win over the New York Islanders Saturday and underwent oral surgery after losing a few teeth. Crosby was hit in the mouth by a deflected slap shot from teammate Brooks Orpik during his first shift. He went down to the ice where a pool of blood formed. Penguins coach Dan Bylsma said after the game that Crosby...
The panel discussed trades/who is available, did the Penguins (Sidney Crosby) tamper with the Iginla trade and the Phoenix Coyotes situation.  
Before I say what I am about to say, let me preface it by saying that I am being the Devil's advocate.  What I am about to suggest may very well happen, but I could very well be wrong too.  Therefore, without further ado, The Chicago Blackhawks or Pittsburgh Penguins will not win the Stanley Cup. In a shortened year in which these two teams have absolutely dominated the league...
The streaking Pittsburgh Penguins have lost their captain. But that's OK, they say. Not only have the Penguins grown accustomed to playing without Sidney Crosby in recent years, they also just traded for two other team captains. Pittsburgh went through its first practice Monday since learning that NHL scoring leader Crosby underwent surgery for a broken jaw that will keep him...
(PhatzRadio / AP) — PITTSBURGH — The Pittsburgh Penguins overcame an injury to Sidney Crosby on Saturday for their 15th straight victory, beating the New York Islanders 2-0 in Jarome Iginla's debut behind third-period goals from Matt Cooke and James Neal.  Tomas Vokoun made 35 saves as Pittsburgh moved within two wins of the NHL record of 17 straight victories set by...
All good things eventually come to an end. In the case of the Pittsburgh Penguins, their winning streak failed to reach 16 games as the Buffalo Sabres won at home by a score of 4-1. Now that their streak is officially a thing of the past, it's time to look back and marvel at what the Penguins were able to accomplish.  Hockey analysts and fans will surely debate which...
NHL News

Delivered to your inbox

You'll also receive Yardbarker's daily Top 10, featuring the best sports stories from around the web. Customize your newsletter to get articles on your favorite sports and teams. And the best part? It's free!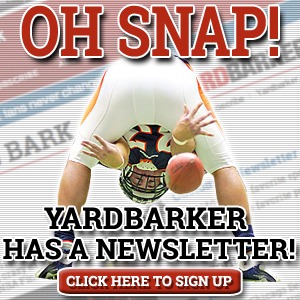 Latest Rumors
The Backyard

Today's Best Stuff

For Bloggers

Join the Yardbarker Network for more promotion, traffic, and money.

Company Info

Help

What is Yardbarker?

Yardbarker is the largest network of sports blogs and pro athlete blogs on the web. This site is the hub of the Yardbarker Network, where our editors and algorithms curate the best sports content from our network and beyond.