Found November 10, 2012 on The Prospect Park:
PLAYERS:
Josh Nicholls
,
Samuel Noreau
,
Griffin Reinhart
,
Mark Messier
,
Cristoval Nieves
,
Ryan Strome
,
Jesse Graham
,
Steven Fogarty
,
Robbie Russo
,
Brady Skjei
,
Scott Mayfield
,
Adam Pelech
,
Peter Ceresnak
,
Loic Leduc
,
Cody Rosen
,
Michael St.Croix
TEAMS:
New York Islanders
,
Michigan Wolverines
,
Michigan State Spartans
,
Boston College Eagles
,
Notre Dame Fighting Irish
,
Minnesota Golden Gophers
,
Denver Pioneers
Shane McColgan (Saskatoon Blades) A very busy Friday night for the New York Ranger and New York Islander prospects with 13 games on the schedule. Our stars of the night are a pleasant surprise as it was the lower round picks who stepped upped their games to earn stars. Tonight's First Star Shane McColgan Saskatoon Shane McColgan (NYR 2011 5th) and his Saskatoon Blades got their season off to a really rocky start (2-6) and they heard about from their critics. The Blades are hosting the 2013 Memorial Cup but their play made them look totally unworthy of being the hosts. McColgan who was brought in to add offense and quarterback the Blades power play mirrored the Blades poor start going 0-4-4 during their rough start. But since then McColgan has gone 5-11-16 in his last ten games including a 1-3-4 effort Friday night to lead his Blades to a 6-3 win over the Regina Pats. The game's first star McColgan was involved in 4 consecutive Blade goals during the 1st and 2nd period. First McColgan set up linemate Josh Nicholls for a power play goal at 16:55 which gave the Blades their first lead of the game at 2-1. McColgan himself made it a 3-1 lead at 1:59 of the 2nd period with his 5th goal of the season. 2:06 later at 4:05 McColgan set up Nicholls for another goal to make it 4-1 (this one proved to be the game winner). McColgan made it a 4 point night when he set up Kyle Schmidt for the Blade's 5th goal of the game on another power play goal. The Blades went 3 for 6 on the power with McColgan involved on all the power play scoring plays. The Blades gave up 2 third period goals for the final score but by then the game had been decided. The win extended the Blades unbeaten streak to 4 games and McColgan's efforts extended his scoring streak to 5 games (3-7-10). McColgan is now 5-15-20 for the season. Mitchell Theoret (OHL Images) Second Star (A) Mitchell Theoret Niagara IceDogs Trying to pick a 2nd and 3rd star was so hard that I decided that all 3 players would share the 2nd starting with Mitchell Theoret (NYI 2011 7th) who was the game's 2nd star after he had a 2 goal effort for his Niagara IceDogs in a losing effort. It was the IceDogs hosting the Mississauga Steelheads in a game that was best described as "weird" by Niagara coach Marty Williamson as the Steelheads earned a 6-3 win. Theoret got the IceDogs off to a great start when he scored his 7th goal of the season just 14 seconds into the game. After that the game got "weird" as Mississauga scored 2 goals before the end of the 1st to take 2-1 lead. The two teams combined for 3 goals in the 2nd with the Steelheads getting the benefit of some crazy bounces and deflections to lead after 2 4-2. In the 3rd period, it was Theoret who cut the lead to 1 goal with his 2nd of the game and 8th of the season just 1:08 in. It was not enough as the Steelheads added 2 more for the win. Theoret is 8-10-18 on the season and more on this game later. Samuel Noreau (Baie Comeau Drakkar) Second Star (B) Samuel Noreau Baie-Comeau Last week's Ranger prospect of the week Samuel Noreau (NYR 2011 5th) must have liked earning it as he is trying for a second one. The 2nd star in his Baie-Comeau Drakkar's 5-2 win over the Rouyn-Noranda Huskies, Noreau played what might have been his best game in his QMJHL career. Noreau had a goal and an assist while taking a game high 7 shots and 1 hit as the Drakkar extended their unbeaten streak to 10 games (8-0-0-2) and pulled to within 1 point of the 4th place Huskies. It was Noreau who got the Drakkar going with his 4th goal of the season tying the game at 1-1 at 18:44 of the 1st period. All 4 of Noreau's goals this season have come on the power play which is something that the Rangers will take notice of. Noreau earned a secondary assist on Bokondji Imama's 3rd goal of the season which put the Drakkar ahead for good. Noreau's play has to be the biggest surprise of the 2012-2013 season but it could not have come at a better time for the Rangers who are lacking depth on the blueline. Here is to Noreau continuing his play like this. Griffin Reinhart (Edmonton Oil Kings)  Second Star (C) Griffin Reinhart Edmonton Griffin Reinhart (NYI 2012 1st) had a "Mark Messier" moment during the game between his Edmonton Oil Kings and the Prince George Cougars on Friday night. It was the 5th of 6 road games for the Oil Kings and what was a 3-0 lead was now down to 3-2. It was Reinhart the captain of the Oil Kings who in the game's final moments putting the team on his back and making sure they did not lose. With Prince George on the power play and having pulled their goalie for the extra attacker; there was Reinhart saving the day. Reinhart broke up 2 offensive plays and then took advantage of an empty net to score his 2nd goal of the season to make sure the Oil Kings would win 4-2. Reinhart also had a primary assist on a Michael St. Croix goal which wound up as the game winner. It capped off a 1-1-2, +3 game for the Oil King's captain who also ensured that Edmonton would do no worse than a 3-3 record on a very long road trip. The Rest of the Prospects Michael St. Croix (NYR 2011 4th) wound up with another game winning goal in Edmonton's 4-2 win over the Prince George Cougars. St. Croix off a feed from Griffin Reinhart slipped one past Cougar goalie Brett Zarowny with just 2 seconds left in the first period. At the time it gave the Oil Kings a 3-0 lead and ended the night for Zarowny who got pulled after the period. For St. Croix it was his 12th goal of the season and his 4th game winner. Brendan Kichton's (NYI 2011 5th) 2 assists helped his Spokane Chiefs hand the Kamloops Blazers just their 3rd regulation loss of the season 5-2. For the 2nd straight game, Kichton set up a shorthanded goal which was Spokane's 1st goal of the game. In the 3rd with the score 2-2, Kichton set up Riley Whittingham's 1st goal in the WHL which also wound up being the game winner. Kichton is now 7-16-23 (2nd among WHL defensemen) on the season. Cristoval Nieves (NYR 2012 2nd) made his first NCAA goal count as Nieves was credited with the game winning goal as his 11th ranked Michigan Wolverines defeated rival Michigan State 5-1. Nieves is now 1-5-6 in his freshman season at Michigan. Ryan Strome (NYI 2011 1st) recorded a first that he would rather not have as for the first time in his OHL career, Strome received a game misconduct. Strome was ejected after being hit with a checking from behind major that will be reviewed by the OHL. Strome has a total of 5 fighting majors over the 4 years he has played in the OHL but never been ejected. Strome was ejected last year while playing in an exhibition game with the Islanders. Strome did record a primary assist prior to his ejection for his 34th point of the season but no question that his ejection changed the game in favor of the Steelheads. Teammate Jesse Graham (NYI 2012 6th) was scoreless in the loss. In the annual hockey/football weekend, top ranked Boston College defeated 8th ranked Notre Dame 3-1 to win the Snooks Kelley - Lefty Smith Trophy. This was not a pretty game by any means but the Eagles held off the Fighting Irish not clinching the win until there was just 13 seconds remaining. Steven Fogarty (NYR 2011 3rd) had a secondary assist on Notre Dame's only goal. Anders Lee (NYI 2009 6th) was held to just 2 shots and was a -3 while Robbie Russo (NYI 2011 4th) was no shots and a -1. Andrey Pedan (NYI 2011 3rd) return to the Guelph Storm lineup after his 4 game suspension as the Storm dropped a 4-2 decision to the Sarnia Sting. Pedan was scoreless but stayed out of the penalty box and was a -2. Brady Skjei (NYR 2012 1st) was scoreless on 2 shots as his 2nd ranked Minnesota Golden Gophers scored 4 power play goals to defeat Alaska Anchorage 4-0 in WCHA play. Skjei was the 3rd pair defender for the Golden Gophers in this one. Scott Mayfield (NYI 2011 2nd) and his 3rd ranked Denver Pioneers survived a rather nasty game (by NCAA standards) with a 4-3 win over Minnesota State. Mayfield was scoreless with a roughing minor as the 2 teams combined for 20 penalties in this one. In the battle for the worst record in the OHL, Adam Pelech (NYI 2012) scored his 3rd goal of the season (also setting a new career high for goals) as his Erie Otters defeated Peter Ceresnak (NYR 2011 6th) and his Peterborough Petes 6-3. The Petes now have the worst record in the OHL as Ceresnak and company let a 2-0 lead disappear as Erie scored 5 unanswered goals. Ceresnak was scoreless and a -3 as Peterborough has lost their last 5 straight games. Loic Leduc (NYI 2012 4th) and his Cape Breton Screaming Eagles were spanked 7-1 by the Victoriaville Tigre. Not much to say about this loss as Leduc was a -2 and took a double minor. Cody Rosen (2010 7th) was DNP as his Clarkson Golden Knights won their first game of the season 1-0.
Original Story:
http://feedproxy.google.com/~r/ThePro...
THE BACKYARD
BEST OF MAXIM
RELATED ARTICLES
On Tuesday, the Islanders announced on their official site that they will be holding a fundraiser at the Nassau Coliseum for the victims of Hurricane Sandy. The entire New York/New Jersey metropolitan area was hit by Hurricane Sandy, which left tens of thousands of area residents without homes and many more without power and heat. As a Long Island resident, I can attest to the damage...
Ryan Strome (OHL Images) Saturday night prospect hockey for the New York Ranger and New York Islander prospects was a pretty good evening for most. Win or lose, the effort was there and we are beginning to see a more consistent performance that will help us gauge potential. First Star Ryan Strome Niagara Ryan Strome (NYI 2011 1st) of the Niagara IceDogs had a great bounce...
Islanders News

Delivered to your inbox

You'll also receive Yardbarker's daily Top 10, featuring the best sports stories from around the web. Customize your newsletter to get articles on your favorite sports and teams. And the best part? It's free!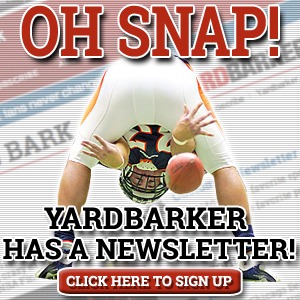 Latest Rumors
The Backyard

Today's Best Stuff

For Bloggers

Join the Yardbarker Network for more promotion, traffic, and money.

Company Info

Help

What is Yardbarker?

Yardbarker is the largest network of sports blogs and pro athlete blogs on the web. This site is the hub of the Yardbarker Network, where our editors and algorithms curate the best sports content from our network and beyond.