Found March 27, 2014 on isportsweb.com:
It's no secret the goaltending for the Islanders this season has been awful. That's not a suggestion or an opinion, but a fact of the game. The Isles are dead last in the league in cumulative (team) save percentage, a product of relying on two goalies who rank 39th and 44th, respectively, in the stat that matters most for their position. That's out of 45, by the way. For Islanders fans, this really shouldn't come as much of a surprise, and thus it's hard to blame the goalies for not playing better. On one hand, you have Evgeni Nabokov, who's 38 years old and running out of gas. On the other hand, you have Kevin Poulin, who's just not all that good. When you consider those are the two best options in net for the Isles – outside of pulling the goalie and playing six on five for 60 minutes – it comes as little surprise that they've surrendered more goals per game than anyone else in the league. So if not the goalies, then who's to blame? Well Garth Snow, obviously! (Broken sink in that bathroom outside section 106? Garth Snow's fault. No mustard at the neighboring concession stand? Garth Snow's fault. This dreadfully long winter? Garth Snow's fault!) In all seriousness though, Islanders management has done an exceptionally poor job of tending to the team's situation in goal, which has been in complete disarray ever since this happened. (Rick DiPietro's demise started to take hold in 2007. By the end of the 2007-08 season, it was clear that the star-crossed netminder wasn't going to hold up long term. Since then, the Islanders have spent six draft picks on goalies, only none of them have panned out (or appear likely to.) If you can't fault management for ignoring the problem, you can certainly dock them a few points for finding the right way to fix it. A few of the goaltenders the Isles have passed up in recent drafts: Braden Holtby (2008), Robin Lehner (2009), Darcy Kuemper (2009), Jack Campbell (2010), Peter Mrazek (2010), John Gibson (2011). Any one of those guys would make the Islanders' situation in net right now considerably less messy.) But I digress. Point is, this is a problem that Garth Snow (and Mike Millbury) created, and one that Snow desperately needs to fix. You cannot stay competitive in the NHL without a solid-to-superb goalie, no matter how many goals you score at the other end. Fortunately for the Islanders, offense is a strength, and thus the upgrade they need to make between the pipes isn't drastic. But it is urgent. Without any further preamble, here are some ways the Islanders can clean up the mess in net this summer. Free Agency  With the salary cap set to rise to $71 million (ish) in 2014-15, the Islanders have plenty of cap space to work with this summer. They have $40,471,143 committed to 13 forwards and nine defensemen next season, leaving them $30,628,857 to fill out their roster. Assuming they resign Poulin to be the backup, the biggest lingering question is who becomes the team's starter. The free agency market for goalies is thin, but a few names stand out. Let's look at three in particular. 1. Jaroslav Halak (WSH) Halak was acquired by the Capitals early this month after spending the better part of three seasons with St. Louis. Before his time with the Blues, he was the on-and-off starter for Montreal, where he split time with fellow youngster Carey Price from 2006-2010. Everywhere Halak has played, it seems, there has been another goalie challenging him for the number-one role, be it Brian Elliot and Jake Allen in St. Louis, Price in Montreal, or even Holtby in Washington. Through it all, he has played exceptionally well, posting a career record of 143-83-28, to go along with a 2.38 GAA and .917 SV%. Jaroslav Halak could be a great addition to the Islanders this summer. For the Islanders, Halak is a guy worth pursing. At 28 years old and injury-free over an eight-year career, he has a lot of hockey left in front of him. And he's good. That combination of durability and dependability is something the Islanders haven't had in goal for years – it's not a stretch to say the last goalie that was consistently healthy and consistently reliable for the Isles was Billy Smith, the first netminder this franchise ever had.  Halak won't come cheap, but management, as noted above, is in a position to spend. His current contract (which expires July 1), pays him $15 million over four years, an average annual cap hit of $3.75 million. He'll likely look for a raise this summer, and the Islanders should be hot to give it to him. And Halak, if the offer is right, should be hot to accept. For the Isles can offer the journeyman goalie the first full-time starting gig of his career, a chance to play 65+ games without worrying about the guy beneath him. That has to sound appealing for Halak, even if playing for the Islanders might not. This looks like a good fit for both sides. 2. Brian Elliot (STL) If goaltending depth has been a glaring weakness for the Islanders recently, it has been a glittering strength for the Blues. St. Louis signed Elliot in the 2011 offseason after he had posted good-not-great numbers over three seasons with Ottawa and Colorado. Making just $600,000 in the 2011-12 season, Elliot turned into the best bargain in hockey, posting Vezina-worthy numbers over 38 games: 23-10-4/1.56 GAA/.940 SV%. The Blues quickly resigned him that summer to a two-year, $3.6 million deal, and Elliot has justified the raise since. This season, while serving as the team's A-1 option in net, he has accrued a record of 17-5-2, a GAA of 1.97 and SV% of .921. He's due for a raise again. Elliot, like Halak, has never played 60 games in a season over eight years in the NHL, and thus the Islanders can dangle the bait of playing time should they go after him this summer. And they haven't a reason not to. Elliot is 28 years old and mostly injury-free, with limited mileage on his body. In seven full NHL seasons, he has averaged just 33 games played. He'll want length and he'll want money in any deal he signs this summer, but the Isles shouldn't balk at those demands. Even if Elliot regresses in the stat column on another team (as he is likely to do in leaving the air-tight Blues), his career 2.49 GAA and .910 SV% are nearly identical to the numbers Nabokov posted a year ago (2.50 GAA, .910 SV%) when he finished among the top five goalies in wins. Again, the Islanders, by virtue of their offensive ability, do not need a Tuukka Rask-like figure in net. Anything between Black Hole and Brick Wall should be fine. Elliot certainly fits that mold. 3. Jonas Gustavsson (Detroit) This one might be more of a stretch, but the Islanders have to cast a wide net. Gustavvson has never been close to a full-time starter in the NHL, and has settled into a clear backup role with the Red Wings over the past two seasons. Still, he has played well, especially this year in relief of the struggling Jimmy Howard. Over 24 games in 2013-14, Gustavvson owns a 15-4-3 record with a 2.55 GAA and .912 SV%. Currently, "Gus," as they call him in Detroit, makes $1.5 million per year. He may look for a raise in free agency, but it'll be a modest one at best. Out of the three goalies mentioned here, he's easily the most affordable. He's also, of course, the most unpredictable, from performance to durability, and the Isles might not like the risk he presents in goal. But for an organization on a tight budget, Gustavsson is worth considering. (Note: James Reimer might seem like a likely candidate for this list, but remember that he is a restricted free agent this summer and will therefore cost any team that signs him compensatory draft picks. On top of that, he has had a real tough go of it this season in Toronto.) Trade Market  It's hard to know who will be available this summer via trade, but we'll take a look at a couple guys who seem to be stuck behind an obvious number-one. If the trade deadline was any indication, backup goalies should come relatively cheap this summer (mid-to-late round pick and/or mid-level prospect.) 1. Niklas Backstrom (MIN) With the emergence of rookie Darcy Kuemper in Minnesota this season, Backstrom has become an expendable piece for the Wild. (Such is life in professional sports, where one year you're the league-leader in wins, and the next year you're an afterthought.) There are some obvious warning signs here, from Backstrom's age (36) to his recent abdominal surgery, but for the right price he could be a solid short-term solution in goal for the Isles. Trading for Backstrom is essentially buying two more years for Nabokov. In the meantime, the Islanders probably look for a goalie in the draft that guy can take over within the next few years. There isn't much longevity here, but with the Islanders bleeding defensively, there's plenty of short-term relief. 2. Frederik Andersen (ANA) If Backstrom is a temporary solution, Andersen, 24, is the answer moving forward. Jonas Hiller is the clear-cut number-one out in Anaheim, and at 32 years old, the net is his for the foreseeable future. That leaves Andersen – if his rookie numbers are to be believed – as the overqualified backup. In 23 games this season for the Ducks, Andersen has a 16-5-0 record, to go along with a 2.26 GAA and .924 SV%. Those are seriously impressive numbers for a first-year goalie, and probably worth taking a chance on. The sample size is small, obviously, but management in Anaheim is already convinced this kid's for real – the Ducks signed him to a two-year, 2.3 million extension this season. As his ceiling rises, so to does his price tag, but Andersen looks to be worth more than the market says he is.  Entry Draft  Given the Islanders' luck – or lack thereof – drafting goalies in the past, this probably isn't the most promising place to look. Moreover, any goalie selected in this year's draft is still two to three years removed from the NHL and incapable of helping the organization right now. The Islanders, as they're currently constructed, can do some damage over the next few seasons – but only if they get some help in net. Still, here are two names to keep an eye on this June in Philadelphia. 1. Thatcher Demko (Boston College) At 6'4, 182 pounds, Demko is a monster between the pipes. A positional-style goalie, he is tough to beat simply because of his size. Tack on some serious athleticism, and Demko becomes one of the best young goalies in the world. In his rookie season with Boston College, Demko has posted a 14-4-3 record, 2.13 GAA and .921 SV%. He won the Hockey Commissioner's Association player of the month award in January. 2. Edwin Minney (USA U-18) Another big goalie (6'4, 191 pounds), Minney has come into his own this season for the USA U-18 team while competing in the USHL. The 2014 Michigan State commit is a smooth butterfly-style goalie, with an exceptional ability to move pipe to pipe. In 34 games this season, he owns an 18-9-1 record, 2.72 GAA and .899 SV%. The post Future goaltending options for the New York Islanders appeared first on isportsweb.
Original Story:
http://feedproxy.google.com/~r/isport...
THE BACKYARD
BEST OF MAXIM
RELATED ARTICLES
The Islanders have struggled to build a contender with Charles Wang as owner. (AP Photo) For the New York Islanders, the past season has been an absolute nightmare. Expecting the team to take strides forward after a playoff berth in 2012-13, the team spiraled amidst injuries and poor play, and now the fans are calling for front office changes. According to a report from TSN super...
via the New York Islanders, New York Islanders Owner, Charles Wang statement regarding recent reports of selling his majority stakes in the franchise. In recent months, there have been numerous expressions of interest in the purchase of the New York Islanders. As I have consistently stated, I have been and remain willing to listen. However, potential buyers expressions of...
Charles Wang, the owner of the New York Islanders, has entered into talks with interested parties, who have not been identified, to sell his majority stake in the club.Wang has been the majority owner of the Islanders since 2004, when he bought out former partner Sanjay Kumar, and has presided over the least productive era of this once storied franchise. The Islanders have had...
Islanders fans have been through a lot recently. Bad personnel decision after bad personnel decision has mired the franchise in mediocrity for decades. Any time the team showed a glimmer of hope, it was swiftly followed by disaster. One step forward, two steps back. Rinse, repeat. This has not been unique to current owner Charles Wang, but you'd never know it by talking to anyone...
Here's something you don't see every day: A huge slap shot from New York Islanders defensemen Travis Hamonic knocked off Tampa Bay Lightning forward Tyler Johnson's skate blade.TBL wins via the shootout.**See related stories below & share on social media. Follow us on Twitter, Subscribe by Email, View via Our Mobile Site, or Return Home
Colin McDonald and Matt Martin scored two goals each, the Isles 3-0 before the Canes had a shot on goal (and 4-0 before the 11th minute), and it was 4-3 at 2:42 of the second period. That kind of insanity is a fair reflection of a sloppily played game between two teams going nowhere. The New York Islanders survived for a 5-4 regulation win over the Carolina Hurricanes, slightly...
The Tampa Bay Lightning and New York Islanders found themselves knotted up at two goals apiece after playing three periods of hockey and one five-minute overtime session on Thursday night. Little did they know that the teams were about to engage in a marathon of a shootout session. The shootout that ended with Sammy Salo's […] The post Steven Stamkos pulls off the spin-o-rama...
The Florida Panthers-New York Islanders game on Tuesday, April 1, at 7 p.m. will be available for viewing on Sun Sports throughout South Florida.
New York Islanders owner Charles Wang is talking to potential buyers about selling the majority of his stake in the team.TSN's Bob McKenzie Tweeted this out shortly after midnight:NYI owner Charles Wang in talks to sell majority stake in NHL franchise. Nothing done yet, no telling if it gets done, but talks underway.The franchise loses eight-figures a year. Josh Kosman over at...
Watch all 13 rounds of Thursday's shootout between the Tampa Bay Lightning and New York Islanders.
During an early third-period penalty kill, Tyler Johnson epitomized the Lightning effort on Thursday against the Islanders as the rookie center forced himself to the ice after his skate blade was knocked out of his left skate while blocking a shot. It didn't look comfortable, but somehow the rookie managed to get back to the ice. Tampa Bay didn't paint a pretty picture in facing...
Islanders News

Delivered to your inbox

You'll also receive Yardbarker's daily Top 10, featuring the best sports stories from around the web. Customize your newsletter to get articles on your favorite sports and teams. And the best part? It's free!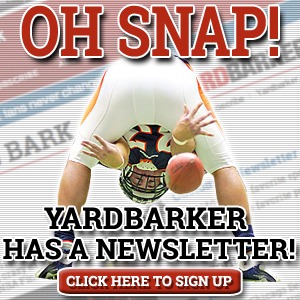 Latest Rumors
Best of Yardbarker

Today's Best Stuff

For Bloggers

Join the Yardbarker Network for more promotion, traffic, and money.

Company Info

Help

What is Yardbarker?

Yardbarker is the largest network of sports blogs and pro athlete blogs on the web. This site is the hub of the Yardbarker Network, where our editors and algorithms curate the best sports content from our network and beyond.