Found January 24, 2013 on Shutdown Line:
PLAYERS:
Jeremy Welsh
,
Kevin Westgarth
,
Zach Boychuk
,
Zac Dalpe
,
Jamie McBain
,
Joe Corvo
,
Bobby Sanguinetti
,
Marcus Foligno
,
Cody Hodgson
,
Mikhail Grigorenko
,
Thomas Vanek
,
Jason Pominville
,
Tyler Myers
,
Andrej Sekera
,
Jordan Leopold
,
Cam Ward
,
Alexander Semin
,
Eric Staal
,
Jiri Tlusty
,
Jordan Staal
,
Jussi Jokinen
,
Drayson Bowman
,
Chad LaRose
,
Lindy Ruff
,
John Scott
TEAMS:
Buffalo Sabres
,
Carolina Hurricanes
Buffalo Sabres at Carolina Hurricanes PNC Arena, 7 p.m. TV: SportsSouth, MSG Buffalo With every team having to deal with a shortened training camp, there are bound to be a lot of roster and lineup changes throughout these first few weeks. Carolina's head coach, Kirk Muller made a few adjustments to the lineup before Tuesday nights game by subbing Jeremy Welsh and Kevin Westgarth in for Zach Boychuk and Zac Dalpe but the move he made today was much bigger. In an attempt to get Jamie McBain into the lineup, Joe Corvo will be sitting tonight in favor of the young defenseman which surprised some fans because many thought it would be Bobby Sanguinetti sitting instead of Corvo. My take on this situation is that the Carolina coaching staff still wants to evaluate Sanguinetti since they didn't have much time to do so in training camp. He has looked bad so far, but it's hard to judge a defenseman's body of work with only two games, so this kind of puts them in a tough spot. He and Corvo play similar games on the third pairing, so I don't see much harm in keeping him in the lineup tonight in their first game of a back-to-back series against the Buffalo Sabres. It's too early in the season to call this a "must win" game for Carolina, but since their first two games went so poorly, it would really do a lot for the fanbase to win these next two games or at least have a good showing in them. Getting outscored 2-9 clearly isn't the best way to start the season. Opponent scouting report and line combinations coming after the jump. Know Your Opponent: Buffalo Sabres Carolina fans are probably already familiar with the Sabres given their history but this is a very different Buffalo team compared to the ones of year's past. After disappointing results last season, they've been off to a very good start in their first two games, winning both and controlling over 53% of the even strength shot attempts. Their lineup features several young promising players including Marcus Foligno, Cody Hodgson and rookie Mikhail Grigorenko but the top producers for the team right now are long-time stars Thomas Vanek and Jason Pominville. These two tore up the Hurricanes last year with a combined 6 goals and 10 points in 4 games played, and they are looking to do even more damage tonight with the starts they are off to. Buffalo spent a lot of money the last couple of years and they have certainly added a lot of firepower to the lineup but they do have a few holes, most notably at center. They are currently using youngster Cody Hodgson as their first line pivot and while he can probably get the job done with linemates like Vanek and Pominville, he had trouble driving the play last year. Their depth after that is a bit questionable, but they might be able to get some good contributions from younger players like Grigorenko to off-set the issue. Something interesting to point out regarding Buffalo's defense is fall from grace Tyler Myers has endured since his rookie season. He is coming off a very disappointing year and saw his ice-time get reduced dramatically on Monday night against Toronto He and Robyn Regher actually played fewer minutes at even strength than any other Buffalo defense pairing. These two have been disappointing, but the Sabres do have some underrated pieces on their blue-line. One of them is Andrej Sekera, who did very well for himself against tough competition last season and could see time on a shutdown unit if Myers and Regher's struggles continue into this year. It wouldn't surprise me if he and Jordan Leopold are assigned one of the Staal lines tonight. Expected Lines Carolina Tlusty - E. Staal - Semin Skinner - J. Staal - Dalpe Bowman - Jokinen - LaRose Dwyer - Brent - Westgarth Gleason - Faulk Pitkanen - McBain Harrison - Sanguinetti Ward Ellis Out: Boychuk, Corvo, Welsh Sabres Vanek - Hodgson - Pominville Foligno - Ennis - Stafford Gerbe - Grigorenko - Ott Scott - Hecht - Kaleta Leopold - Sekera Regher - Myers Ehrhoff - Sulzer Enroth Miller Out: Brennan, Weber, Elllis, Leino (Injured), McCormick (Injured) Ten Things to Focus On - Carolina's PDO currently sits at 861 through two games, which is an extremely small sample size but I just thought the fact that they have scored on only 1.7% of their 5v5 shots was worth pointing out. Same goes for their .844 save percentage during 5-on-5 play. Both are not going to stay that low for the rest of the year, especially since the Canes have really been doing a good job of winning the shot battle at even strength.  - Cam Ward is getting his third start in a row tonight and I'm guessing that this is just Muller giving him a vote of confidence so that he isn't a complete mess for the rest of the season. Ward is going to bounce out of this little "slump" he is in and getting one good game under his belt will go a long way. He was probably going to start one of these games anyway since it's a back-to-back. I can't say that Ward gives the team the best chance to win now considering how bad he has played, but the Hurricanes scoring only one goal in support of him is just as big of a problem. - Alexander Semin and Eric Staal were terrific offensively (that being the key word) the other night against Tampa Bay and Muller has decided to bump up Jiri Tlusty to this line. Tlusty has quietly been effective at controlling the play at even strength, so it's possible that reuniting him with Staal will help him have a big game? Personally, I don't think this line needs much help because they have done basically everything but score in the first couple of games. - Zac Dalpe is making his return to the lineup tonight after missing last game with an illness and he will be back on Jordan Staal's line. I thought Jordan looked good with Dwyer and Tlusty in a tough-minute role on Tuesday but that line doesn't have much offensive potential. That combined with Skinner not doing much on Jokinen's line gives more reason to put these three back together. - On a similar note, Jussi Jokinen is coming off what was possibly his worst game in awhile. I'm interested to see how he rebounds now that he has another new set of linemates in Drayson Bowman and Chad LaRose. What's even more interesting is that this unit might end up drawing the Myers/Regher pairing with how Lindy Ruff has been running his defense corps. - According to Behind The Net, there have been only two Carolina players who have started the majority of their shifts in the defensive zone. This is mostly because they have only played two games and have played from behind in most of them. Tampa Bay icing the puck a total of 13 times at even strength the other night probably has something to do with that, too. - Regarding the decision to sit Corvo, it's worth mentioning that he did not advance the puck once during five-on-five play against Tampa Bay. The one time he did was supposed to be an icing call that was waived off because a Carolina player got to the puck first. Sanguinetti hasn't been much better in advancing only 14.7% of the time he has touched it in the defensive zone during five-on-five play. Look to see how the Harrison/Sanguinetti pairing does in protected minutes. - Two games is a very small sample size, but I just thought it was worth mentioning that the Hurricanes have produced seven five-on-five shots on six zone entries by Drayson Bowman. He is doing a pretty solid job of taking advantage of his ice-time. - Muller said that the fourth line could be a game-time decision but I think Kevin Westgarth will probably stay in if John Scott is playing for Buffalo, since it's typical of most teams to play their enforcers against one another even if they don't fight or do much of anything. Nowhere to go but up now, so let's hope that we have more to cheer about after tonight's game.
Original Story:
http://www.shutdownline.com/hurricane...
THE BACKYARD
BEST OF MAXIM
RELATED ARTICLES
RALEIGH, N.C. -- Once Eric Staal and the Carolina Hurricanes got in a good offensive flow, they settled in to do what they do best. Staal's hat trick capped an offensive outburst for the Hurricanes in a 6-3 victory over the Buffalo Sabres on Thursday night at PNC Arena. "It felt a little better," Staal said. "I knew if I stayed with the game plan and we stayed...
BUFFALO, N.Y. -- With Ryan Miller standing tall at the other end, the Carolina Hurricanes regrouped late and focused on getting pucks to the net with traffic in front. It worked to perfection. Jay Harrison broke a 1-1 deadlock with just under 5 minutes remaining, and the Carolina Hurricanes went on to defeat the Buffalo Sabres 3-1 at the First Niagara Center on Friday night....
The Buffalo Sabres have put up some mind-boggling merchandise numbers just one week into the 2013 season. According to the team's official site, the Sabres have sold more merchandise in the first week of the current season than they did during the entire 2010-11 season. The team's "Fan Appreciation Sale", which ran over the course of training camp before ending...
  Ever since Milan Lucic beat Ryan Miller out for a loose puck, the Buffalo Sabres and their fanbase have been crying out for more toughness, for more accountability. Apparently they realized that Patrick Kaleta is softer than a pool of Charmain Ultra. So what do they do? They hire that dude from the band Saliva and Brave Steve Ott. The idea was that those two would keep the...
Jay Harrison scored the go-ahead goal with 4:50 left, helping the Carolina Hurricanes to a 3-1 win over the Buffalo Sabres on Friday night. Harrison fired a slap shot from the right point after Eric Staal won the faceoff, and the puck beat Buffalo's Ryan Miller on the short side. Alexander Semin tied it for the Hurricanes early in the third period, and Jeff Skinner scored an...
Don't look now but the Hurricanes have outchanced their opponents in each of their first three games this year and they managed to do it last night without the "aid" of score effects, as they were playing with the score tied or with a lead for most of the contest. Yesterday's game was easily Carolina's most impressive performance in this still very young season...
For the second game in a row, the Hurricanes outchanced their opponents only to come out on the losing end of a blowout. Despite outchancing both Florida and Tampa Bay by a combined 40-34 and 32-23 at even strength, the Canes have been outscored 2-9 and now find themselves starting the year with an 0-2-0 record. This is frustrating to watch, but the fact that Carolina has been winning...
Well that was a fun couple of days, no? A 5-2 beat down of the Flyers followed by a near textbook road win against the Leafs and the Sabres have gotten off on the right foot for this shortened 2013 season. Sunday's opener was about as sloppy as expected, as the Sabres and Flyers plodded through forty minutes of fairly average hockey before the Sabres third period explosion...
On a busy Thursday, Eric Staal's hat trick put the Carolina Hurricanes into the win column for the first time this season as they beat the Buffalo Sabres 6-3 last night in Raleigh. He scored once in the second and put up both Carolina goals in the third. His brother, Jordan, added a pair of assists in the win. Jason Pominville potted a pair in the loss. That was part of a wild...
The Buffalo Sabres are hoping a solid start by goalie Ryan Miller is a sign of good things to come. That's not so good for the Carolina Hurricanes, who have struggled to score coming out of the nine-month layoff. The visiting Sabres seek their best start in four seasons and look to hand the Hurricanes their worst in 15 years Thursday night in the opener of a home-and-home series...
After watching backup goaltender Jhonas Enroth fail to stop the previously winless Carolina Hurricanes, the Buffalo Sabres are hoping Ryan Miller has some better luck. Miller will seek to continue his strong start when the Sabres wrap up their home-and-home series with the Hurricanes on Friday night in Buffalo. Enroth was charged with five goals in his first start this season,...
NHL News

Delivered to your inbox

You'll also receive Yardbarker's daily Top 10, featuring the best sports stories from around the web. Customize your newsletter to get articles on your favorite sports and teams. And the best part? It's free!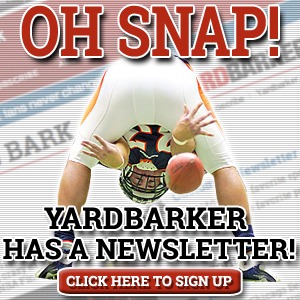 Latest Rumors
Best of Yardbarker

Today's Best Stuff

For Bloggers

Join the Yardbarker Network for more promotion, traffic, and money.

Company Info

Help

What is Yardbarker?

Yardbarker is the largest network of sports blogs and pro athlete blogs on the web. This site is the hub of the Yardbarker Network, where our editors and algorithms curate the best sports content from our network and beyond.