Found February 01, 2013 on Shutdown Line:
PLAYERS:
Justin Faulk
,
Jason Spezza
,
Erik Karlsson
,
Erik Condra
,
Peter Regin
,
Craig Anderson
,
Dan Ellis
,
Andreas Nodl
,
Tim Brent
,
Chad LaRose
,
Sergei Gonchar
,
Andre Benoit
,
Mark Borowiecki
TEAMS:
Ottawa Senators
,
Carolina Hurricanes
,
Buffalo Sabres
,
Boston Bruins
Ottawa Senators at Carolina Hurricanes PNC Arena, 7 p.m. TV: FS-Carolinas, Sportsnet-East The sense of optimism in Raleigh after their back-to-back sweep of the Buffalo Sabres didn't last long as the feelings of gloom and doom returned after the Hurricanes 5-3 loss to the Boston Bruins on Monday night. A bad third period performance is usually a good way to lose confidence in your team, but it's important to be rational in these types of situations. I'm sure that most people had Carolina starting their year better than 2-3-0 and their special teams work has left a lot to be desired so I can understand why some fans are disappointed. That being said, five games is a little too early to hit the panic button and the team has shown signs of improving. The team is right back at .500 if they win tonight's game against Ottawa so they could be in a much worse situation. If they still have only two wins through 10 games, then it's time to start worrying. Another thing to keep in mind is that their last two losses have come against teams that have dropped only two total games in regulation (Tampa Bay and Boston) so the Canes haven't exactly had the easiest road thus far. It won't get any easier tonight when they take on the rolling Ottawa Senators. Ottawa has won two games in a row and has lost only one game in regulation, so tonight's game is going to be a very tough challenge for the Hurricanes. There are a few reasons to be confident, though with the main one being Justin Faulk's return to the lineup tonight. We could also see some new forward lines and a new-look powerplay if the reports from practice are any indication. Carolina is going to embark on a two-week road trip after tonight's game, so getting at least a point tonight against Ottawa will be critical. A further breakdown of this game is coming after the jump. Know Your Opponent: Ottawa Senators Ottawa is off to a terrific 5-1-1 start this year and a large part of their success is based on strong 5-on-5 play. They have the third highest Fenwick close percentage in the NHL at 55.4% which means that they have done an excellent job of controlling possession in close games. They are also 6th in the league in powerplay percentage and second in shots generated, so the Hurricanes are going to have their hands full tonight in all areas. The Hurricanes have also been very good at controlling the shot battle at even strength this year, but I mentioned in an earlier post that it might relate to them playing from behind in 3/5 of their five games. This game might show us what Carolina is really made of and if they are as good at even strength as their underlying stats indicate. The last statement may not be completely valid tonight because the Senators are going to be without their best forward in Jason Spezza, who will be out indefinitely with a herniated disk. Spezza is one of the best playmakers in the NHL and a big key to Ottawa's ability to drive play at even strength. They won their last two games without him but it's worth mentioning that they were outshot at even strength in both contests, so trouble could be ahead for the Sens. Ottawa does have plenty of guys who can drive the play, though with the most notable player being Norris Trophy winner Erik Karlsson but their fourth line has also done a fantastic job of controlling possession at even strength. Jim O'Brien, Erik Condra and Peter Regin have been able to move the forward very effectively and it's led to them adding some secondary scoring to Ottawa's repertoire. With how poorly Carolina's third line has played this year, this could be a bad matchup for the Canes. Lines Tlusty - E. Staal - Semin Dalpe - J. Staal - Skinner Bowman - Jokinen - Dwyer Nodl - Brent - LaRose Gleason - Faulk Pitkanen - McBain Harrison - Corvo Ellis Ward Alfredsson - Turris - Michalek Silfverberg - Regin - Latendresse Greening - Smith - Neil O'Brien - Zibanejad - Condra Karlsson - Methot Phillips - Borowiecki Wiercoch - Benoit Anderson Lehner Five Things to Focus On - Carolina will have their work cut out for them tonight against Ottawa goaltender Craig Anderson, who has allowed only three total even strength goals against this season. I know that he's prone to serious regression but we've seen this team get shut down by a couple hot goalies this year and Anderson is a prime candidate to the same to them tonight.   - At the other end, Dan Ellis will be starting in net for the Hurricanes. This is the first night of a back-to-back, so either him or Ward were going to start one game regardless and it appears that they want to give Ellis the nod tonight. I know some people were calling for him to start with Ward's sub-par star to the season and while I understand wanting to ride the "hot goaltender," I hope these people realize that Carolina is back at square one if Ellis has a bad game tonight. I also hope the Hurricanes don't plan on making him stop 40+ shots again, because it's unreasonable to expect him to do that every game. - Andreas Nodl will be making his return to the lineup for the Hurricanes tonight and it appears that he's going to be on the fourth line with Tim Brent and Chad LaRose. Depending on how Muller uses this unit, I think this could work for him. Nodl probably isn't going to be used in a defensive role with LaRose on this line, so it'll be different from how he was used last year and I'm interested to see how he performs. I'm also curious to see how Dwyer performs on the third line in a more offensive role. Lord knows that Carolina could use some secondary scoring. - The confidence in Carolina's powerplay is probably at an all-time low right now after that performance against Boston, but I think they are going to break through soon enough. They are generating over 50 shots per 60 minutes with the man advantage and are certainly generating enough chances. I'm not sure if Anderson is the goalie who they will have their breakout game against, but I think the goals will come to them soon enough. - Ottawa will be without veteran defenseman Sergei Gonchar tonight, which is a pretty big loss for their powerplay. However, they've managed to be a superb team at even strength this year despite not having many veterans on their blue-line. I haven't gotten the chance to get a closer look at guys like Patrick Wiercoch, Andre Benoit and Mark Borowiecki so tonight will be a good opportunity to do so. Gonchar isn't known for his play in his own end but he still logs big minutes and his absence could pose a favorable matchup for Carolina's second line against the Phillips-Borowiecki pairing. This game should be a very good test for the Hurricanes and it would be nice to see them get a win before going on the road for the next couple of weeks. Enjoy the game.
Original Story:
http://www.shutdownline.com/site/game...
THE BACKYARD
BEST OF MAXIM
RELATED ARTICLES
One of the reasons why the Hurricanes acquired Jordan Staal this summer is because he is the type of player who can make the rest of your roster better. We've been over this hundreds of times before, but J. Staal's ability to drive the play and create offense despite playing the toughest minutes on the team allows Kirk Muller to free up some of his other lines to easier minutes...
RALEIGH, NC --- As the Carolina Hurricanes embark on a six-game road swing that won't bring them back for another home game until Valentine's Day, they can do so knowing they're capable of handling any style. Carolina is built to score and play fast, but on Friday night at PNC Arena, the only goal scored was by Hurricanes' star center Eric Staal in the first period...
Ottawa Senators star Jason Spezza will miss two months after having back surgery to repair a herniated disc, general manager Bryan Murray announced at a press conference today. "I can't give you a time frame (on Spezza's return) simply because until the surgery and rehab starts we won't know the total extent," said Murray. "We are hoping that he gets back...
The Ottawa Senators improved to 5-1-1 on Wednesday night, but they found out Thursday they may be without their top center for possibly the rest of the season. Ottawa general manager Bryan Murray announced Thursday that Jason Spezza, who has a history of back problems, is out indefinitely with another back issue. The center will undergo surgery Friday to repair a herniated disc in...
Ottawa Senators center Jason Spezza will undergo back surgery and is out indefinitely, general manager Bryan Murray said in a press conference on Thursday. The procedure, which will address a herniated disc in Spezza's back, is schedule to take place on Friday in Toronto. The first-line center suffered the injury during Sunday's loss to the Pittsburgh Penguins. He had missed...
From the Carolina Hurricanes: RALEIGH, NC – Jim Rutherford, President and General Manager of the National Hockey League's Carolina Hurricanes, today announced that the Pittsburgh Penguins have claimed forward Zach Boychuk on waivers. Boychuk, 23, appeared in Carolina's season opener against the Florida Panthers and was a healthy extra for four games. The Airdrie, Alb...
Jason Spezza might be one of the first major injury casualties of the 2013 season. The Ottawa Senators forward will require back surgery to fix a herniated disc he was believed to have injured at some point during the team's game against the Pittsburgh Penguins on January 27th.  Currently, there's no time frame set for Spezza's return, but it's believed he will...
You probably already know this already, but the Pens have claimed Zach Boychuck off of waivers from Carolina. He's a former first-round pick. There's some speculation that he may be given a shot alongside Malkin and Neal. Boychuck has seven goals and 11 assists in 73 career NHL games. He wears number 11, which is probably why Carolina didn't want him any longer...
RALEIGH, N.C. -- Goalie Dan Ellis has given the Carolina Hurricanes something to think about with their goalie rotation. Ellis, making his second start of the season, stopped 33 shots and Eric Staal's first-period goal held up as the Hurricanes defeated the Ottawa Senators 1-0 Friday night at PNC Arena. "We were able to get some good habits and that's something to...
Balanced production has the Ottawa Senators off to a strong start, and they may need it to continue for some time. With top center Jason Spezza out indefinitely, the Senators try for a third consecutive victory overall and some rare road success against the Carolina Hurricanes on Friday night. Ottawa (5-1-1) ranks among the NHL leaders with 24 goals and it's gotten that production...
So Jason Spezza, Ottawa's first line center and the league's fourth leading league scorer last season, is out indefinitely with a herniated disc? Ignoring the immediate kneejerk reaction, and ensuing panic that will flow, this news is a 'we just traded Pavol Demitra for Christer Olsson' kind of terrible that takes time to properly absorb. The good news for Spezza...
RALEIGH, N.C. -- Goalie Dan Ellis, making his second start of the season, stopped 32 shots and Eric Staal's first-period goal held up as the Carolina Hurricanes defeated the Ottawa Senators 1-0 Friday night at PNC Arena. Staal's fifth goal of the season enabled the Hurricanes to even their record at 3-3-0. Ottawa (5-2-1) was denied its second three-game winning streak of...
NHL News

Delivered to your inbox

You'll also receive Yardbarker's daily Top 10, featuring the best sports stories from around the web. Customize your newsletter to get articles on your favorite sports and teams. And the best part? It's free!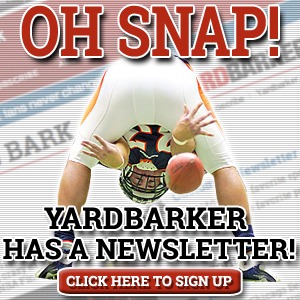 Latest Rumors
Best of Yardbarker

Today's Best Stuff

For Bloggers

Join the Yardbarker Network for more promotion, traffic, and money.

Company Info

Help

What is Yardbarker?

Yardbarker is the largest network of sports blogs and pro athlete blogs on the web. This site is the hub of the Yardbarker Network, where our editors and algorithms curate the best sports content from our network and beyond.