Found March 20, 2012 on NorthWest Sports Beat:
Roaming Charges
A wise man (or woman) once said that, "Patience is a virtue."
Maybe we've been a little too harsh on our Vancouver Canucks. Since the beginning of the 2010-11 season, they have played 179 regular season and playoff games. You can make it 180 in 530 days if you count Wednesday night's matchup against Chicago.
If you take out the off-season, the All-Star break this season, and breaks between playoff series, you take around 100 days off of that total.
Perhaps one might say these guys can take the heat; they know the market they are in and it doesn't matter what anyone says, fans are going to be P.O.'d.
Dannyboy needs to take it to the Hawks! (Photo - Getty Images)
Be that as it may, those men who skate out there almost every night are in fact human. They have lives; wives, kids, other family members, family issues, family successes and let's not forget a helluva lot of pressure.
When the Canucks face off against the hated Hawks at the United Center Wednesday, fans really don't know what to expect. How could we?
However, even though we don't what to expect, there is something we should expect each and every night: resilience.
Fighting and fighting
I don't speak of the fisticuffs type of fighting, although that does help once in a while. This team has proven to us over the last few seasons they can turn it on when it's most important.
It wasn't the beginning of the playoffs and it wasn't this or last season, but remember when Alex Burrows scored that short-handed breakaway goal against Carolina? What happened immediately after?
The Canucks were the toast of the league heading into the playoffs and they were virtually untouchable; until they met Chicago in Round 1.
The point is this team has never NOT given us a fight to the finish. That fight starts Wednesday at the Madhouse on Madison.
Of course we hope it doesn't end for about 2 months after that.
The Powerplay
It started to come on in the last week when the team scored 4 goals with the man advantage against Phoenix and Columbus but it once again fell flat against the lowly Minnesota Wild.
One of the brighter spots to that powerplay success was Ryan Kesler playing on the point; or at least having that one time from somewhere between the blueline and the top of the circle.
It doesn't always end up bulging the twine but he knows how to rip one on top of his wrist shot prowess. If Coach Vee is smart, which he's proven he is and isn't recently, he will keep Kes in that position on the powerplay.
Sending a Message
It's possible but unlikely the Canucks will meet the Hawks in the first round. While the Canucks are firmly locked into 2nd place and not showing any sign of catching St. Louis for first, Chicago is as equally locked into 6th.
Hamhuis laying the hammer on Kane. (Photo - Rich Lam/Getty Images
That being said, the Hawks are 4 points back of Detroit and Nashville for 4th/5th and only 5 points ahead of Phoenix and Colorado for 7th/8th.
The likeliest scenario for a first round matchup would be for Chi-town to drop to 7th but that doesn't look like it's going to happen, given that Joel Quenneville's squad has gone 7-2-1 in their last 10.
As Yoda would say, more likely to catch Detroit, they are. Detroit is 3-6-1 in their last 10 and as mentioned, are only 4 points ahead of Chicago.
Anyhow, the chance remains the Canucks meet them in the 2nd round and winning a game like this so close to the playoffs would send that message that they won't be playing down to the Hawks' regular season level, which usually ramps up in the post-season.
BEST BET TO WIN: Vancouver Canucks
The slump continues into Chicago but it's well documented that Vancouver gets up for the big teams. It's entirely possible we see the Canucks blow out the Hawks but I wouldn't bet on it.
It will be a tight game, more than a few goals and one that sees Vancouver finally kiss those slump-inducing habits away.
How ironic is it that they should likely do it against those original and now exorcised demons?!

Our patience will pay off Canucks fans, rest assured.
Puck Drop is at 5PM on TSN and TEAM1040 Radio
CLICK HERE TO CHECK OUT THE VANCOUVER CANUCKS CLUBHOUSE TODAY ON NWSB!
© Vancan19 for North West Sports Beat, 2012. | Permalink | No comment |
Follow NWSB on Twitter or join US on Facebook for real-time updates OR... | Share This on Twitter | Share NWSportsBeat.com on Facebook
Post tags:
Alex Burrows
,
Blackhawks Preview
,
Blackhawks vs. Canucks
,
Canucks Blog
,
Canucks Clubhouse
,
Canucks Matchups
,
Canucks Preview
,
Canucks vs. Blackhawks
,
Canucks vs. Blackhawks Gameday
,
Canucks vs. Blackhawks Preview
,
Chicago
,
Chicago Blackhawks
,
Chicago Blackhawks vs. Vancouver Canucks
,
Chicago vs. Vancouver
,
Game 73
,
Madhouse on Madison
,
NHL
,
nucks
,
Patrick Kane
,
Roberto Luongo
,
Rogers Arena
,
Ryan Kesler
,
United Center
,
vancouver
,
Vancouver Canucks
,
Vancouver Canucks vs. Chicago Blackhawks
,
Vancouver vs. Chicago
Original Story:
http://www.nwsportsbeat.com/canucks/v...
THE BACKYARD
BEST OF MAXIM
RELATED ARTICLES
That's gotta hurt?! Last night in Minnesota the Vancouver Canucks suffered a 2-0 loss at the hands of the Wild and their brutal style of hockey. I fell asleep in the first period. Sorry. Anyways when I woke up all I heard about was the punch. Check out the video below and watch the bad night continue for Kevin Bieksa, who takes a punch from teammate Aaron Rome. Well not literally...
Vancouver Canucks left wing Daniel Sedin left Wednesday's game against the Chicago Blackhawks in the first period. Sedin exited the contest shortly after he was elbowed in the head by Blackhawks defenseman Duncan Keith. Although he played on a subsequent power play, Sedin did not return to the game. Earlier in the period, Sedin had hit Keith in the head with his shoulder. ...
The Vancouver Canucks have lost five of their last seven games and seven of their last 10, including a drowsy 2-0 loss at Minnesota Monday night.The Wild staggered into the game amid a stunning 9-25-7 downturn. But Minnesota goaltender Josh Harding didn't have to work hard enough to throw his shutout."I think you can count on one hand the number of Grade A scoring chances that...
On Wednesday night, the game between the Blackhawks and Canucks saw emotions come to a boil after Duncan Keith made this high hit on Daniel Sedin: Daniel did not return to the game after the hit. However, as TSN pointed … Continue reading →
The Chicago Blackhawks have agreed to terms with forward Terry Broadhurst, 23, on a two-year contract. A native of Orland Park, Broadhurst was the captain at the University of Nebraska-Omaha as a junior, where he scored 16 goals and added 20 assists in 38 … Continue reading →
Despite struggling in recent weeks, the Vancouver Canucks still hold a comfortable lead atop the Northwest Division. They may struggle even more if they're forced to play without Daniel Sedin. With Sedin's status uncertain, the Canucks will try to cool off the surging Dallas Stars at American Airlines Center on Thursday night. Vancouver (43-21-9) has stumbled to a 3-5...
Sportsnet's coverage of the Canucks last night saw their captain Henrik Sedin play in his 571st consecutive game. Producer Greg Shannon apparently decided to mock Boston Bruins iron man Mark Recch as... Full story at Bob's Blitz ~ http://www.bobsblitz.com
The Vancouver Canucks might have a firm grasp on the second seed in the Western Conference, but they are having a hard time building momentum heading into the playoffs. Looking to bounce back from their latest defeat, the Canucks face another difficult challenge Wednesday night when they visit a Chicago Blackhawks team trying to match a season high with its fifth consecutive victory...
Duncan Keith may be applauded in Boston for his recent hit on Daniel Sedin, but Brendan Shanahan probably isn't happy for what went down during the Blackhawks-Canucks game on Wednesday night in Chicago. Keith came up high with a vicious elbow directed at the Canucks forward's head, as seen in the video below.
- As noted before, WWE Champion CM Punk was at the Chicago Blackhawks hockey game to promote WrestleMania 28 yesterday. Colt Cabana attended the game with him. Here is video of Punk on the ice: - Kevin Nash was scheduled to take on former WWE Superstar Manu (Afa Jr.) for the WXW C4 promotion in Morgantown, West Virginia this weekend. Nash says he won't be working the show because...
We have a double play going today on Pick The Winner.  This is quite the gamble.  Let's get to it... ============================================== A clean SWEEP last night going 3-0. We had the OVER in the Islanders/Penguins game and that was an easy winner with an 8-4 final score. We also had home favorites in Colorado and Los Angeles who both got things done (3-2...
The Vancouver Canucks were very outspoken and strongly critical of Bruins forward Brad Marchand after he clipped Sami Salo during the two teams' Jan. 7 Stanley Cup Final rematch at TD Garden. That hit, which prompted criticism from general manager Mike Gillis and head coach Alain Vigneault among others, earned Marchand a five-game suspension. Now, it may be Vancouver forward...
NHL News

Delivered to your inbox

You'll also receive Yardbarker's daily Top 10, featuring the best sports stories from around the web. Customize your newsletter to get articles on your favorite sports and teams. And the best part? It's free!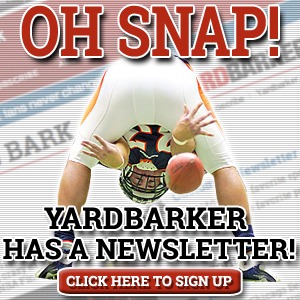 Latest Rumors
Best of Yardbarker

Today's Best Stuff

For Bloggers

Join the Yardbarker Network for more promotion, traffic, and money.

Company Info

Help

What is Yardbarker?

Yardbarker is the largest network of sports blogs and pro athlete blogs on the web. This site is the hub of the Yardbarker Network, where our editors and algorithms curate the best sports content from our network and beyond.