Found March 01, 2012 on Blue Seat Blogs:
PLAYERS:
Cody Hodgson
,
Paul Gaustad
,
Ryan Callahan
,
Rick Nash
,
Carl Hagelin
,
Henrik Lundqvist
,
Gary Bettman
,
Artem Anisimov
,
Ruslan Fedotenko
,
John Tortorella
TEAMS:
Buffalo Sabres
,
New York Rangers
,
Columbus Blue Jackets
It's another edition of Musings on a game day. How convenient. It's also the first since the deadline came and went and the deadline day inactivity was a blessing or curse; depending on your point of view of course.
The biggest winner of the deadline day for me: Buffalo. I think Cody Hodgson should be a quality center for a long time to come and any team that can get a 1st AND a 4th for a guy that has never scored more than 12 goals in a season has done well. Paul Gaustad; good foot soldier, nothing more.
I wonder when Rangers fans will get to watch John Scott in red, white and blue for the first time, against Boston?
The Rangers had a little pre-deadline day wobble but anyone that saw the Devils game has to be impressed. The whole shenanigans didn't make them deviate from their game and they stuck with what got them this far. This team is in sync, it's hungry and maybe some people are right, they deserved a chance to go deep as the unit that they already are. Hey, they're well ahead of their development curve anyway, right?
Ryan Callahan is having a monster year. That is all.
It isn't Rick Nash or another marquee player that's put Dubinsky's Rangers career on shaky ground. It's himself, but also Carl Hagelin. The young Swede is as dynamic a rookie as there's been in a long time and he's out hustling, out skating and out producing Dubinsky at the wing spot. Consider the kid a future star: 43 games, 27 points, 40 point season approaching. Nice.
Is there any way Mats Zuccarello even contemplates re-signing with the Rangers? And, is there any way the club even contemplate offering him a new deal? Answer: no. He'll want an NHL opportunity that is not coming any time soon in New York.
Anyone else really, truly thought of the absurdity of Henrik Lundqvist's save percentage this season?
Playoff potential: right now the Rangers are looking at a showdown with the Capitals which is as tough as a 1st round could be. 1 point behind is the Jets which would be a great match up.  It seems, at this stage, to be one of Jersey, the Caps, Jets or least likely the Leafs. It could be a lot easier folks.
Five, FIVE (!) teams have losing records this season. Gary Bettman, thank you for your diluted product, where parity is the beige of sports. To make matters worse two of those teams are a two game winning streak from a .500 record which would leave a mere 10% of the league with losing records.
Following a little fit of production, Artem Anisimov has gone back to being a passenger. At what point do you believe he's hit his ceiling? At what point do you believe he'll never fulfil his potential? If Chris Kreider does make the roster sooner rather than later Anisimov has no chance of establishing himself as a top six player on this club.
Chances Ruslan Fedotenko gets another year with the Rangers next year? If Dubinsky or A.N. Other leaves and prospects aren't considered ready; don't rule out one of Tortorella's favourite troopers coming back.
Question Time:
John Tortorella; does he win the Jack Adams this season?
Does Ryan Callahan break the top five in Selke vote getters?
John Scott – fights as a Ranger: over or under 5?
First to 20 points; Prust or Boyle?
Rangers have 21 games remaining; Does Lundqvist reach 40 wins?
Original Story:
http://www.blueseatblogs.com/2012/03/...
THE BACKYARD
BEST OF MAXIM
RELATED ARTICLES
With the post-trade posturing by teams, general managers and fans to promote the view that this is a trade that helps both teams, often thats far from the case, and considering the wealth of draft picks and prospects exchanged at the deadline, its not always clear which team emerges as the victor in the long run. While we promoted Vancouvers and Nashvilles roster upgrades as strong...
The fans and media in Vancouver are still in shock from the trade deadline departure of young gun, Cody Hodgson, from the Vancouver Canucks. The deal happened so quickly and abruptly, that there are still more questions than answers as to what really went down in Van City in the days and weeks leading up to the trade. The Sabres traded their promising eighteen-wheeler, Zack Kassian...
Gettin it off my chest! This week, things about the Canucks that drive me crazy. Trading Hodgson WHAT THE @#$@ Where did this trade come from? Cody Hodgson is young, he's cheap, he's playing out of position and he's STILL one of the best third line players in the NHL. He's probably the most natural goal scorer the Canucks have had since Bertuzzi, and he LOVED Vancouver...
Follow me on Twitter for random hockey talk, question and answer sessions, and the odd witty tweet Twitter Buttons Less than a week ago Cody Hodgson was dealt away to the Buffalo Sabres. Tonight, on Hockey Night in Canada, the man that was supposed to ensure Vancouver remained at the top of the league for the next decade returns. It's hard to say what the reaction will...
"Cody was something special…" The conversation has been divided; as it usually is about anything in Canucks Nation. Resistance is Futile, so why do I resist? Would you cheer if Cody Hodgson scored Saturday night? The guys on TEAM1040 kicked it around this morning with Jason Botchford saying you aren't a true fan if you cheer for a Hodgson goal. I have nothing against Jason...
In the first game of the Cody Hodgson era, Ryan Miller had to make 20 saves on 20 Ducks shots in the third period. Ryan-Getzlaf-Perry were angry after a while because they couldn't beat the Buffalo net minder. Miller made a total of 43 saves on 43 shots, for his fourth shutout of the season. After the game, Miller gave all the credit to his D and forwards. &quot...
Canucks host Sabres Saturday Night The Vancouver Canucks will welcome Cody Hodgson back to Vancouver on Saturday night – this time in an enemy uniform. One of the more curious trade deadline moves will get a chance to prove its worth when Hodgson and Alexander Sulzer attempt to make the Canuck rue the day that the Canucks moved them to Buffalo for Zach Kassian and Marc-Andre Gragnani...
Canucks swap key pieces with Buffalo And just like that, the stud is gone. To the absolute shock of Canucks nation and the entire NHL, talented rookie Cody Hodgson was traded to the Buffalo Sabres yesterday in exchange for "a force" – hard-hitter and winger Zack Kassian. Fans are surprised that the team canned the All-Star before he'd fully had a chance to prove himself....
Lindy Ruff gave his tam the day off in Vancouver after impressive back to back shootouts in Anaheim and San Jose, respectively. While his team mates were chillin, Cody Hodgson was brought before the Vancouver media to answer at the questions that have been swirling around Vancouver ever since the rookie-of-the-year candidate was sent packing on trade deadline day. Hodgson...
I Got The Blues Oh thank god this game didn't go to overtime. The St Louis Blues and Vancouver Canucks locked horns in a must-see Thursday game if you had to get up really early Friday morning and were having trouble falling asleep so early in the evening. The game was less of a playoff preview and more of a playoff warning that if you thought a series against Nashville was boring...
Swapped Life of Zack & Cody I can guarantee you that interest in a Phoenix road game has never been higher than it was Tuesday. It wasn't the dazzling charms of Dave Tippett's exciting brand of up-tempo defensive sludge, but rather the circumstances under which, in some circles at least, some combination of regicide and infanticide not seen since the Shakespearian days had...
Sorry for disappearing for a bit there. This week highlights my favorite games of the year, mostly because of the 10 p.m. and later start times. I'm really looking forward to Saturday's game against Vancouver, as many fans probably are as well. Jason Pominville has been the only Sabres player to participate in all 63 games this season. Now, after acquiring Cody Hodgson...
NHL News

Delivered to your inbox

You'll also receive Yardbarker's daily Top 10, featuring the best sports stories from around the web. Customize your newsletter to get articles on your favorite sports and teams. And the best part? It's free!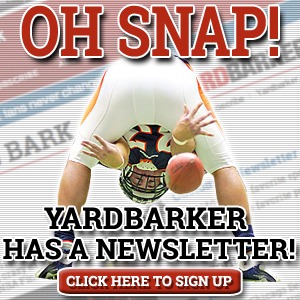 Latest Rumors
The Backyard

Today's Best Stuff

For Bloggers

Join the Yardbarker Network for more promotion, traffic, and money.

Company Info

Help

What is Yardbarker?

Yardbarker is the largest network of sports blogs and pro athlete blogs on the web. This site is the hub of the Yardbarker Network, where our editors and algorithms curate the best sports content from our network and beyond.