Found December 08, 2012 on Hockey Fan Land:
In all the years I've been watching hockey, I've never seen Gary Bettman this angry. The world's most hated commissioner has his own "Boo Montage" on Youtube. He's been "wanted dead" by David Bolland. He's been called an "idiot" by Red Wings defenseman Ian White. Last night, in a press conference, Bettman lost his cool. Bettman's outburst reflected every hockey fan's opinion on the lockout. The lockout has just gone too far now. Nobody's happy. It's not about the money. Get hockey back! To make things worse, not only is there an NHL lockout, but my copy of NHL 13 stopped working the other day... At times like this, just sit back, relax, and watch some Ilya Bryzgalov in this epic one hour video. It`s the best hockey related entertainment out there! Or you can also relive some of the best goals from the 2011-12 season in our video on Youtube!Courtesy of our friends at talk hockey
Original Story:
http://www.hockeyfanland.com/apps/blo...
THE BACKYARD
BEST OF MAXIM
RELATED ARTICLES
from John Brennan of NorthJersey.com, Wrapping up our five-part series on the depositions of the czars whose sports leagues are suing New Jersey to try to prevent sports betting at the state's casinos and racetracks, NHL Commissioner Gary Bettman had his turn on Nov. 19. During a couple of hours of testimony, Bettman echoed similar themes to his colleagues' depositions...
CBC hockey commentator Don Cherry is a man of many hats. He is a former minor league player, coach, TV personality, and flashy dresser, but he always tells it like it is and Cherry took to Twitter last night where he went off on the lockout and Gary Bettman being incredibly "livid" after talks broke down. On [...]
The NHL labor talks came to a screeching halt again as Gary Bettman continues to prove that he really just doesn't give a ****. Last night at the AHL showcase in Washington, an event that should have been a positive for the league and its young stars, fans chanted "Fire Bettman" which you can hear pretty clearly at the 4 second mark. Even if they reach an agreement the league...
from Michael Grange of Sportsnet, Gary Bettman has been a lot of things over his nearly 20 years running the NHL, but on Thursday night he took on a new role, even for him. He's now the NHLPA's bad boyfriend. There was so much promise in the air these past few days in Manhattan, which is kind of romantic in the crisp December cold, the city bedazzled with Christmas...
Globalization is a real thing. The NHL lockout has been such a mess that a news outlet in Taiwan put together an animated video summarizing the twists and turns in negotiations. The video was produced by Next Media Animation and features Sidney Crosby and two other players who look to be Tampa Bay Lightning forward Steven Stamkos and Maple Leafs winger Phil Kessel. Gary Bettman and...
Sportsnet's Michael Grange and the CBC's Elliotte Friedman posted late-night CBA negotiating insanity gems, but Yahoo Sports' Nicholas J. Cotsonika has taken the cake and then some for encapsulating Thursday's episode of Proskauer-Rose Shore in two simple, eloquent Tweets: Maybe the most bizarre day of my hockey writing career. Fehr misled us. Bettman went...
from Bruce Arthur of the National Post, Once you got past the burbling emotion of Gary Bettman's aria in New York last week, which deputy commissioner Bill Daly occasionally turned into a duet, it was a rich tale in more ways than one. It was a tale of deceit and disingenuousness, of betrayal and intransigence, of villains and the gracious barons who are trying to reform them...
This NHL lockout has been quite the roller coaster ride. Sometimes things are up and sometimes they are down with sudden abrupt changes and inversions to make anyone dizzy. Gary Bettman and Donald Fehr have butted heads again and again in some sort of, I assume, exhibition of male dominance (don't know why they think the fans want to mate with either of them right now) going...
The NHL has rejected the NHLPA's latest offer and it seems like they've now pulled their own offer off the table. Or something. We're not even sure anymore. Someone help us. It looks like more games will likely be cancelled soon. It's December 6th and they've already cancelled games to the 14th. No way the season starts by the 14th. It's been a bizarre...
Do not be an NHL fan if you don't like roller coasters, yo-yos, being manic depressive or just yanked around in general.  Talks are going well. Up!  Talks have halted again.  Down.   Progress and proposals.  Up!  Rejections and "still far apart."  Down.   Better take your dramamine if you are going to follow this one any further.    Helps with the motion...
Happy Holidays, NHL fans! What better way to celebrate the Holiday season than by watching two greedy groups of people squabble over how to reach common ground over our favorite sport?  Darren Dreger announced through Twitter that the NHL will cancel all games through December 30th, officially making Gary Bettman our Scrooge and Donald Fehr our Grinch of the 2012 Holiday season...
from Steve Simmons of the Toronto Sun, - Social media has raised the emotional awareness of the NHL lockout in all kinds of ways. Labour negotiations are not really intended to be covered as play-by-play vehicles. But when they are — and they are now — you get the instant emotion, the disappointment, the tears, the threats, the anger the angst from those involved and from...
NHL News

Delivered to your inbox

You'll also receive Yardbarker's daily Top 10, featuring the best sports stories from around the web. Customize your newsletter to get articles on your favorite sports and teams. And the best part? It's free!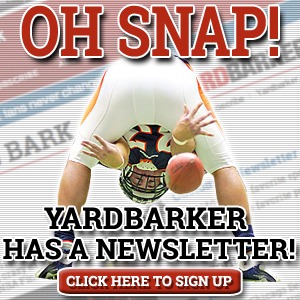 Latest Rumors
The Backyard

Today's Best Stuff

For Bloggers

Join the Yardbarker Network for more promotion, traffic, and money.

Company Info

Help

What is Yardbarker?

Yardbarker is the largest network of sports blogs and pro athlete blogs on the web. This site is the hub of the Yardbarker Network, where our editors and algorithms curate the best sports content from our network and beyond.