Found February 21, 2012 on Fox Sports Tennessee:
When Danny Geoffrion was growing up in Canada, playing junior hockey, he heard the comparisons, the whispers. "'He's good, but he'll never be like his father,'" he said. Such is the blessing and the curse of being born into one of hockey's most famous families. His father Bernie "Boom Boom" Geoffrion is in the Hockey Hall of Fame, as is his grandfather, Howie Morenz. Both played for the NHL's most decorated franchise, the Montreal Canadiens. Danny Geoffrion played 32 games for the Canadiens more than 30 years ago. He said the pressure of the market is "unexplainable," but sees it as a positive, motivating force. Last Friday, his son Blake was traded to Montreal in a deal that sent defenseman Hal Gill to the Predators and so Blake will soon learn first-hand what it is like to play in the crucible that is Montreal while doing so with the burden -- or blessing -- of a famous surname. Blake Geoffrion reported to the Canadiens' American Hockey League affiliate in Hamilton and is already off to a rousing start. In two games, he has a goal and four assists. Part of what brought the feel-good story of Nashville's home-grown player to an end was a log-jam at forward and Geoffrion's failure to score while totaling only three assists in 22 games this season before he was sent to the minor leagues. But he is a former Hobey Baker Award winner as the NCAA's top player and a physical two-way player at 6-foot-2, 195 pounds. Sometimes a fresh start helps. The Canadiens know this. They are a disappointing 13th in the Eastern Conference, currently six points behind Toronto for the eighth and final playoff spot in the East. The Habs have already sort of signaled that they do not think they will make the playoffs, as indicated by the Gill trade. At some point, they are likely to call up minor league prospects to give them a look. Geoffrion probably is near the top of the list. "Let me tell you this with Blake: He's had the pressure of that his whole life," Danny Geoffrion said by phone from his home in suburban Nashville. "And, yeah, Montreal is a tough market. The way I look at it is that he's already had the training. People always ask me, 'You went through that, you saw what it was like.' Yeah, I did. Me, my situation was that my father was coaching the team. They asked him to coach the team ten days before going to training camp (in '79-'80, the same season as Danny played for the Canadiens). "So as far as Blake goes, he's had that his whole life. It's not a problem. I think he'll have some butterflies when he steps on the ice at the Montreal Forum" -- he used name of the team's former venue -- "with his grandfather and his great grandfather's jersey there, hanging in the rafters. But then it's like he's got to do his job and make the team and work hard and produce." In terms of North American professional sports, Montreal is about as big of a pressure-cooker as there is. The first time I covered a Canadiens game at the Bell Centre was in November 2002. Every time Montreal defenseman Patrice Brisebois touched the puck, the hometown fans booed him mercilessly. It was the fans' way of expressing their displeasure with a player they felt was not performing up to the standards of his contract. Brisebois was diagnosed with clinical depression. At one point, he went AWOL, flying to Paris for a few days. The treatment he received still haunts him. "Some people will still say, 'He earned 4 million a year while others are struggling, what's he complaining about?'" Brisebois told Canada's QMI Agency last fall. "I tell them that an athlete is not superhuman. Even talking about it today makes me realize that I am not completely healed. I still feel terrible about it." Boom Boom Geoffrion himself suffered at the capricious nature of the fans. In 1954-55, he won the NHL scoring title, beating out his teammate, the beloved Maurice "The Rocket" Richard, who was suspended for the final three games of the season and the entire playoffs for punching a linesman. When Geoffrion passed Richard in the scoring race in the season finale, the hometown fans booed him. Such matters were dinner time conversation in the Geoffrion household when Blake was growing up. These are extreme cases, but examples nonetheless of what wearing the bleu-blanc-rouge sweater can be like. On the flip side, the same fans can lionize their heroes. Former Canadiens captain and later general manager Bob Gainey, a native English speaker, learned to speak French -- a gesture that adored him to the region's Francophone majority. (It's also worth noting that Gainey won five Stanley Cups as a player with the Habs.) Danny Geoffrion said that over the years his wife was constantly on him to teach their children French, which he never did. But Blake already is taking a page out of that book. He said during his senior year at the University of Wisconsin, Blake bought himself the Rosetta Stone language-learning software to teach himself how to speak the language -- a step that Danny Geoffrion said he thinks his son will continue. "He just turned 24, but he's going on 40," Danny said. "He's already talked about that. When his contract comes up in July, if he gets a good contract, I'm sure that will be part of his summer, picking up some French. He was captain of his team at Wisconsin, he's a born leader. As much as he loved the idea of coming back to Nashville and being the hometown boy, now he has a chance to go back to his roots." The Canadiens have undergone a turbulent season. They fired coach Jacques Martin in midseason and when it was announced that assistant Randy Cunneyworth -- a unilingual English speaker -- was named his successor on an interim basis, a cultural and political controversy erupted. Danny Geoffrion said he thinks his son could serve as a bridge to the team's historic past -- they won their record 24th Stanley Cup in 1993 but none since -- and future. "It wouldn't surprise me one bit if he could be the glue that brings this whole thing together with French and English," Danny Geoffrion said. On Friday, Blake Geoffrion will get his introduction to the Montreal media. Hamilton is scheduled to play St. John's at the Bell Centre. Danny said the experience will be good for his son, an introduction to the media market without the pressure of debuting for the Habs. No doubt Blake will be called up at some point -- whether this season or next. Ultimately, he will be judged by his performance. At the end of the conversation in which he discussed the scrutiny of the Montreal media, the fans, the pressure, the interest and the pros and cons, Danny Geoffrion, an eternal optimist, ended this way: "It's all," he said, "for the love of the game." A love that can be incredibly intense.
Original Story:
http://www.foxsportstennessee.com/02/...
THE BACKYARD
BEST OF MAXIM
RELATED ARTICLES
from Doug McIntyre of ESPN The Magazine, It's taken P.K. Subban less than two seasons to establish himself as one of the NHL's most exciting—and controversial—young stars. The 22-year-old Canadiens defenseman has antagonized opponents with flashy puck skills, devastating checks and endless trash-talk, all with a grin. But while Montreal has fallen for the Toronto native,...
from Sean Gordon of the Globe and Mail, Perhaps the situation is best described in economics-ese, by borrowing a term like "seller's dilemma." Whatever frame you choose, the Montreal Canadiens are in the full throes of whatever "it" is. In the countdown to the Feb. 27 NHL trade deadline, the Habs are six points out of the final playoff spot in the Eastern Conference,...
The Logical Choice: Current Asst. Coach & GM, Larry Carriere While the trade deadline is beginning to stir up some seriously interesting story lines, one that has been pushed to the back burner in Montreal is who the best candidate to succeed Pierre Gauthier as GM will be. While I've held my tongue on this for awhile, I feel that there is an obvious choice sitting...
Before Sunday's NHL game in Montreal, the Canadiens paid tribute to former Montreal Expos catcher Gary Carter, who passed away Thursday at the age of 57. Carter was the first player to be inducted into the Baseball Hall of Fame with the Montreal Expos logo on his cap. The Bell Centre went dark and still pictures of Gary Carter were shown on the ice as the PA announcer summarized...
Back from six days away and without internet access almost the entire time. A few quick things to catch up on: - Pierre Gauthier made a great deal with Nashville. Getting two young players along with a 2nd, let alone a Geoffrion who could be motivated by the legacy of being the fourth generation to play in Montreal, was more than I felt the Canadiens would get for Hal Gill. Geoffrion...
So how are you feeling about your Montreal Canadiens this morning, Hab addicts? It's a bit rough, isn't it? Montreal dropped a disappointing decision to the Dallas Stars last night. It was a game in which the Habs simply didn't show up. Sure they had a few flashes but were, overall, flat. A lot of fans are scratching their heads this morning, wondering how a...
NBC Sports Network has some issues on more than just the ratings front. One of their biggest programming hits thus far is live hockey games, and they generally have done a pretty good job thus far with those broadcasts, but there was a notably questionable decision Sunday night on their coverage of the Montreal Canadiens - New Jersey Devils game. The Canadiens started with a moving...
Slow starts have plagued the Montreal Canadiens recently, and put their playoff hopes in peril. Ryan Garbutt scored his first NHL goal and Kari Lehtonen made 31 saves as the Dallas Stars blanked the Canadiens 3-0 on Tuesday night. ''We're looking for a lot of energy to start the game, and keep things real simple and throw a lot of pucks at the net,'' Canadiens...
TUESDAY'S GAME: Dallas Stars (29-26-4, 62 points – 10th, Western Conference) at Montreal Canadiens (24-26-10, 58 points – 13th, Eastern Confe...
The Dallas Stars will try to win their first game in Montreal in nearly a decade, as they visit the Canadiens for tonight's interconference clash at the Bell Centre.
NHL News

Delivered to your inbox

You'll also receive Yardbarker's daily Top 10, featuring the best sports stories from around the web. Customize your newsletter to get articles on your favorite sports and teams. And the best part? It's free!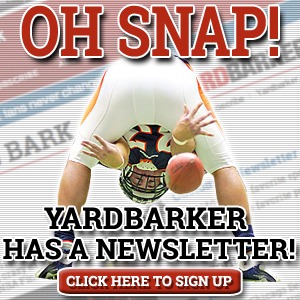 Latest Rumors
The Backyard

Today's Best Stuff

For Bloggers

Join the Yardbarker Network for more promotion, traffic, and money.

Company Info

Help

What is Yardbarker?

Yardbarker is the largest network of sports blogs and pro athlete blogs on the web. This site is the hub of the Yardbarker Network, where our editors and algorithms curate the best sports content from our network and beyond.