Found July 01, 2013 on Shutdown Line:
PLAYERS:
Jamie McBain
,
Andrej Sekera
,
Tyler Myers
,
Christian Ehrhoff
,
Justin Faulk
,
Joni Pitkanen
,
Tim Gleason
,
Robyn Regehr
,
Joe Corvo
,
Jay Harrison
,
Toni Lydman
TEAMS:
Carolina Hurricanes
,
Buffalo Sabres
,
Los Angeles Kings
,
Anaheim Ducks
The Hurricanes were one of the teams expected to make a trade during yesterday's draft and they did just that in the second round by trading their pick along with Jamie McBain to the Buffalo Sabres in exchange for defenseman Andrej Sekera. This wasn't the "big splash" trade that some were hoping for, but it's a reasonable move that fills a need for the Hurricanes. This looks like an overpayment at first glance because the Hurricanes gave up a pick and a roster player for just one defenseman. However, the trade looks a lot more reasonable when you break down the individual pieces. The writing has been on the wall for Jamie McBain for quite awhile now. I still like him and think he has potential, but it just was not working out here. His just could not be trusted in a top-four role and his mistakes were constantly hurting the team. McBain is still young and has hope for the future, but he just was not working out in Carolina so moving him made sense. A second round pick is what I thought it would cost Carolina to get a #4 defenseman and that's basically what it took to get Sekera. McBain was also thrown in to clear space and give him a fresh start with a new team.  Is two assets for one player alone an overpayment? It depends on what you're getting in return and judging by the Twitter barometer, most fans believe that Sekera is not enough of an upgrade to justify giving up a second round pick plus McBain. I have my doubts about Sekera being worth that price, but I also think that Sekrea is undervalued by those who don't know a lot about him. He isn't a notable commidity like Tyler Myers or a big, physical defenseman that delivers big hits. Sekera is also known as a "puck-mover" and those two words usually cause Carolina fans to groan in frustration. Although, just because Sekera is a puck-mover doesn't mean he is bad defensively and he can really help Carolina's defense next year. Who is Andre Sekera? Sekera is an average-sized, mobile defenseman who can be used in all situations. He has played over 20 minutes a game for the Sabres in all of the last three seasons and was their second most used defenseman at even strength last year behind Christian Ehrhoff. Sekera was also used on both special teams units, which should help Carolina, especially on the penalty kill. Overall, he looks like a solid, all-around top-four defenseman who can log big minutes if needed. The Sabres blog Die By the Blade wrote an excellent article on Sekera a couple months ago and this quote sums up his game well. But what of Andrej Sekera? He doesn't hit, he doesn't score goals, he doesn't have great size or speed, and he doesn't say anything in his post-game interviews. He just does everything pretty darn well, and that's ultimately his problem. Nothing about Sekera's play is going to blow you away, but he can play a lot of roles and is skilled in a lot of areas, which leads us to our next part... How Can Sekera Help Carolina? What makes Sekera a great fit in Carolina is that he can play big minutes and isn't out of place in that kind of role. He has been a top-four defenseman for the Sabres for the last three years and has logged 19-121 mintues a game during those seasons, as well. I know that the Hurricanes were looking to bulk up on defense, but what they really needed was someone who can play top-four minutes and take some pressure off of Justin Faulk & Joni Pitkanen. There were many nights where Faulk had to play over 25 minutes and adding Sekera should mean that he won't have to do that as often now. Most of Sekera's ice-time comes at even strength, so that makes him very useful. The Sabres have also trusted Sekera with a very important role at even strengh, as he ranked near the top of the defense in quality of competition faced in each of the last three years. This means he was deployed against opposing team's best forwards and makes him a "tough-minute" defenseman by definition. That is something the Hurricanes badly needed last season even with Justin Faulk & Tim Gleason. It's worth keeping in mind that Sekera was playing on a Buffalo defense corps that isn't very good, but he was still given tough minutes over the likes of Tyler Myers, Christian Ehrhoff and Robyn Regehr, so he can probably play a similar role in Carolina if needed. Sekera being a "puck-moving" defenseman is also kind of misleading because while he can skate well and make good plays with the puck, he is pretty solid at playing in his own end. When most people hear the words "puck-mover" they think of someone who is more known for offense but that isn't always the case. Sekera is a good example of that. He is more of a puck mover in the sense that he can make good plays out of his own zone and help his team spend less time in the defensive zone. This article from NHL Whiteboard does a phenomonal job of going over just about every detail of Sekera's game and his ability to lead zone exits is one thing that is covered. Size and physical play is nice, but the game is a lot faster than it was years ago and you have to be able to skate well and move the puck to keep up with more skilled forwards. This is especially true in Carolina's new division where they'll be playing against teams with highly skilled players, so adding a defenseman like Sekera can make them a tougher opponent. This makes him a good fit in Carolina and an upgrade over Joe Corvo, Jay Harrison and Jamie McBain but he comes with his concerns. What Should Carolina Be Concerned About? Carolina really needed to add a penalty kill specialist this summer and while Sekera does kill penalties, it's not something he is known for. He will probably be used on the PK in Carolina, but I would still expect Faulk & Gleason to get the bulk of the work there. I guess Gleason, Faulk, Sekera, Bellemore & Harrison can fill out the PK, but none of them are exactly great at preventing shots there so I'm a little skeptical of how it will turn out. Sekera's strong play at even strength could be enough to off-set, though. Another more glaring concern about Sekera is that is he coming off a down year in just about every standard. He produced less offense, was considerably worse at preventing shots against and had a dismal year in terms of puck-possession. His numbers basically fell off a cliff in every category.   GP TOI/60 Corsi Rel QOC Corsi Rel. Corsi On SF On/60 SA On/60 OZ% 2007-08 37 15.82 0.018 -0.2 1.13 23.8 22 52.3 2008-09 69 15.92 0.397 8.3 5.19 28.6 25.5 54 2009-10 49 14.84 -0.467 2 0 28.4 30 53.1 2010-11 76 16.32 0.35 5.8 4.5 28 26.2 54.3 2011-12 69 16.26 0.878 7.3 1.93 26.4 24.6 48.9 2012-13 37 17.24 0.95 -9 -16.18 24.7 34.1 47.1 Stats taken from Behind the Net Sekera was playing tougher minutes than he ever had before last season, so that may have contributed to his struggles but a player's numbers should not decline that much over the span of the year. Even with Buffalo being a miserable possession team, Sekera's underlying numbers were just awful and it's kind of strange at first glance. However, a look at Sekera's performance with certain defense partners clears things up a little. Sekera has posted solid possession numbers over his career with the Sabres and has worked well with just about every defense partner with the exception of Robyn Regehr, Toni Lydman and Chris Butler. Regehr is someone who Sekera has had considerable trouble playing with during his career with the Sabres. When these two were paired together at even strength, the Sabres controlled only 42.5% of the shot attempts. When Sekera played without him, the Sabres controlled 51.3% of the even strength shot attempts. Who was one of Sekera's most frequent defense partners last year? None other than Robyn Regehr, which helps explains his bad underlying numbers. Compare his numbers with Regehr to his performance with Ehrhoff and you'll notice a huge difference. Sekera still had a down year even when playing away from Regehr, but sometimes a defense partner can act more as an anchor than a catalyst. Regehr appeared to be just that with Sekera. Thankfully, the Hurricanes do not have anyone who as bad as Regehr is at even strength, so that should lead to good results for Sekera if he is used with Gleason, Faulk or Pitkanen.  Taking all of that into consideration, I would say that adding Sekera makes the Hurricanes a better team next year and is an upgrade on their second-pairing. Does this completely fix their defense? No, but no free agent signings were going to and they weren't going to get a top-pairing defenseman without trading someone important up front. Sekera gives Carolina a cheap, reliable top-four defenseman who can play in all situations and I would say that's a solid pick-up for a second round pick. We'll just have to wait and see how well Sekera fits into Muller's system.
Original Story:
http://www.shutdownline.com/hurricane...
THE BACKYARD
BEST OF MAXIM
RELATED ARTICLES
NEWARK, N.J. -- To hear him tell it, Carolina Hurricanes general manager Jim Rutherford got to have his cake and eat it, too.Leading up to the fifth overall pick in the NHL Draft, there was great speculation that the Hurricanes, holders of that pick, would deal it to for a top-four defenseman, one of their top offseason priorities.Rutherford eschewed the offers for the pick -- he...
NEWARK, N.J. -- To hear him tell it, Carolina Hurricanes general manager Jim Rutherford got to have his cake and eat it, too.Leading up to the fifth overall pick in the NHL Draft, there was great speculation that the Hurricanes, holders of that pick, would deal it to for a top-four defenseman, one of their top offseason priorities.Rutherford eschewed the offers for the pick -- he...
There were plenty of rumors swirling the Buffalo Sabres about whether or not the team would stay at number eight or try and move up. Well, the Sabres ended up staying put at number eight, and used their selection to draft defenseman Rasmus Ristolainen. Ristolainen is one of the best two-way defenders in this draft, and has a shot that is of elite level from the point. He's a player...
The Buffalo Sabres expect Ryan Miller to be on their roster next week. General manager Darcy Regier is in no rush to trade his No. 1 goaltender.But he will use the weekend to start establish trade values for Miller and winger Thomas Vanek, since the Sabres are retooling and both those players are heading toward unrestricted free agency in 2014."I entered this weekend recognizing...
The Buffalo Sabres are trying to move up in the draft, and according to Sportsnet's Nick Kypreos, Carolina happens to be, at least one of, the teams Buffalo is talking to. One of #Canes many offers to trade down for #5th pick comes from #Sabres at 8th. Swap would cost Sabres one of their D man. Myers? — Nick Kypreos (@RealKyper) June 30, 2013 Moving up to 5 is all well and good...
The Hurricanes entered Sunday's draft with the goal of setting themselves up to be a better team next year and despite all of the Twitter drama, the Hurricanes are in slightly better shape now than they were a week ago. They drafted a player who could be in the NHL next year (that's the most you can expect from an 18-year-old) and they helped their defense by swapping Jamie...
Buffalo Sabres coach Ron Rolston has hired Joe Sacco as an assistant. The team announced the hiring in a release issued on Tuesday afternoon. Sacco spent four seasons as the Colorado Avalanche coach before being fired in April after the team missed the playoffs for a third straight year. He finished with a 130-134-40 record and was an NHL coach of the year finalist in 2010 after...
The Carolina Hurricanes hold the fifth pick in this draft. The team wants to add a veteran defenseman capable of playing on one of it top two pairings.The free agent market for defensemen is not exciting, so general manager Jim Rutherford is ready to deal."Getting a defenseman is our top priority before the start of the season," Rutherford told the Raleigh News & Observer...
from John Vogl of the Buffalo News, The pressure to do something about Ryan Miller and Thomas Vanek intensifies daily in Sabreland. The summer of 2007 scarred Buffalo, and neither the organization nor its fan base wants to watch assets depart for nothing again.... "We've probably been a little more public about the need to make decisions on these players at some point...
Thanks to a game-high 26 points from soon-to-be Syracuse Orange freshman guard Tyler Ennis on Saturday, the under-19 Canadian National team earned its first FIBA World Championship victory, 93-75, over Korea and advanced to the next round of play. Ennis added four assists and two steals for Canada (1-2, 3 points), which never trailed in the contest and earned an extra point in the...
With the 16th overall pick, their second of the first round, the Buffalo Sabres took Nikita Zadorov from the London Knights. Zadorov is a hard hitting and tough defender who can produce offensively. The Sabres next pick will be in the second round, 38th overall. The post Sabres Select Nikita Zadorov appeared first on Queen City Sports.
With draft day finally here, most people have weighed their opinions on what they think the Hurricanes should do with the fifth overall pick and the overall consensus is split. Some think that the best thing for the Canes to do is hold onto the pick and select an elite talent with the fifth overall pick, but there are just as many people who want the Hurricanes to trade down to acquire...
NHL News

Delivered to your inbox

You'll also receive Yardbarker's daily Top 10, featuring the best sports stories from around the web. Customize your newsletter to get articles on your favorite sports and teams. And the best part? It's free!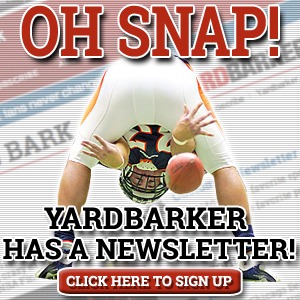 Latest Rumors
Best of Yardbarker

Today's Best Stuff

For Bloggers

Join the Yardbarker Network for more promotion, traffic, and money.

Company Info

Help

What is Yardbarker?

Yardbarker is the largest network of sports blogs and pro athlete blogs on the web. This site is the hub of the Yardbarker Network, where our editors and algorithms curate the best sports content from our network and beyond.