Found June 13, 2012 on The Prospect Park:
Are You Kidding? The longest time of the year has to be from the moment that the New York Rangers finish their season until about the middle of July. Between now and then either people have lost their minds or their imaginations have just gone where no man has gone before.
There are some pretty scary ideas floating around the Ranger universe and I have to admit I'm no saint, but come on, it's not like the team finished in 30th place this last season.
I mean, some people are out there wanting to see the team blown up and bringing in all these new people. This was a team that finished with 109 points during the regular season.
Yes, the only consistent thing about the New York Rangers last season was that they were very good at being inconsistent. But really do we have to blow up the team and start from scratch again?
There was a lot of good things about last season that makes a case not to just leave it totally alone, but rather a tweak or two instead of a huge splash.
Do you really want to trade a bunch of kids, a few draft picks and who knows what else for Rick Nash? I may not be a fan of John Tortorella's system, but I'd rather get a player who would fit in the system then throw everything away and start from scratch.
I hate to say this but I just don't picture Zach Parise wearing a Rangers uniform. Maybe it's because every time the Rangers went out and signed a New Jersey Devil, the move came back to bite them in the butt.
It's not that I wouldn't mind a player like Parise but I just have this gut feeling that he will stay with New Jersey, even give them a discount to sign him.
I think another area where the Rangers are not getting credit is how they go about bringing in players now. It truly is a team effort from the scouts, Gordie Clark, Glen Sather himself, Jeff Gorton, Mark Messier and even Adam Graves are just parts to a machine.
The Rangers of today did something that I don't think has happened ever before in the history of the New York Rangers. Do you know that the Rangers signed every single draft pick from the 2010 class?
Do I think that all six of them will make it to the NHL? No not all six but I will give you that four of them have a very good chance at making it.
That too is something new for the Rangers, as Gordie Clark taught me in today's world the hope is to get one good player out of each draft. Even if just three of them make it is still a hell of a job done by Clark and his team.
Like Glen Sather or not but that's a pretty professional looking team putting together the new New York Rangers. I did not want Glen Sather hired as a Rangers general manager because I believed that the Rangers needed somebody looking to make his reputation rather than live off an old one.
How do you dislike someone who will go into the trenches and live the scouts life as Sather has done the last couple years? At an age (almost 70) where he's earned his right to retire or even cut back; I have to give Glen Sather his due for making sure that tomorrow will be much better than yesterday was.
At the same time, I can almost feel Gordie Clark laughing his ass off at all of us trying to think we know what he's thinking. When I did a mock draft for the Blueshirt Bulletin, I have to admit that he has me stumped.
Do I think anyone's going to come close to guessing what the Rangers are gonna do at 28? No I don't because with Gordie Clark the possibilities are endless (he says that to me every time we talk).
That's what happens when you put a Star Trek fan in charge of the Ranger prospects. Seriously, the only thing I'm sure of is that the Rangers won't draft Stefan Matteau.
If you have Matteau in your mock draft then you are living in the past but you forget that only Messier and Graves were around for that goal. That's not going to get the kid drafted but if you want some advice; think of somebody they wouldn't draft and go from there.
Sorry I can't tell you who I picked for the Rangers at 28, but you can get yourself a copy of the Blueshirt Bulletin and find out that way. Got to pay the bills my friends somehow unless you have a three-bedroom house for sale in Vancouver, Washington.
Then we can talk.
Original Story:
http://feedproxy.google.com/~r/ThePro...
THE BACKYARD
BEST OF MAXIM
RELATED ARTICLES
Time for our final grades here at Ranger Nation. We are now going to look at the New York Rangers goaltenders, coaches and GM Glen Sather. Yes, we expect some heat this round as we did with our grades on the centers. Drum roll please…………..   Henrik Lundqvist: Grade – A+ Decker: Lundqvist is, no doubt, the [...]
One of the biggest parts of the New York Rangers great season was their defense. So far we have graded all of the forwards but now it's time to look at the likes of Dan Girardi, Ryan McDonagh and company.   Stu Bickel: Grade – B- Schoeller: Bickel started off hott (yes, it warrants 2 T's), [...]
Yesterday we reviewed rookie Carl Hagelin on the blog, so it was only appropriate that we followed that up with Chris Kreider (more like their names coincidentally come right after each other on the roster). But anyway, Kreider was signed by the Rangers just before the playoffs in the NHL kicked off, and immediately after his Boston College Eagles won the Frozen Four NCAA tournament...
In terms of regular season play, 2011-12 was the second best of Marian Gaborik's three seasons with the New York Rangers to date. His offensive prowess coming off not only a rough year in 2010-11 on the ice, but off the ice as well when he lost two dear friends in Derek Boogaard and Pavol Demitra, carried the Blueshirts very far. Without Marian, there's not doubt that this...
The hype surrounding Swedish-born forward Carl Hagelin began last year when the then-Michigan State Wolverine was tearing it up in the NCAA. Hagelin's powerful strides were a clear indicator as to how his speed was going to set himself apart from the competition upon making it to the NHL level. After about a month in the American Hockey League playing with the Connecticut Whale...
The Rangers bottom six forwards are likely to go through a bit of turnover this summer with Ruslan Fedotenko, Brandon Prust, and John Mitchell all being unrestricted free agents and Mats Zuccarello seemingly headed to the KHL. Although discussion about signing third and fourth line players isn't the most enthralling topic in the world, these transactions are still critical when...
Zach Parise will not be signing with the Rangers. Parise went on record today to openly express the fact he will not be signing with the Rangers nor will he consider it. 'Don't make a headline out of it' was his final response to beat reporters when pressed on the matter. Parise removing himself from the Rangers' future plans narrows the obvious options the Rangers are linked...
I wear #9 Okay people can we back away from the ledge now that Zach Parise says he won't consider the New York Rangers if on July 1st he becomes a free agent? What exactly did you expect him to say, considering the circumstances of where and when he was asked about the Rangers? Man, I got to quote John Tortorella here and say one word "idiots" because that entire...
NHL News

Delivered to your inbox

You'll also receive Yardbarker's daily Top 10, featuring the best sports stories from around the web. Customize your newsletter to get articles on your favorite sports and teams. And the best part? It's free!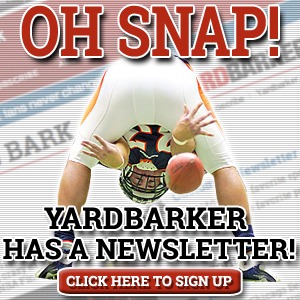 Latest Rumors
The Backyard

Today's Best Stuff

For Bloggers

Join the Yardbarker Network for more promotion, traffic, and money.

Company Info

Help

What is Yardbarker?

Yardbarker is the largest network of sports blogs and pro athlete blogs on the web. This site is the hub of the Yardbarker Network, where our editors and algorithms curate the best sports content from our network and beyond.