Found March 12, 2013 on Blue Seat Blogs:
PLAYERS:
Tyler Ennis
,
Ryan Miller
,
Jhonas Enroth
,
Jordan Leopold
,
Derek Stepan
,
Christian Ehrhoff
,
Marcus Foligno
,
Ryan McDonagh
,
Nathan Gerbe
,
Marian Gaborik
,
Thomas Vanek
,
Jason Pominville
,
Jochen Hecht
,
Dan Girardi
,
Brian Flynn
,
Andrej Sekera
TEAMS:
Buffalo Sabres
,
New York Rangers
The Sabres were without Tyler Ennis and Ryan Miller, are one of the worst teams in the league, and don't play defense, so this game was supposed to be a cakewalk. It wasn't, and while the Sabres were lucky to get out of the first ten minutes scoreless, they outplayed the Rangers in the second, forcing a lot of penalties. The Rangers played fairly well, but had some sloppy stretches (five penalties) and it cost them. Jhonas Enroth had a great game too, which didn't help. On to the goals: That's Stepan out there, he's not going for a beer. Rangers 1, Sabres 0 The Rangers came in on a shorthanded rush, and it looks like Jordan Leopold –returning to the lineup tonight– just forgot where Derek Stepan was after the puck crossed the blue line. Stepan swung wide picture above, and Leopold just left him out there. Stepan crosses right in front of Leopold, who lets him go. The problem for Leopold is that when Stepan cut back to the front of the net, Leopold didn't stop him. I would say he didn't see him, but Stepan cut right in front of him. Odd play for Leopold, who usually doesn't have miscues like that. McDonagh is good, but he can't cover two guys down low. Sabres 1, Rangers 1 The Sabres had the Rangers running around in their own zone for a little bit, and that's when defensive miscues happen. A Christian Ehrhoff shot resulted in a long bounce off boards, and Marcus Foligno tucked the puck in the far side with a fancy between legs move to beat Ryan McDonagh to the puck. The defensive miscue here is that the Sabres outnumbered the Rangers –at even strength– at the goal crease. McDonagh was left to cover both Foligno and Nathan Gerbe. The weakside winger here (Gerbe) was Marian Gaborik's man. Pominville pass turned Girardi around. Gave Vanek room. Sabres 2, Rangers 1 Thomas Vanek and Jason Pominville are a dangerous combination, and this goal showed it. After the Sabres gained possession in their own zone, Vanek wound up in a foot race with Girardi down the far boards. Pominville put a pass perfectly behind Vanek, and off the boards, which eliminated the advantage Girardi created by cutting off the middle of the ice. Girardi still stayed with him, and still cut away half of his ice, but Vanek is a terrific shot and he won't miss those. People will think Girardi was flat-footed, and he did appear to misstep when he was turning, but the pass from Pominville turned him around, which takes away speed. Coverage fail. Sabres 3, Rangers 1 The Rangers sustained pressure for what felt like the entire third period until this goal. The Sabres had a very innocent rush, but two miscues by the Rangers and the puck wound up in the back of their net. J.T. Miller was covering Jochen Hecht because Dan Girardi went out too far to cover Brian Flynn on the rush by the half boards. Flynn made a good pass to Andrej Sekera, and with Girardi still out of position, Miller let Hecht walk to the front of the net, where Ryan McDonagh was already tied up with Marcus Foligno. McDonagh can't cover both, and Foligno bangs home the rebound. For those keeping score, this was the second time McDonagh was left to cover two Sabres in front of the net this game. The Rangers owned a good portion of this game, but they took way too many penalties and it killed any offensive flow for them. It doesn't help that Jhonas Enroth stood on his head and had his best game in two years either. This was a game where the Rangers needed to take two points from an inferior opponent, and they walked away with zero. Tweet
Original Story:
http://www.blueseatblogs.com/2013/03/...
THE BACKYARD
BEST OF MAXIM
RELATED ARTICLES
A month ago, Rangers fans were more than willing to see the struggling Derek Stepan sent to the Colorado Avalanche for Ryan O'Reilly. While Stepan offered more offensively than O'Reilly, Rangers fans felt O'Reilly's superior face-off ability and toughness made him a much more viable option for the Blueshirts. Since those rumors, Stepan has gone on an absolute...
New York Rangers forward Derek Stepan was breaking into the zone when he took the puck to the corner and found himself running out of real estate.  Seeing Washington Capitals goalie Braden Holtby playing him too aggressively, he decided to throw a backhander off Holtby's leg and it ended up in the net. I'm not sure what possessed Holtby to play Stepan to aggressively and cut...
The Hockey Central Insiders on Sportsnet, Nick Kypreos, Chris Johnston and John Shannon mentions the Panthers, Sabres and Flames will be sellers this season. Kypreos brought up the Ryan Miller trade talk and John Shannon discussed the GM Meetings and what is going on with the Coyotes.  
Heupel/AP Over the past few seasons, the Rangers have been relatively atrocious on face offs, but have always shown improvement. This year, all that improvement is coming to fruition. Through 25 games this season, the Rangers are in the top-ten (8th) in face off percentage, winning 51.4% of their draws. They are well behind the top four teams (Boston – 57%, Minnesota – 53.3%...
Buffalo Sabres goalie Ryan Miller has a sinus infection, meaning backup Jhonas Enroth will start against the New York Rangers. Interim coach Ron Rolston provided the update after Miller missed the pre-game skate Tuesday morning. Miller is healthy enough to serve in a backup role. It's the second start in three games for Enroth. He allowed two goals in a 3-2 shootout loss at...
These days, there is more than enough chatter about Ryan Miller to go around.  Some people want him traded before this year's deadline because they see him walking at the end of next year when he becomes a free agent, while others think that is the worst decision this team could possible make.  They feel like the team in front of him has been a flaming pile of dog-do and without...
Tyler Ennis is expected to return to the lineup Saturday afternoon(Photo Courtesy: Dan Hickling) Despite the announcement that Alexander Sulzer will miss the remainder of the season due to knee surgery, there was some good news that came out of Sabres practice this morning at First Niagara Center. Tyler Ennis, who missed Tuesday's game against New York, and Ville Leino, who hasn't...
The hit that Philadelphia Flyers forward Wayne Simmonds delivered to Tyler Ennis wasn't a dirty or malicious one, even though it was from behind.  The Buffalo Sabres forward was merely trying to turn and protect the puck, and he turned as Simmonds was hitting him.  It was a bang-bang play and Simmonds didn't have time to react.  The referees were not going to call a penalty...
Simmonds did not receive any penalty for this hit on Tyler Ennis. He did receive 5 for fighting while Mike Weber received 2 for instigator, 5 for fighting and a 10 minute misconduct. Ennis did not return to play.  
NHL News

Delivered to your inbox

You'll also receive Yardbarker's daily Top 10, featuring the best sports stories from around the web. Customize your newsletter to get articles on your favorite sports and teams. And the best part? It's free!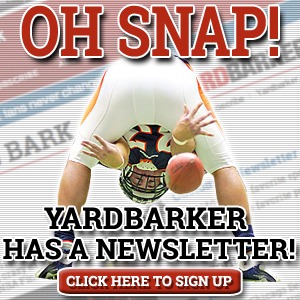 Latest Rumors
Best of Yardbarker

Today's Best Stuff

For Bloggers

Join the Yardbarker Network for more promotion, traffic, and money.

Company Info

Help

What is Yardbarker?

Yardbarker is the largest network of sports blogs and pro athlete blogs on the web. This site is the hub of the Yardbarker Network, where our editors and algorithms curate the best sports content from our network and beyond.