Posted February 01, 2013 on AP on Fox
PLAYERS:
Jason LaBarbera
,
Henrik Lundqvist
,
Jonathan Quick
,
Mike Smith
,
Brian Elliott
,
Miikka Kiprusoff
,
Ken Holland
,
Jimmy Howard
,
Don Maloney
TEAMS:
Phoenix Coyotes
,
New York Rangers
,
Los Angeles Kings
,
St. Louis Blues
,
Calgary Flames
,
Detroit Red Wings
Phoenix Coyotes goalie Jason LaBarbera kept sharp during the NHL lockout by joining his teammates for informal workouts at the team's practice facility. He didn't go overseas to play, as some goalies did, but tracking pucks and turning away shots every day gave him an edge over players who stayed at home. Of course, once the lockout ended, it was a scramble, leaving LaBarbera and everyone else less than a week and no preseason games to get ready for the regular season. Even with all the work LaBarbera put in, it was like a fighter jet catapulting off the deck of an aircraft carrier once the real games started. ''It's a big difference going from shinny hockey where it's kind of half-paced, a lot of passing, without the scrambles around the net to playing in a real game,'' LaBarbera said. ''You have five games and, boom, you're right into playing games.'' LaBarbera isn't alone feeling that way between the pipes. Of all the players on the ice, the goalies may have had it toughest coming out of the lockout. While skaters mostly need to get their legs under them at the start of a season, a lot of what goalies do is predicated on timing. So with a short training camp and not a single preseason game to work out the kinks, the guys between the pipes were thrown into the cold water right away without being able to dip a toe in first. And some of the best in the game have taken a while to adjust. New York Rangers goalie Henrik Lundqvist set franchise records with 39 wins and a .930 save percentage while winning the Vezina Trophy as the league's best goalie last season. Through the first seven games this season, he was 3-4 with a save percentage of .903. Los Angeles Kings goalie Jonathan Quick, a Vezina finalist and the Conn Smythe Trophy winner as MVP of last season's playoffs, opened the season by giving up five goals to Chicago and needed four starts to get his first win. Mike Smith, LaBarbera's teammate in Phoenix, had a save percentage of .836 and a goals-against average of 4.62 in three games before going on injured reserve with a groin injury. St. Louis' Brian Elliott, one of the league leaders in save percentage last season, was 29th at .901, and Calgary's Miikka Kiprusoff was near the bottom of the NHL with a .854 save percentage. It's still early in the season, but there were 21 players in the under-90 club through Thursday's games. ''We're in the season, but it's like we're still in the preseason,'' said Detroit Red Wings general manager Ken Holland, a former goalie. ''We've played five games and we usually play eight preseason games.'' One problem for the goalies is that it is a far more technical position than any of the others. Because NHL coaches weren't allowed to work with players during the lockout, the goalies didn't do much technical work, if any, during the time off. Some goalies have their own goalie coaches that they work with, but most of the work they did during the lockout was in low-key scrimmages with teammates, where they flashed the leather a little, but didn't worry so much about mechanics. ''Smitty (Smith) brought in his goalie coach for about a week, but that was about it,'' LaBarbera said. ''There was no technical stuff, just taking lots of shots and scrimmaging a lot. It takes a little while to remember the little subtleties of being a goaltender.'' The focus also changes -- give up a goal in a scrimmage and it's no big deal - and so does the amount of obstacles goalies have in front of them. Practices and scrimmages are wide open, so goalies can usually follow the puck and see the plays develop in front of them. Get into games, players are flying all over the place and opposing teams purposely get into the goalies' line of sight to make it tougher for them to track the puck and get into the right position to block shots. Knowing that goalies may need some time to get their timing down, teams have put an emphasis on creating traffic in front of them and spent the early part of the season throwing as many shots at them as possible. ''Tracking the puck through traffic, you can't get that in practice as a goaltender,'' Detroit Red Wings goalie Jimmy Howard said. ''So it was a lot tougher for us to start the season without preseason games.'' It hasn't helped that defenses have struggled to congeal early in the season. On the offensive end, it's easy for players to freelance a little, whip pucks around teammates or take shots from wherever. It works better when there's a coordinated effort, but creating scoring chances can come just by one nifty move by a single player. Defense takes a bit more of a group effort, the entire unit working in tandem to keep opponents from getting good looks at the net. If one player makes a mistake, the goalie will often be on his own, forced to make not just one big save, but a series of them throughout games. Finding a rhythm defensively, as several teams have found out, can take a while. ''There's a little rust on the goalies, but there's a lot of rust on defense,'' Holland said. ''And if you give major-league shooters space to shoot, I don't care how good goalies are, the puck is going to go in the net.'' The truncated schedule hasn't worked in the goalies' favor. During an 82-game schedule, if a goalie has a bad game or is struggling with something in his mechanics, he might have a few days of practice to straighten out. The 48-game schedule is filled with back-to-backs, which leave no time to practice, or short turnarounds that cause coaches to hold optional skates instead of full practices to make sure their players are rested. No practice leaves little time to work things out. ''If you have a day off, if you've had a tough game, the next day you can kind of work on basics. Now you don't,'' Coyotes general manager Don Maloney said. ''It's not a coincidence that you see so many of them fighting it a little right now.''
Original Story:
http://msn.foxsports.com/nhl/story/go...
THE BACKYARD
BEST OF MAXIM
RELATED ARTICLES
With the deadline for the sale of the Phoenix Coyotes to Greg Jamison passing yesterday without the team being purchased, so many fans are wondering when in the world this saga will end. "End" can mean a lot of things -- to most Canadian fans, "end" might mean relocation to Quebec City or Markham. For Phoenix fans, "end" obviously means for their team...
GLENDALE, Ariz. Raffi Torres knows there are opinions hell never change. I have to understand that people are always going to be against me. Unfortunately, my style of play pisses off a lot of people, the Coyotes forward said. At the end of the day, all I can manage right these days is how Im battling out there." On Saturday at Jobing.com Arena, Torres 2.0 made his 2013 NHL...
Here are the complete statements released Thursday and Friday related to the Coyotes' ownership situation. GREG JAMISON "We will not be able to complete our purchase of the Phoenix Coyotes today in time to meet our deadline with the city of Glendale. However, our journey to purchase the Coyotes will continue. We realize this will require additional conversations with the...
NEW YORK (Feb. 1, 2013) -- National Hockey League Deputy Commissioner Bill Daly today released the following statement regarding the Phoenix Coyotes sale process: "We remain hopeful the Coyotes sale process will be resolved successfully and we will continue to work with the City of Glendale to move the process forward." added 12:04pm, GLENDALE, ARIZONA --- Phoenix Coyotes...
The Phoenix Coyotes are probably hoping Mike Smith returns to form when he is back on the ice. Smith is expected to play for the visiting Coyotes on Friday night when they try to hand the Dallas Stars a fifth straight loss in the opener of a home-and-home set. Smith will be back for Phoenix (2-4-1) after missing four games with a lower-body injury. Jason LaBarbera and Chad Johnson...
Raffi Torres' game is based on force and fury, his hard-hitting style fueling his teammates and inspiring fear in opponents. But as he sat out for 21 games, the result of a suspension for hitting Chicago's Marian Hossa in last year's playoffs, the Phoenix Coyotes left wing had to rethink the way he plays, find a way to retain his aggressiveness and remove some of the...
After prospective Phoenix Coyotes owner Greg Jamison missed a deadline late Thursday to purchase the team, the NHL is optimistic that an agreement can be reached in the near future. "We remain hopeful the Coyotes' sale process will be resolved successfully and we will continue to work with the city of Glendale to move the process forward," NHL deputy commissioner...
The Phoenix Coyotes seem to be good for the Dallas Stars' psyche -- and their offense. The Stars look to continue their success against the Pacific Division rivals by sweeping this home-and-home set Saturday night in Phoenix. Dallas (3-4-1) is among the worst offensive teams in the league with 17 goals, but eight have come in two meetings with Phoenix (2-4-2). The Stars opened...
((HT: Azcentral/KPNX-TV)) So... Greg Jamison missed his deadline to secure and/or announce his partners (his deep-pocketed partners) to purchase the Phoenix Coyotes from the National Hockey League. Along with that went the subsidies approved by the old City of Glendale government which would have given Jamison US$300-million to keep the team at City Center for the next 20 years...
GLENDALE, Ariz. The news that Greg Jamison would not make his deadline to purchase the Coyotes had barely settled over the Valley when another reminder of this lengthy ownership saga's impact slipped quietly into the press elevator on Saturday at Jobing.com Arena. Ray Whitney's return to the Valley wasn't as poetic as it was supposed to be. Whitney, now with the Stars...
GLENDALE, Ariz. (AP) -- Mike Smith stopped 17 shots and the Phoenix Coyotes were at their tight-checking best in a 2-0 win over the Dallas Stars Saturday night. Nick Johnson scored his third goal of the season and Mikkel Boedker his second for the Coyotes, who have points in four straight games. The Coyotes have gotten back to their stay-at-home style that helped them reach the...
Mike Smith stopped 17 shots and the Phoenix Coyotes were at their tight-checking best in a 2-0 win over the Dallas Stars Saturday night. Nick Johnson scored his third goal of the season and Mikkel Boedker his second for the Coyotes, who have points in four straight games. The Coyotes have gotten back to their stay-at-home style that helped them reach the Western Conference finals...
NHL News

Delivered to your inbox

You'll also receive Yardbarker's daily Top 10, featuring the best sports stories from around the web. Customize your newsletter to get articles on your favorite sports and teams. And the best part? It's free!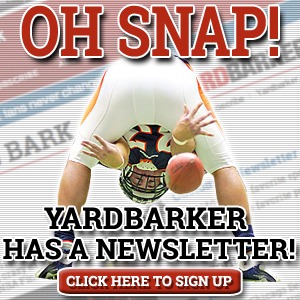 Latest Rumors
The Backyard

Today's Best Stuff

For Bloggers

Join the Yardbarker Network for more promotion, traffic, and money.

Company Info

Help

What is Yardbarker?

Yardbarker is the largest network of sports blogs and pro athlete blogs on the web. This site is the hub of the Yardbarker Network, where our editors and algorithms curate the best sports content from our network and beyond.