Found May 24, 2012 on NorthWest Sports Beat:
PLAYERS:
Cory Schneider
,
Roberto Luongo
,
Marco Sturm
,
Lindsay Lohan
,
Ryan Johansen
,
Ryan Kesler
,
Cody Hodgson
,
Manny Malhotra
,
Jason Garrison
,
Christian Ehrhoff
,
Sami Salo
,
Ryan Suter
,
Shea Weber
,
Mason Raymond
,
Daniel Sedin
,
Jordan Schroeder
,
Alain Vigneault
TEAMS:
Vancouver Canucks
,
Florida Panthers
,
Columbus Blue Jackets
,
Buffalo Sabres
,
Nashville Predators
,
Los Angeles Kings
Let's Make a Deal….
Kudos to anyone still toughing out the 2012 NHL playoffs but personally between the lack of sex appeal on any of the four remaining teams and the chance to take advantage of a rare period over the past two years where the Canucks haven't been playing hockey, I've been taking advantage of this thing called spring.
It's pretty chill, takes place outside and you can still get drunk for it.
As far as I'm concerned, this season is over. Congratulations to the 2012 Stanley Cup Champion Los Angeles Kings (right?). May your cup win stump more than a few people on Sporcle quizzes covering NHL champions this decade.
Meanwhile in Vancouver the entire organization is in a weird period where the draft and July 1 didn't hit within weeks of losing in Game 7 of the Stanley Cup Finals at home, allowing fans to dwell not only on the speed and ease with which the team was eliminated this year, but to reflect as well on what was lost on that Game 7 night 11 months ago.
In short, hockey talk in Vancouver is being met with apathy bordering on hysteria. It's the calm before the storm or a more prolonged period of calm, depending on how deep exactly Mike Gillis wants to get when he can finally dive in and make changes this off-season.
OK AV got extended.
This is Alain telling you he's tired of you questioning his passion. (Photo - Rich Lam/Getty Images)
It will start probably in the days leading up to the draft, when players are once again movable and the Cory Schneider/Roberto Luongo situation has its first chance to be resolved.
It will pick up again on July 1 when Mike Gillis probably hopes he can better last year's performance of picking up Marco Sturm, which was akin to catching a can of soup or an old shoe down at the fishin' pond.
This is a very good hockey team in Vancouver with the potiental to do great things but everyone also thought that about Lindsay Lohan after Mean Girls.
This summer, Mike Gillis needs to tap into more Jekyll and less Hyde.
The team isn't far off from hoisting a Stanley Cup, but the last 10% of a project is always the toughest and most time-consuming part.
Anyway, I have some ideas on what Gillis should do. Hope he reads this! 
1. Cory Schneider and 2012 1st (#26) to Columbus for Ryan Johansen and 2012 1st (#2)
Dreams!
With Ryan Kesler finding another part of his body harbouring whatever a labrum is to tear and missing training camp, somewhere Cody Hodgson is wondering if he may have been too hasty in leaving town.
The problem is compounded if Sami Pahlsson walks on July 1, leaving Manny Malhotra as the de facto second line centre which is only slightly worse than having Sami Pahlsson as your de facto second line centre.
So short of re-acquiring Cody and using that MiB mind-erasing pez dispenser on everyone on the Canucks and in Vancouver, young Ryan Johansen I'm sure would be stoked to be a part of this organization and that draft pick could allow for a very nice defensive indeed like Ryan Murray.
This is a great return for a blue-chip asset in Cory Schneider, something you don't get when you fantasize about moving Roberto Luongo.
2. Sign Jason Garrison on July 1
The White Rock native seems to want to be here and a guy who scored 16 goals last year should help a powerplay that missed Christian Ehrhoff more than it let on.
Money and the interest of other teams could complicate matters, but the emerging defenceman makes a lot of sense to become a Canuck when the dust settles. Garrison can essentially replace Sami Salo's skillset immediately, allowing Salo to be the luxury piece on the blueline and not a load-bearing weight, which is probably better for both parties.
Ryan Suter and Shea Weber are pipe-dreams and well the Canucks could probably use a player of elite calibre on the blue-line over adding to the pile of 2/3 guys, realism dictates not pouting and taking the perfectly good defenceman that still adds something.
Besides, he's a Panther. It's automatic.
3. Put Mason Raymond to sleep
It's time to break up with Mason Raymond, which will be tough because he's such a nice guy.
Bottom Line! Plain & Simple! Enough is Enough! Mason Raymond must go.
It's just that he has no real place on this team, so much so that I probably don't even need to spell it out.
His salary and cap space are both something that could easily be re-invested on other pursuits.
It's not that Mason Raymond isn't a hockey player, it's that he's not what the Canucks need right now. It's not him, it's us.
Ideally, there's someone out there who can be a top-six tweener and has something of a shot that allows Daniel Sedin to not be the only sniper on the team.
Nothing fancy, just what we've always hoped Raymond would become and will now probably never be.
4. Give Schroeder a chance?
As mentioned in the first point, the Canucks find themselves in a a state of centre flux with Ryan Kesler once again out to begin the year.It means that 2009 first-round pick Jordan Schroeder is going to get a heavy look in training camp.
Schroeder was the fifth-ranked North American skater in his draft year and fell to the Canucks because of size concerns, so there's some potential for greatness here if if Jordan isn't done in by, y'know, his size.
Problem is that the cat with the coaching hat is already talking about the need for defense and praising the Los Angeles Kings for their defensive play that's propelled them to the same spot the Canucks were in last year even as Gillis has been talking about adding more offence this summer.
The internal debate continues again, a curious philosophical difference that some, and perhaps even me, would argue did the Canucks in this year.
That, combined with Vigneault's love for bringing along youth like they have all the time in the world (technically true) makes me fear that Schroeder is going to be Hodgson'd  before he even has a chance.
Please comment below or hit me up on twitter today!
CLICK HERE CHECK OUT THE VANCOUVER CANUCKS CLUBHOUSE TODAY ON NWSB!
© Richard Hodges for North West Sports Beat, 2012. | Permalink | No comment |
Follow NWSB on Twitter or join US on Facebook for real-time updates OR... | Share This on Twitter | Share NWSportsBeat.com on Facebook
Post tags:
Alain Vigneault
,
Canucks Blog
,
Canucks news
,
Canucks trades
,
Christian Ehrhoff
,
Cody Hodgson
,
Cory Schneider
,
Cory Schneider trade
,
Daniel Sedin
,
Florida Panthers
,
jason garrison
,
Jordan Schroeder
,
los angeles kings
,
Manny Malhotra
,
Mason Raymond
,
Mike Gillis
,
NHL Trades
,
off-season
,
Roberto Loungo
,
Ryan Johansen
,
Ryan Kesler
,
ryan suter
,
Sami Pahlsson
,
Shea Weber
,
Tradewinds
,
Vancouver Canucks
Original Story:
http://www.nwsportsbeat.com/canucks/v...
THE BACKYARD
BEST OF MAXIM
RELATED ARTICLES
Five days ago we asked the question. To AV or not to AV. We now have our answer folks. Big day for the Vancouver Canucks. They've got their man resigned and back behind their bench. Per a media release from the Vancouver Canucks this morning we've learned that Coach Alain Vigneault has had his contract extended by the team. Here's is the official press release...
Alain Vigneault was given a two year contract extension on Wednesday. I'm torn on the decision. I don't love it, but I don't hate it either. If you were to have a town hall style debate on Alain Vigneault, it would be easy to make a compelling argument on why he should stay. Two straight President's Trophies and five division titles in six years would suggest he is an outstanding...
The Vancouver Canucks have signed head coach Alain Vigneault to a contract extension. The Canucks have posted the NHL's best regular-season record for the last two seasons under Vigneault. But his job status was unclear after Vancouver was bounced from the first round of the playoffs by Los Angeles. Vigneault guided the Canucks to the Stanley Cup final last season. Vancouver...
The Vancouver Canucks have signed head coach Alain Vigneault to a contract extension. The Canucks have posted the NHL's best regular-season record for the past two seasons under Vigneault. But his job status was unclear after Vancouver was bounced from the first round of the playoffs by the Los Angeles Kings. Vigneault guided the Canucks to the Stanley Cup Final last season...
Canucks coach Alain Vigneault was signed to a two-year extension through the 2014-15 season on Wednesday, two weeks after general manager Mike Gillis inked an extension of his own. That doesn't mean there won't be major changes taking place in Vancouver this summer. And the biggest change expected is in goal. Just two years into a mammoth 12-year, $64-million deal, Roberto...
Earlier this afternoon, the Vancouver Canucks extended head coach Alain Vigneault for at least one more season. And while Vigneault may have his detractors among the 'Nucks faithful, choosing to give him more time behind the bench was an easy, and smart, decision.Vigneault led the Canucks to a fourth consecutive Northwest Division title. His 267 puts him atop of the team'...
Alain Vigneault will be sticking around Vancouver a little longer. That's bad news for the rest of the NHL. In the regular season anyway. No one has been better at guiding a team through the 82-game grind of the regular season over the last half dozen years than Vigneault. Over that span he's posted the best record of any coach in Canucks history, going 287-155-50. That was...
Patience Vancouver Twenty-five years ago, the Manchester United soccer team in England decided to hire a Scottish manager named Alex Ferguson to run a team that had been a historical powerhouse, but had fallen on hard times, and had not won a title for 19 years. Ferguson was unable to immediately bring the championship demanded by the team's rabid fanbase and, in line with an impatient...
Even though the Vancouver Canucks were eliminated from the playoffs in the first round this season, they announced Wednesday that they have signed coach Alain Vigneault to a two-year contract extension. "Alain has established himself as one of the premiere coaches in the National Hockey League," Canucks general manager Mike Gillis said. "He has demonstrated a commitment...
With a year left on his contract, and an unexpectedly premature exit from his team this year, Alain Vigneault had unfinished business in Vancouver. The Canucks decided that giving him some job security in the completion of his mandate as the team and their coach agreed to an extension.   Like many NHL deals, terms of the contract are not immediately available. This is the second...
Vancouver, B.C. –Vancouver Canucks President and General Manager Mike Gillis announced today that Head Coach Alain Vigneault has agreed to terms on a contract extension. "Alain has established himself as one of the premiere coaches in the National Hockey League," said Gillis. "He has demonstrated a commitment to winning that has led to back-to-back Presidents' Trophies...
NHL News

Delivered to your inbox

You'll also receive Yardbarker's daily Top 10, featuring the best sports stories from around the web. Customize your newsletter to get articles on your favorite sports and teams. And the best part? It's free!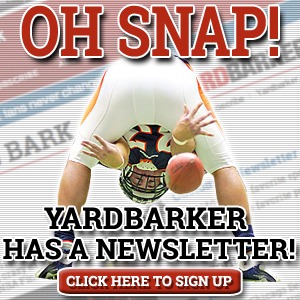 Latest Rumors
Best of Yardbarker

Today's Best Stuff

For Bloggers

Join the Yardbarker Network for more promotion, traffic, and money.

Company Info

Help

What is Yardbarker?

Yardbarker is the largest network of sports blogs and pro athlete blogs on the web. This site is the hub of the Yardbarker Network, where our editors and algorithms curate the best sports content from our network and beyond.