Found August 28, 2012 on Queen City Sports:
PLAYERS:
Mikhail Grigorenko
,
Tyler Ennis
,
Luke Adam
,
Zemgus Girgensons
,
Chris Drury
,
Daniel Briere
,
Tim Connolly
,
Cody Hodgson
,
Jiri Novotny
,
Derek Roy
,
Chris Thorburn
,
Marek Zagrapan
,
Felix Schutz
,
Daniel Catenacci
,
Justin Kea
,
Eric Staal
,
Ryan Getzlaf
,
Pavel Datsyuk
,
Sidney Crosby
,
Evgeni Malkin
,
Jonathan Toews
,
David Krejci
,
Anze Kopitar
,
Maxim Afinogenov
,
Alexander Mogilny
,
Dmitri Kalinin
,
Lindy Ruff
,
Alexander Semin
,
Nikolai Kulemin
TEAMS:
Buffalo Sabres
,
New York Rangers
,
Philadelphia Flyers
,
Toronto Maple Leafs
,
Columbus Blue Jackets
,
Dallas Stars
,
Winnipeg Jets
,
Carolina Hurricanes
,
Anaheim Ducks
,
Detroit Red Wings
,
Pittsburgh Penguins
,
Chicago Blackhawks
,
Boston Bruins
,
Los Angeles Kings
,
Phoenix Coyotes
Buffalo Sabres first round selection Mikhail Grigorenko will be fighting an uphill battle just to make the NHL roster in his first year.  Not only will Mikhail have to compete with several other young centers on this roster, but he'll be fighting a recent history of high draft picks that has been rather bleak up to now.  As we wait to see how Tyler Ennis, Luke Adam, Mikhail Grigorenko, and Zemgus Girgensons develop, we're reminded of the Sabres inability to draft and develop top flight centers.  General manager Darcy Regier has done a decent job of acquiring pivots via trades, Chris Drury, Daniel Briere, and Tim Connolly to name a few, were all prominent players for Buffalo in the Regier era.  The Sabres are hoping Cody Hodgson continues that trend.  But as far as Buffalo draftees having an impact down the middle with the big club, the cupboard has been rather bare for some time.
The list is an unimpressive collection of disappointment, obscurity, and potential, but devoid of established talent.  Mike Zigomanis (99', 2nd rd), Jiri Novotny (01', 1st rd), Derek Roy (01', 2nd rd), Chris Thorburn (01', 2nd rd), Marek Zagrapan (05', 1st rd), Felix Schutz (06', 4th rd), Tyler Ennis, (08', 1st rd), Luke Adam (08', 2nd rd), Daniel Catenacci (11', 3rd rd), Mikhail Grigorenko (12', 1st rd), Zemgus Girgensons (12', 1st rd), and Justin Kea (12', 3rd rd) are the centers drafted by Darcy Regier in the first 4 rounds since becoming General Manager in 1997.
Derek Roy put up plenty of points, but was never the centerpiece of the organization the Sabres needed.
"Courtesy of Getty Images"
The one standout from the list above is Derek Roy, taken in the 2nd round of the 2001 NHL Entry Draft, Derek managed to amass 427 points in 549 games as a Buffalo Sabre from 2003-2011.  His point totals are good enough for 14th in franchise history, and his 266 assists have him ranked 9th most for the Sabres all time.  Yet despite these impressive totals, Derek Roy was never the game changing franchise center the Sabres have lacked in Regier's tenure.  In fact the Sabres enjoyed their high watermark of playoff success with Roy when he was on the third line, playing behind Drury and Briere.
Outside of Derek Roy, there isn't much else to get excited about.  Mike Zigomanis re-entered the draft due to a clerical error and never played a game for the Sabres in his 197 game NHL career.  Novotny and Zagrapan were colossal failures at the NHL level, with latter being only one of three 1st round picks in Sabres history to never appear in an NHL game (not counting prospects currently in the system).  The jury is still out on more recent picks Tyler Ennis, Luke Adam, and Daniel Catenacci.  Ennis looks to be the rising star out of the bunch, but the currently unsigned RFA is coming off an injury shortened campaign and hasn't had that breakout season quite yet.
Comparatively speaking, every NHL team to hoist Lord Stanley's cup since the lockout has done so with a stud pivot that was drafted and developed in-house.  Eric Staal (CAR), Ryan Getzlaf (ANA), Pavel Datsyuk (DET), Sidney Crosby (PIT), Evgeni Malkin (PIT), Jonathan Toews (CHI), David Krejci (BOS), and Anze Kopitar (LAK) have all led the organizations that drafted them to a championship.  Second and third line centers are available via trades, but true star power down the middle ala the 8 players listed above is near impossible to procure through a trade. That is why there is so much emphasis on finding standout center talent in the draft, developing it in your system, and reaping the rewards at the NHL level.  The Sabres organization is counting on Mikhail Grigorenko to be that elite game changing pivot that can make the entire team better, and have Buffalo poised to be a cup contender on an annual basis.
If that isn't enough pressure on Mikhail Grigorenko it gets worse.  Along with fighting the history of draft failures at his position, Grigorenko will have to battle an even more dismal history of Russian draft choices in this organization.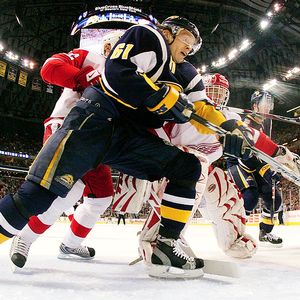 Maxim Afinogenov
"Courtesy of Getty Images"
While the Sabres were once looked at as pioneers for selecting Russian sniper Alexander Mogilny in the 1998 draft, the organization hasn't had much success since.  The Darcy Regier era got off to a decent start drafting enigmatic but talented forward Maxim Afinogenov in 1997, and defenseman Dmitri Kalinin in the 1st round in 1998.  Both players underwhelmed in terms of their potential, but they were solid NHL contributers for Buffalo. The Sabres scouting of Russian talent since has fallen on hard times.  In 2000, Regier selected Artem Kryukov with the 15th overall pick but despite being a first round talent, the Russian forward never played a game in North America.  Since then, and prior to Grigorenko,  the Sabres have selected only 6 Russian born players, and only 1 in the first 4 rounds, defenseman Denis Yezhov.  Yezhov was selected in the 4th round of the 2003 NHL draft, but like Kryukov he has never appeared in an NHL game.
There has also been a purveying stigma that head coach Lindy Ruff doesn't get along well with Russian players.  Some of that may be the fans and the media reading too much into things, but there was no denying the visceral animosity between Ruff and Afinogenov.   Whether that was an isolated incident or part of a trend, there has certainly been a noticeable drop off in Russians selected by Regier and Ruff since 2000.  In the 12 years since drafting Alexander Mogilny, the Sabres selected 10 Russian players.  In the past 12 years Regier and company have been gun shy drafting only 5 Russians and passing on talents such as Alexander Semin in 02', Nikolai Kulemin in 06', and Dmitri Kulikov in 09'.
Every player is their own unique entity unto themselves, but as a Russian born Center drafted in the 1st Round by Darcy Regier, the chips are stacked against Mikhail Grigorenko.  Conversely, given their track record, the Sabres brass must have seen quite a bit of potential from Mikhail to go against the grain and select him 12th overall.  It will be quite some time before we see whether or not Grigorenko will be the centerpiece the Sabres have needed in the Regier era, but one thing's for certain, history is not on his side.
The post Grigorenko versus History appeared first on Queen City Sports.
Original Story:
http://www.queencitysports.net/grigor...
THE BACKYARD
BEST OF MAXIM
RELATED ARTICLES
In a time of uncertain around NHL teams, the Buffalo Sabres will get some good news on Wednesday morning; the city of Buffalo is going to choose their proposal for the prime Webster block district. It took months of deliberation and even a delay to the announcement, but the plan proposed by Sabres owner Terry Pegula and his legal team won the vote. The Sabres' only competition...
In the second half of the Under Armour Elite 24 video recap, we look at the following prospects: 2013 guards Conner Frankamp (committed to Kansas) and Tyler Ennis (committed to Syracuse) as well as top 2014 prospects Tyus Jones and Stanley Johnson. Also, for other Under Armour Elite 24 coverage, be sure to check out: Game Recap Video Log 1 (including top 2013 prospects Julius...
I've received comments that fans would like for me to talk more about prospects. Here are a few players that I wanted to mention. Some of them are not necessarily prospects, but haven't played a full season in Buffalo. Luke Adam - What started as a great season, turned into a disappointing year for Adam. He had 20 points early on, but that ended up to be his total...
Steve Ott. Bad Mofo. He and his family have been loving life in Buffalo this Summer. Since he was traded for Derek Roy, "Otter" has been blending into the Buffalo landscape rather nicely. Recently, he told NHLPA.COM what he's been up to this Summer er WHAT FLOATS HIS BOAT: "I've always loved boating for as long as I can remember. I get that from my...
Ben Kuzma at the Vancouver Province reports that the Rangers are willing to match the four-year, $30 million offer the Buffalo Sabres have made to Shane Doan.Doan has said he will choose a team before the September 15th NHL lockout deadline....Kuzma gives no source for this rumor, so I'm not sure what to think....if true Sather has officially fallen off the wagon. And he was...
NHL News

Delivered to your inbox

You'll also receive Yardbarker's daily Top 10, featuring the best sports stories from around the web. Customize your newsletter to get articles on your favorite sports and teams. And the best part? It's free!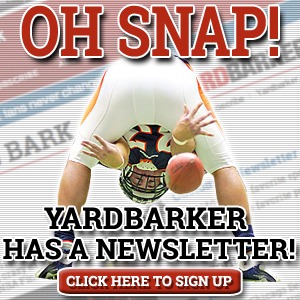 Latest Rumors
The Backyard

Today's Best Stuff

For Bloggers

Join the Yardbarker Network for more promotion, traffic, and money.

Company Info

Help

What is Yardbarker?

Yardbarker is the largest network of sports blogs and pro athlete blogs on the web. This site is the hub of the Yardbarker Network, where our editors and algorithms curate the best sports content from our network and beyond.