As we attempt to give back to our awesome followers here, we are giving the opportunity to write guest posts that we will post on Sundays. In the first of these guest posts, poster Brian looks at how we can judge if Brad Richards and Mike Rupp were worth signing this offseason. There is a question every market will pose when their team has sprung an extra buck to add someone with a "name" to their roster. Was he a good acquisition?  Is he paying off? Is he worth the payday? This question hits home hard this season for the Rangers as they went out and secured two Stanley Cup (one with multiple Cup wins and another who was an MVP to his only ring) winners. Both of which had handsome price tags attached. The problem with this question is that it is always posed too early. Already we see the blogs and TV hosts posing this question in regards to Brad Richards. Why is it too early? Last season was a shaky year. It was a roller coaster of a year which saw the Rangers bring a first full-season rookie (Derek Stepan) in a good while.  It was also a season that also saw the top goal producer fall off in production. It still ended up with a playoff berth, albeit short lived. However two seasons ago, the new superstar acquisition was on fire and the Rangers still missed the playoffs. What does all this tell you? No season will make perfect sense.  But the only true way to see if there has been improvement is the simplest way there is:  Where did the team end up after the smoke cleared? How have the changes affected the club when faced with the same situation as before? Do they fall again? Do they live to see another day? It is this guest bloggers belief that until the team has reached the playoffs, we will NOT know who was or wasn't worth it. Imagine either of the two previous playoff appearances had the Rangers faced the Capitals with the addition of Brad Richards and Mike Rupp. A big, able body like Rupp going up against Laich. A Richards and Gaborik combination to compete with the Ovechkin and Semin combination. Unless the smoke clears to reveal a complete playoff miss (which would take a serious titanic- esque error), then it will not be known until the first round of the playoffs is complete.  If the Rangers don't make it to the first round, then the answer is a resounding NO! If they get to the first round and lose again regardless of how many games, the answer is again answer NO. What happens this time around when the Rangers are locked in the room with the kid looking to beat them and take their lunch money? Will they fork it over? Or did they put on enough muscle over the summer to put up a fight? Will the newfound strength get them past the bully, intact, and headed to the lunchroom to grub? It's too early. Ask again in May. I'll close this with a jab at our friends across the Hudson. Hows Ilya working out? Going places aren't ya..mmm? (Last sentence to be read in baby Stewie's voice.)
Original Story:
http://www.blueseatblogs.com/2011/11/...
MORE FROM YARDBARKER
Rangers News

Delivered to your inbox

You'll also receive Yardbarker's daily Top 10, featuring the best sports stories from around the web. Customize your newsletter to get articles on your favorite sports and teams. And the best part? It's free!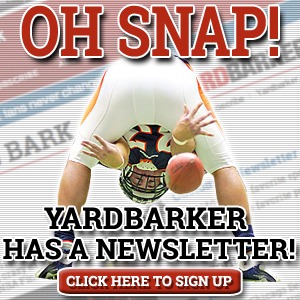 Latest Rumors
Best of Yardbarker

Today's Best Stuff

For Bloggers

Join the Yardbarker Network for more promotion, traffic, and money.

Company Info

Help

What is Yardbarker?

Yardbarker is the largest network of sports blogs and pro athlete blogs on the web. This site is the hub of the Yardbarker Network, where our editors and algorithms curate the best sports content from our network and beyond.