Found January 18, 2012 on NorthWest Sports Beat:
Take note ladies (and gents) Cody Hodgson, the Vancouver Canucks' rookie who has worked tirelessly all season to prove himself, is, in fact, a stud. Did you know?
Here are a few reasons why the Vancouver Canucks Co-ho is studworthy:
1. He's becoming a Canucks sharp shooter PING! Cody just scored, off the post and in. With three of the past six power play goals for the Canucks, Cody is making a name for himself in Vancouver with those beautiful slap shots at pivotal moments. He's ranked fifth in scoring among rookies in the NHL this year. 2. All-Star and potential Rookie of the Year Being named one of 12 rookies to participate in the 2012 All-Star game in Ottawa is a high honour, and proves that this guy is an up and comer to watch in the NHL overall. He was one of four All-Star Canucks selected, along with teammates Daniel and Henrik Sedin, and Alexander Edler. He continues to perform with the little amount of ice time he's alloted (10-12 minutes on average per game). 3. He grew up in Markham, Ont. As you may have noticed, I have a soft spot for GTA NHLers (Greater Toronto Area – for all your North West coasters who haven't crossed the eastern Alberta border). Cody Is VERY easy on the eyes Hodgson and I (and Steven Stamkos) experienced a similar "humble upbringing" (why do people say that? What does that even mean?), spending a large majority of our childhood in hockey rinks in Markham and all over Toronto. And anyone who played for the Markham Waxers, a team I grew up watching and my brothers played for, is automatically a stud. 4. He's easy on the eyes Don't mean to be a craddle robber or anything (the kid is only 21), but he's dang cute. Sorry boys, but this is a key factor of being studly. He's still got all of his teeth, too. 5. He's been through the ringer Last season, Hodgson was called up to the NHL and sent back to the AHL several times. He was cut from the Canucks' training camp three times, enough to discourage any athlete. Finally he emerged with a second line position with the Canucks during Kelser's injury absence at the beginning of the season, and everyone anxiously awaited his official debut. Since then, he's been proving his abilities and learning from the veteran Sedin twins in what little ice time Alain Vigneault gives him. Do you think Cody Hodgson has a chance to win the Calder Trophy this year? So far so good. CLICK HERE TO CHECK OUT THE VANCOUVER CANUCKS CLUBHOUSE TODAY ON NWSB! © Carolyn Smith for North West Sports Beat, 2012. | Permalink | No comment | Follow NWSB on Twitter or join US on Facebook for real-time updates OR... | Share This on Twitter | Share NWSportsBeat.com on Facebook Post tags: Alain Vigneault, Alexander Edler, Calder Trophy, Canuck Player profiles, Canucks profiles, Canucks Roster, Cody Hodgson, Daniel Sedin, Henrik Sedin, NHL Rookie of the Year, Rookie All-Star, Steven Stamkos, Vancouver Studs
Original Story:
http://www.nwsportsbeat.com/canucks/h...
THE BACKYARD
BEST OF MAXIM
RELATED ARTICLES
I was going to write a blog post on this, but then I thought NAH. That requires about 10 minutes more effort than a forum post, and that's 10 minutes more than I want to spend covering this sitch. Vancouver Canucks forward Ryan Kesler has taken exception to an assertion made by his coach that he doesn't use his linemates well enough. Alain Vigneault suggested following...
SWEET CAKES
Dustin Penner recently injured himself  by eating pancakes and the fans in Vancouver were not about to let him forget it.  Some clever fans brought some maple syrup and strategically placed it behind Penner.  Well played, well played. Pic via Kylelev Article found on: Cosby Sweaters
Last minute bargains? As we near the February trade deadline, the rumour mill has heated up, linking the Vancouver Canucks with possible moves for Cory Perry, George Parros, or Travis Moen. The Canucks will probably be tinkerers at the deadline, adding some depth to complement their core, like last deadline when they picked up Chris Higgins and Maxim Lapierre or the deadline before...
Can't get it together The Vancouver Canucks have just three games left this month and they look like they need it. The team has looked flat since the emotional win in Boston. Sami Salo's injury isn't helping matters but the forwards up front aren't exactly lighting it up either. Ryan Kesler has been in a prolonged scoring slump five-on-five while the Sedins haven't grabbed...
Game #47 LA Kings(22-15-9, 11th in NHL)vsVancouver Canucks(28-15-3, 6th in NHL) Season Series Tied 1-1 7:00pm, Rogers ArenaVancouver, BC BEST SUTTER BROTHER TO PLAY FOR THE VANCOUVER CANUCKS: BEST OPPOSITION BLOG THAT I'VE ATTENDED A PLAYOFF GAME WITH IN PERSON:Benched Whale BEST OPPOSITION BLOGS:Canucks ArmyNucks MisconductPucked in the Head Pass It to Bulis After...
Tanev Vancouver, B.C. - Vancouver Canucks President and General Manager Mike Gillis announced today that defenceman Chris Tanev has been recalled from the Chicago...
Can't win in Cali The Los Angeles Kings took a rough road game to the Vancouver Canucks last night, controlling play and pushing the pace in a 3-2 shootout victory at Rogers Arena. The loss to the Kings was the second straight game given up to a visiting California team after the Anaheim Ducks took it to Vancouver in a two-goal loss over the weekend. The Hat Trick Luongo Loses...
Vancouver Canucks center Ryan Kesler's had a struggle of it this season, with 12 goals and 19 assists through 41 games. Last season he had 23 goals at this point, cruising to a career-best 41 tallies after being liberated from his traditional role as the team's primary shutdown center. But Ryan Kesler also has something that other players around the NHL crave when their performance...
VANCOUVER, British Columbia (AP) -- Justin Williams and Mike Richards scored in the shootout Tuesday and the Los Angeles Kings beat Vancouver 3-2 and handed the Canucks a second straight home loss. Williams, who also scored in regulation, beat Canucks goalie Roberto Luongo on his stick side and Richards, the fourth shooter, fired over his glove. Alex Burrows scored for the Canucks...
In case you were wondering about the severity of the psychological scarring suffered by some Vancouver Canucks fans after losing the Stanley Cup to the Boston Bruins: It apparently runs "I'll make a 10-minute propaganda piece with clips from 'The Daily Show' to demonize the Bruins" deep. That said: This is wickedly entertaining, intercutting between the Bruins...
Three key aspects of the Kings' 3-2 shootout victory over the Vancouver Canucks... 1. SHAKE IT UP IN SHOOTOUT The Kings, one of the most-successful shootout teams in the NHL last season, had been 3-5 in the shootout this season and had l...
The Vancouver Canucks look to have a little more jump in their step tonight as they try to extend a six-game home point streak over the Los Angeles Kings.
NHL News

Delivered to your inbox

You'll also receive Yardbarker's daily Top 10, featuring the best sports stories from around the web. Customize your newsletter to get articles on your favorite sports and teams. And the best part? It's free!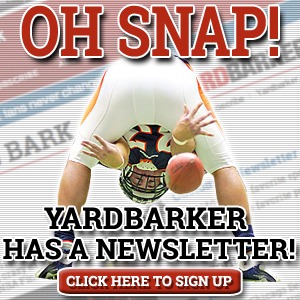 Latest Rumors
Best of Yardbarker

Today's Best Stuff

For Bloggers

Join the Yardbarker Network for more promotion, traffic, and money.

Company Info

Help

What is Yardbarker?

Yardbarker is the largest network of sports blogs and pro athlete blogs on the web. This site is the hub of the Yardbarker Network, where our editors and algorithms curate the best sports content from our network and beyond.