Found February 28, 2012 on Rob The Hockey Guy:
PLAYERS:
Cody Hodgson
,
Jannik Hansen
,
David Booth
,
Byron Bitz
,
Milan Lucic
,
Nicklas Jensen
,
Trevor Linden
,
Sami Salo
,
Christian Ehrhoff
,
Aaron Rome
TEAMS:
Buffalo Sabres
,
Vancouver Canucks
,
Boston Bruins
This morning, a friend of mine decided to go on a rant about the Cody Hodgson trade. His name is Nathan and he's currently traveling in Brazil, but he's a huge Canucks fan and is a season ticket holder. He's an awesome writer and he knows hockey, so I figured this rant was blog worthy. Enjoy!
Hello from Brazil. No amount of beach can take my brain off hockey at this time of the year. It's like the relentless beat of the samba down here. Omnipresent. So here are some thoughts on the trade.
I felt as gut wrenched as the next Canuck fan when I heard that Hodgson had been traded. He was having the best rookie season this town has seen since Pavel Bure. And that's an empirical fact. He came up big in most of our big games this year scoring timely goals against Boston, San Jose, Montreal and Detroit. He was first star in a couple of those games. He also quarterbacked our 2nd power play unit and single-handedly made the 3rd line a scoring threat.  As far as skill and scoring go it looks like the Canucks got hosed in this trade. At least in the immediate future.
But what Gillis is trying to do is change the size and mentality of this team. The size differential between the Canucks forwards and those of San Jose, Chicago and Detroit is striking. Let alone Boston. There's no downside to having a third line that scores, but there is a downside to having one that plays like a scoring line. The best example of this is the total disintegration of Jannik Hansen's checking game. In this fan's humble opinion, his checking game was on par with a Ryan "Selke" Kesler in last year's playoffs. Hansen has gone on the record to say he's changed his game to suit his more scoring oriented line mates (Hodgson and Raymond). And speaking of Kesler, have you checked out his battle level recently? He spends more time pouting on the ice after being knocked down than he does terrorizing the other team.
The Canucks are having a great season. They are winning, but just barely most nights. And superior goaltending has played a big part in that. Gillis wouldn't have made a move if he didn't see an issue and it's consistent with all the moves he's made since last summer. David Booth? Big body, great skater. Byron Bitz? Huge, tough and great hands. Pahlsson? Big, gritty and has a ring. Kassian? Check out the way this guy can skate and throw his weight (and fists) around. He has Milan Lucic written all over him. And you know what? He had 16 goals in 30 games in the AHL this year and that is a tough league to score in. It's not a great sample size, but that's more goals per game than Kesler, Burrows, Grabner or Hodgson had in their best seasons in the AHL.
The potential offense the Canucks are getting back in this trade is actually underrated. Not only has Kassian ripped it up in his first season in the AHL, but Gragnani brings some pretty serious upside. At 24 he's a point-a-game guy in the AHL and had 7 points in 7 games for Buffalo in last year's playoffs. People saw this deal as a Hodgson for Kassian, Gragnani for Sulzer trade, but I think it's more of a Kassian and Gragnani for Hodgson type situation. Sulzer, 27, hasn't shown he can play at the NHL level and was more of a throw-in.
This trade will be analyzed for the next 5-7 years. Hodgson is well on his way to being a top 6 forward and who knows what he would have done in Vancouver. The Canucks have done a phenomenal job of developing young players. Burrows was pegged as a 4th line forward, Kesler was a checkinh centre and the Sedins were (hopefully) 2nd line players. Its tempting to fantasize about what Hodgson and Grabner could have done with Hansen or Raymond on their other wing. Who needs toughness or size when your third line can score 60 goals a year? But the same organization that developed Kes, the Sedins, Edler, Schneider and many other players on this team is going to develop Kassian and I have faith he's going to be one heck of a player for the Canucks.
A few final thoughts…
1) It's worth noting that this signifies a shift in Gillis approach to young talent. His first three top end draft picks with the Canucks were all under 6 feet tall. In fact, Rodin and Schroeder are pip squeaks compared to Hodgson. Nicklas Jensen, drafted last June after the Canucks lost in the finals, is built more like Trevor Linden than Cliff Ronning.
2) The Canucks are still a Sami Salo injury away from looking mighty thin on defence. Edler has emerged as a genuine star, but has proven that his body can't take the pounding when he gets physical. And he's a monster when he's physical (check out the LA series two years ago or Chicago last year). Bieksa's defensive game has taken two steps back and he can be a genuine liability because of his penchant for give aways that lead to transition scoring chances, high risk outlet passes and lapses in his coverage. Plus, we're missing 25 minutes a night in Christian Ehrhoff. And sorry to the many Aaron Rome fans out there, but he's not the answer. Here's hoping Chris Tanev just keeps getting better.
3) Healthy this is what the Canucks line-up looks like going into the playoffs. Definitely harder to play against than last year's forward group.
FORWARDS
Sedin-Sedin-Burrows
Booth-Kesler-Raymond
Higgins-Pahlsson-Hansen
Kassian-Malhotra-Lapierre
Depth: Bitz, Weise, Duco
D-MEN
Edler-Salo
Bieksa-Hamhuis
Ballard-Tanev
Depth: Alberts, Rome, Gragnani
Original Story:
http://www.robthehockeyguy.com/2012/0...
THE BACKYARD
BEST OF MAXIM
RELATED ARTICLES
Kassian/Hodgson Trade Reaction At about 1pm this afternoon, much like the vast majority of Canucks Nation, following the Cody Hodgson trade I was about ready to take one big step off the top ledge of the highest and handiest, nearby building. However, it was a little crowded up there. So then I thought, heck I have some time to wait here while the other jumpers paraded by, why not...
The Buffalo Sabres have acquired rookie center Cody Hodgson in a trade with the Vancouver Canucks in exchange for rookie forward Zack Kassian. As part of the deal, the teams also traded defenseman with Buffalo sending Marc-Andre Gragnani to Vancouver in exchange for Alexander Sulzer. The deal was announced by Sabres general manager Darcy Regier on Monday, and reached shortly before...
Trade #2… Today on NHL Trade Deadline day the Vancouver Canucks have made their second move of the day. It's a blockbuster folks. They've acquired Zach Kassian and Marc-Andre Gragnani for Cody Hodgson and Alexander Sulzer. Earlier today in trade #1 the Canucks acquired Sami Pahlsson for a couple fourth round draft picks. This is a stunner folks. Kassian is a big winger but...
Big news here. Zack Kassian and Marc-Andre Gragnani have been traded to Vancouver. The Buffalo Sabres get Cody Hodgson and Alex Sultzer in return. Ray Shero will speak at 4:15 about the Pens situation.
Article Player Stats Article In perhaps the most surprising deal on trade deadline day, the Vancouver Canucks acquired forward Zack Kassian from the Buffalo Sabres in exchange for rookie forward Cody Hodgson. The two teams also swapped blueliners, with Marc-Andre Gragnani heading to Vancouver and Alexander Sulzer going to Buffalo. Canucks Perspective The 6-3, 214-pound...
Yes, I panicked yesterday with trying to get Q&A's out to Vancouver writers. I emailed everyone who was a mothercanucker! So, I got two questionnaires back about Cody Hodgson. You saw yesterday's version and now you get another one from the good folks over at our sister's website for bloguin, the Benched Whale. It is the same questions I asked yesterday about Cody...
It was half hour after the trade deadline had officially passed, and there were rumblings of a big deal with Vancouver Canucks, however no one expected that the other team in that deal would be the Buffalo Sabres – but that's exactly what it was. The Sabres have dealt Zack Kassian and Marc-Ande Gragnani for Cody Hodgson and Alexander Sulzer.  This trade coming in addition to...
AP By Adam Graham (@adam_graham) On the most overhyped day of the year in the NHL, there were very few deals that raised even fewer eyebrows, except for in Vancouver. This is the home to the one and only deadline deal that shocked the hockey world in 2012. The Vancouver Canucks dealt their prized rookie Cody Hodgson and defenseman Alexander Sulzer to the Buffalo Sabres for a tough...
It's another edition of Musings on a game day. How convenient. It's also the first since the deadline came and went and the deadline day inactivity was a blessing or curse; depending on your point of view of course. The biggest winner of the deadline day for me: Buffalo. I think Cody Hodgson should be a quality center for a long time to come and any team that can get a 1st AND...
NHL News

Delivered to your inbox

You'll also receive Yardbarker's daily Top 10, featuring the best sports stories from around the web. Customize your newsletter to get articles on your favorite sports and teams. And the best part? It's free!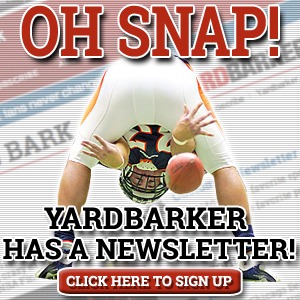 Latest Rumors
Best of Yardbarker

Today's Best Stuff

For Bloggers

Join the Yardbarker Network for more promotion, traffic, and money.

Company Info

Help

What is Yardbarker?

Yardbarker is the largest network of sports blogs and pro athlete blogs on the web. This site is the hub of the Yardbarker Network, where our editors and algorithms curate the best sports content from our network and beyond.