Found March 28, 2012 on Fang Faction:
Welcome Detroit Red Wings and Nashville Predators fans to the signature story on Fang Faction, 'How to Beat the Goalie.' This is edition thirteen since this has started. It has been a good while since this story has been made to "scout" the other team, but that is stopping tonight.
The Nashville Predators take on a injured, Detroit Red Wings team, Friday night. The goalies for the game is Ty Conklin and Jordan Pearce. You might be asking yourself, "Where is Jimmy Howard and Joey MacDonald?" Well, read more after the jump to find out.
Edition 13: Detroit Red Wings Goalies, Ty Conklin and Jordan Pearce
Ty Conklin is the projected starting goalies, as of now, on Fang Faction. Jordan Pearce should be getting another night off, as he has never played in a game for the Detroit Red Wings, ever. To answer the question before the jump, here is what happened to Howard and MacDonald. 
Jimmy Howard has been injured since March 4 with a strained groin. It has been speculated that Howard will be returning Friday night, but I highly doubt that, as going into Wednesday night's game against the Columbus Blue Jackets, he was doubtful. 
Joey MacDonald started in the last game against the Nashville Predators, March 10. Since then, MacDonald was injured March 17 with a back injury and is listed day-to-day. I don't think he will be in the line-up Friday night, either. Although, I believe that MacDonald has better chance of being in the line-up against Nashville than Jimmy Howard.
Ty Conklin is the Fang Faction projected starting goalie for the Detroit Red Wings, as of now. Conklin enters this game off a 4-2 loss against the Columbus Blue Jackets. He has started the last four games due to the MacDonald injury, and his record is 2-1-1.
Ty Conklin has been through a crazy year this season. Conklin was sent down to the AHL affiliate, Grand Rapids Griffins. Then, as Joey MacDonald was injured, he was sent back up to Detroit in an emergency re-call. From going from Grand Rapids to now, Detroit Red Wings as a starting goalie. What a crazy year for Conklin.
Here is how the Nashville Predators will score on him Friday night. There isn't too much video on Conklin, this season.
Blocker Side: Watch for Nashville to shoot blocker side Friday night, as that is a weak area for him.
Shoot Often: All things aside, forget where the Predators should shoot, they should just shoot. Conklin can not handle a lot of shots. Nashville needs to shoot often, just about anywhere. 
Ty Conklin's 2011-2012 season stats: Name W L OT SO SV % GAA Ty Conklin 5 6 1 1 .884 3.28 Ty Conklin's career stats vs Predators: Name W L OT/T SO SV % GAA Ty Conklin 4 3 2 0 .883 2.92 -------------------------------------------------------------------
Jordan Pearce is also another one of those interesting stories this season for the Detroit Red Wings. Pearce is an emergency back-up to Ty Conklin. Pearce was called up from Grand Rapids to replace Joey MacDonald, when he was injured. Jordan Pearce is a Notre Dame Fighting Irish graduate. 
There is literraly no video on Jordan Pearce, that I have access to. So unfortunately, I can't tell you how the Nashville Predators will try to beat him.
There is also no stats on him in the NHL, but here is his stats with the Grand Rapids Griffins in the AHL. Name W L OT SO SV % GAA Jordan Pearce 3 7 1 1 .874 3.53
Original Story:
http://fangfaction.com/2012-articles/...
THE BACKYARD
BEST OF MAXIM
RELATED ARTICLES
DETROIT -- Although the Red Wings are getting players back from injury, there is no margin for error. With six games left for both the Wings and the Nashville Predators and the Predators coming to town Friday, there is just one point separating the teams. Detroit, currently fourth in the Western Conference, has 97 and Nashville has 96. Coach Mike Babcock said if goaltender Jimmy...
Detroit Red Wings forward Johan Franzen will return to the lineup for Wednesday's game in Columbus against the Blue Jackets.Franzen has missed the last four games because of back spasms."It's good to have him back. Obviously he's a real good player for us," coach Mike Babcock said Tuesday. "This gives him six games to get his game in gear going into the...
Paul posting… from Chuck Pleiness of Red Wings Front, In the time defenseman Nicklas Lidstrom has been with the Red Wings' organization there's been one feeling he hasn't had to deal with … what it's like to not make the NHL playoffs. On Monday night, Detroit qualified for the postseason a franchise-record 21st consecutive, 20 of those season have been with Lidstrom...
Paul for George… from Zack Crawford of the Wings website,  Having clinched a playoff spot this week, the Red Wings had good reason to be positive at the Detroit Economic Club luncheon held at MotorCity Casino Hotel on Tuesday afternoon…. As for the current state of affairs, Holland pointed to the "offense by committee" as one of the things he likes most about the team...
When this team is on, they are amazing. When they are off, it's ugly. Not many good things to mention after a game like this, so I won't bother trying.Recap after the jump: Conklin made no big saves tonight and the defense in front of him hung him out to dry a few times. He got beat by a bad bounce, two breakaways and a 2 on 1. I'm pissed that the 2 on 1 goal went...
from David Shoalts of the Globe and Mail, ...Actually, Detroit Red Wings GM Ken Holland, who most of you will agree knows a thing or two about winning a Stanley Cup, believes it should be 10 years before a general manager should be judged. His argument is that's how long it takes to change the culture of an organization after you take over. General managers cannot simply show...
Jimmy Howard will start for the Red Wings tonight when they play the Nashville Predators at Joe Louis Arena. A groin injury has kept Howard out the last four game. It's the second time in the last two months he's had groin problems. "Everything seems to be okay," coach Mike Babcock said after Friday's morning skate. "He (Howard) says he's feeling...
The Nashville Predators finish off their Central Division road trip Friday night against the Detroit Red Wings at the Joe Louis Arena. The Nashville Predators' record this season is 44-25-8 with 96 points and ranked 5th in the Western Conference. The Detroit Red Wings' record this season is 46-26-5 with 97 points and ranked 4th in the Western Conference. Puck drops at 6:38...
Paul in for George… Well, the coach may have a change of heart… Coach Mike Babcock is reconsidering who he's going to start in net Friday when the Detroit Red Wings host the Nashville Predators in a game likely to determine who'll finish fourth in the Western Conference. Babcock had decided on backup Ty Conklin as of Tuesday, but Howard is ready to return from a groin injury...
DET (46-25-5), second in the Central today, have a golden opportunity to put some points up on NSH and catch them in the ROW tiebreaker column; thanks to the Blues 3-0 win over NSH last night.  Of course that means the Wings will actually have to win one on the road, something they have not managed to do at all this month, 0-4-2. Worse, they cannot score on the road either, 9 GF...
Paul appearing for George this morning. The beat writers report this morning from practice that Johan Franzen plans to play tomorrow, while Ericsson and Howard are game time decisions. Babcock says if players don't play tomorrow, they won't play on Friday against the Predators.  He doesn't want their first game back to be against Nashville. Babcock also stated Nyquist will...
Sadly no Fantasy Hockey ONE today but we do have some good news, we have Pick The Winner in its place. ============================================= Detroit Red Wings @ Columbus Blue Jackets - RED WINGS OVER 3.5 GOALS (+115) (Note: I'm risking 1 unit to win 1.15 units) **Note: Again this is a play on Detroit to score more than 3.5 goals. If they score 4 or more goals we win...
NHL News

Delivered to your inbox

You'll also receive Yardbarker's daily Top 10, featuring the best sports stories from around the web. Customize your newsletter to get articles on your favorite sports and teams. And the best part? It's free!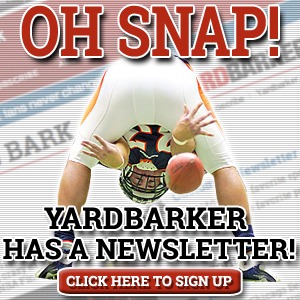 Latest Rumors
Best of Yardbarker

Today's Best Stuff

For Bloggers

Join the Yardbarker Network for more promotion, traffic, and money.

Company Info

Help

What is Yardbarker?

Yardbarker is the largest network of sports blogs and pro athlete blogs on the web. This site is the hub of the Yardbarker Network, where our editors and algorithms curate the best sports content from our network and beyond.