Found February 15, 2013 on Fang Faction:
(Photo by: Doug Pensinger/Getty Images) Viktor Fasth, a 30-year old rookie out Sweden, is currently the National Hockey League's breakout star of the year, already. Before being signed by the Anaheim Ducks during the offseason, Viktor Fasth played in the Swedish Elite League, where he won two consecutive goalie of the year awards. Another goalie many might new who accomplished similar success is Henrik Lundqvist of the New York Rangers. Ducks fans and those in the organization hope Fasth will end up like Lundqvist. The purpose for signing Fasth in the offseason was to push Jonas Hiller to play his best. However, Fasth is exceeding expectations and is outplaying Hiller. Since the injury to Anaheim starter Hiller, Fasth has taken advantage of his playing time in North America. His first start came against the Nashville Predators and won in overtime allowing only two goals. Since then, he is undefeated in all of his starts. With most European goalies who come to North America to play, it is a struggle at first to adjust not only on the ice, but off the ice. Due to the Olympic-sized rinks overseas, the angles and post work will have to be adjusted, which takes time. Off the ice, Europeans find it hard to adjust to the North American lifestyle and usually isn't comfortable for them. However, Fasth has been able to block all of that out and is focused on stopping pucks for the Ducks. At 6'0", Fasth is smaller than many in the league. Fasth covers everything down low because of his bigger pads. The pads make up for the lack of size at 6'0" and takes up a lot of space. Fasth, like most Swedish goalies, play a butterfly position. Here is how to beat Viktor Fasth. Rebounds: Fasth gives up a lot rebounds. Instead of kicking it out into the corners, he seems to unreact and let the puck bounce off the leg pads. 5-hole: Fasth leaves a big 5-hole open when he goes down into the butterfly. His stick, which should be covering the 5-hole shifts to his right, and leaves it open for a puck to fly through. Glove side: Fasth is prone to having the front of his glove facing down to the ice instead of at the puck.  Viktor Fasth's career stats vs Nashville Name W L OT SO SV% GAA #30 Viktor Fasth 1 0 0 0 .905 1.85 Viktor Fasth's 2012-13 stats Name W L OT SO SV% GAA #30 Viktor Fasth 7 0 0 1 .932 1.78  
Original Story:
http://www.fangfaction.com/2013-artic...
THE BACKYARD
BEST OF MAXIM
RELATED ARTICLES
from Ken Baker of NHL.com, KEN BAKER: You aren't a big goalie, but you look big in the net. What's your secret? VIKTOR FASTH: I try to cut off the angle a little different than the taller goalies (Fasth is 6-foot, 186 pounds). And I try to play with big patience. If I go down on my knees too early, I will be opening up some holes top-shelf. So I have to play more...
Although Rickard Rakell impressed the Ducks enough in their mini training camp to stay for a few regular season games, the party is over.  Rakell, 19, was not eligible to be sent to the AHL, so he was sent back to his junior team.  "Once you get a taste of it here, you always want to stay," said Rakell. "I think this could a be a good way for me. We can have...
(Photo by: John Russel/Getty Images) The Anaheim Ducks defeated the Nashville Predators, 3-2 in a shootout for the second time in as many meetings. Ducks' goaltender Viktor Fasth came up big in the shootout, stopping two of three attempts. Fasth also turned away 32 shots that came his way. Also, the Ducks ended their road trip on a high note, going 5-1-0. "It's...
NASHVILLE, Tenn. (AP) -- The Nashville Predators made Anaheim goaltender Viktor Fasth work hard to continue the perfect start to his NHL career. Nick Bonino and Corey Perry scored in the shootout and the Ducks beat the Predators 3-2 on Saturday night to earn their fourth straight victory and eighth in their last nine games. In the tiebreaker, Fasth allowed just one of three Nashville...
Friday night, both the first and second periods were played to ties at Joe Louis Arena between the Detroit Red Wings and Anaheim Ducks. Then, the Ducks were the benefactor of Detroit's lazy defensive mindset in the third, scoring three times to break away with a 5-2 victory. Playing without Pavel Datsyuk and other key players, the Red Wings had the deck stacked against them a bit...
With these Anaheim Ducks, apparently all things are possible, even winning at Joe Louis Arena.    The Ducks finally got their fourth regular season win (after a mere 37 attempts) with a 5-2 defeat of the Red Wings. Red Wings fans were not very happy about that.  They are used to seeing their home team trounce upon the Ducks.    That is to be expected.  The last time Anaheim...
The Nashville Predators take on the Anaheim Ducks for the second time this season, this time at Bridgestone Arena. Nashville and Anaheim are both on win streaks, but one of these teams will have to lose. The Predators are 7-3-4 with 18 points and ranked 4th in the Western Conference, while the Ducks are 10-2-1 with 21 points and ranked 2nd in the Western Conference. Puck drops at...
Certainly not the third period we were looking for. The effort was there most of the night, but turnovers were the Red Wings' undoing in this game. The Ducks scored 4 of their 5 goals off of turnovers. Yes, injuries are a problem, but our key injuries are to forwards and the problem was on defense. Howard did what he could, but there were too many turnovers to overcome. More...
The Detroit Red Wings face off against the Anaheim Ducks tonight (7:30 PM, FSD/Prime Ticke/NHL Network U.S.--so that means that Center Ice and GameCenter Live Online users are screwed via an NHL Net blackout yet again!/97.1 FM, and tonight is a Niklas Kronwall "Fathead Friday") facing a stiff test in more ways than one. The 9-2-and-1 Ducks are coming off a pair of shootout...
The Nashville Predators fell to the Anaheim Ducks in a shootout on Saturday night by a 3-2 score. Nashville out-shot the Ducks by a 34-22 margin but were simply unable(More here)…
Somehow Anaheim keeps finding a way to get the job done and win games.  The persevering Ducks finished up their six game road trip with a 3-2 shootout win over Nashville, giving them a 5-1-0 record on the trip, their best road trip in franchise history. It was the second of back to back games, and the Ducks were clearly tired.  Nonetheless, they dug deep, got great goaltending...
NHL News

Delivered to your inbox

You'll also receive Yardbarker's daily Top 10, featuring the best sports stories from around the web. Customize your newsletter to get articles on your favorite sports and teams. And the best part? It's free!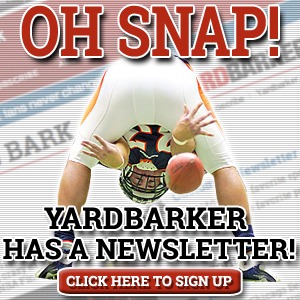 Latest Rumors
Best of Yardbarker

Today's Best Stuff

For Bloggers

Join the Yardbarker Network for more promotion, traffic, and money.

Company Info

Help

What is Yardbarker?

Yardbarker is the largest network of sports blogs and pro athlete blogs on the web. This site is the hub of the Yardbarker Network, where our editors and algorithms curate the best sports content from our network and beyond.