English: NHL Commisioner Gary Bettman in 2007. (Photo credit: Wikipedia) Well there are quite a few news stores of note this morning in the college and professional hockey world. The NHL Labor mess continues on and is proving to be an absolute gong show and it appears that there is little evidence that a solution is forth coming. Like my friend Chris Wassel said on Twitter they should just cancel the season already, instead of dragging out the agony, it's beginning to look like this is where the owners led by the lockout commissioner Gary Bettman are going. I used to get excited every time someone would post a story with a theory about a possible solution to the lockout that is now in its 74th day. Just cancel the NHL season already. Sure the odds are headed that direction. — Chris Wassel (@ChrisWasselTHW) November 27, 2012 Notre Dame head hockey coach Jeff Jackson was fined for his comments he made about the officials in the post-game news conference. I don't like this because I think that if the officials blow a call a head coach should be able to relay his displeasure about the officiating within reason. Over the years in college hockey I have seen some brutal officiating in college hockey. There is a great story about former UMD Bulldog J.T. Brown in Tampa Bay online. There is also a great story in Grantland about college hockey that mentions the WCHA and Minnesota and Wisconsin leaving and also the formation of the NCHC hockey conference. Obviously, there are some points of interest in this story will bring up all kinds of emotions and feeling from college hockey fans around the spectrum. Apparently, the Toronto Maple Leafs are worth 1 Billion dollars. Yeah!  There is a really nice story in All Habs about UND forward Mark MacMillan; Up Close with Mark MacMillan: Habs Prospect with Discipline, Character. The College Hockey Rink Report ranks the college hockey conferences. Currently the WCHA is ranked second in his rankings. Chris M Peters from the United States of Hockey had a very nice piece on the B1G teams and their struggles so far this season. Joe Haggerty CSNNE makes a pretty good point about where the blame for the 2012-13 lockout lies, it's not Bettman. Boston Bruins owner Jeremy Jacobs is one of the big power broker owners that is driving this lockout and Haggerty is letting fans know where the blame lies.  Related articles The only game in town? (thehockeywriters.com) Updated College Hockey Television Schedule (thehockeywriters.com) College Hockey takes center stage (thehockeywriters.com) Revised and Updated College Hockey Television Schedule (thehockeywriters.com)
Original Story:
http://feedproxy.google.com/~r/blogsp...
MORE FROM YARDBARKER
NHL News

Delivered to your inbox

You'll also receive Yardbarker's daily Top 10, featuring the best sports stories from around the web. Customize your newsletter to get articles on your favorite sports and teams. And the best part? It's free!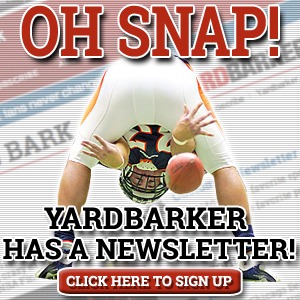 Latest Rumors
Best of Yardbarker

Today's Best Stuff

For Bloggers

Join the Yardbarker Network for more promotion, traffic, and money.

Company Info

Help

What is Yardbarker?

Yardbarker is the largest network of sports blogs and pro athlete blogs on the web. This site is the hub of the Yardbarker Network, where our editors and algorithms curate the best sports content from our network and beyond.