Found November 29, 2011 on Turner Sports Desk:
For those of you thinking that Dale Hunter would step in and magically cure the Caps of 4 years of bad habits welcome back to hockey reality. Last night's 2-1 loss to the St. Louis Blues was the first step with 59 steps/games remaining on a journey back to team hockey.
Here is a fact for your consumption. The 1998 Eastern Conference Champion Capitals (yes...the Caps experienced success before Ovechkin newbies) made it to the Stanley Cup finals by being close to air-tight in their own zone and with timely-opportunistic offense. They had one real goal scorer in Peter Bondra (52 goals) but even Bondra played within the framework of the overall defense first scheme. Bondra created his own opportunities for himself and others by buying in and playing both ways. Coach Ron Wilson had success because that Caps TEAM out worked, out hit and out hustled everyone except the eventual Cup Champion Red Wings. 
Fast forward to 2011 and this Caps squad that is loaded with talent but they are far from a team right now. The first thing people say when you mention the Caps is the word talented. The problem is they are not saying talented and hard working. The most important lessons Dale Hunter has to teach is showing the this team how to play hockey without the puck. Hunter is going to show them that you have to win battles in order to earn shots that win games. Last night St. Louis earned a win by winning more small physical and mental battles. Dale's biggest job is showing Alexander Ovechkin and Alexander Semin that they can create offense for themselves and others by playing defense. No one is asking them to become Selke winners but they can definitely play within the overall scheme and create chances for themselves and others. Peter Bondra scored a ton of goals in a highly defensive system so there is no reason Ovechkin and Semin cannot do the same if they buy in and commit to working hard consistently.
You can no longer run and gun your way to a Stanley Cup like Gretzky and Lemieux did so for those hoping the Caps will get back to that style of hockey your amateur is showing. The Caps under Bruce Boudreau proved that a ceiling existed for run and gun hockey. The moment someone takes away time and space the Caps looked like fish out of water. It is good for regular season wins, home ice in the playoffs, plenty of accolades and beating the New York Rangers in the first round of the playoffs but not much else. 
As the Caps move forward with Hunter and his style of play we will see who is not fitting in. We will see who values their "numbers" more than wins and losses. We will also see who requests to seek life elsewhere. This style of hockey (winning hockey) requires hard work, discipline, patience and toughness. Some of the guys starting this journey will not be here at the end.  The same principles of patience and discipline goes for Caps fans who got spoiled on the Fool's gold that was Bruce Boudreau's tenure. Bruce won a lot of games and the style of hockey he coached was exciting for fans but the results speak volumes. I'll take winning the games that matter most over winning a bunch of games ten times out of ten and twice on Sunday. The ONLY goal is the Stanley Cup. Not making it to the second round, beating the Penguins or just getting to the finals. The ONLY goal is being the last team standing at Season's end. The real journey towards that goal started last night.
Like Turnersportsdesk on Facebook
Follow TSDesk on Twitter
Original Story:
http://feedproxy.google.com/~r/turner...
THE BACKYARD
BEST OF MAXIM
RELATED ARTICLES
(AP) -- The St. Louis Blues made a coaching change early in the month that provided a spark to a struggling team. The Washington Capitals hope their bold move has the same result. Washington fired Bruce Boudreau after four seasons Monday, and new coach Dale Hunter will make his NHL debut Tuesday night when the Capitals host the surging Blues. Boudreau guided Washington to four...
SportsTalk: Amid another coaching change, Mike Milbury questions whether Alex Ovechkin has what it takes to reach the next level. (NBC Sports)
Alex Ovechkin has dropped from MVP seasons to an ordinary one for Washington. In Carolina, Eric Staal is stuck in a seasonlong slump. Two of the NHL's best players get the rest of the season to try to turn around their numbers and revert to form. Their coaches weren't so lucky.
Dale Hunter's NHL coaching career began with a thud Tuesday night as Alex Ovechkin and the Washington Capitals struggled again in a 2-1 loss to the St. Louis Blues.
WASHINGTON (AP) Dale Hunter's NHL coaching career began with a thud Tuesday night as Alex Ovechkin and the Washington Capitals struggled again in a 2-1 loss to the St. Louis Blues.
Sidney Crosby vs. Alex Ovechkin — the stuff "24/7," the Winter Classic and, let's face it, the NHL is made of. For a while it was the biggest rivalry in the league, reinvigorating the Pittsburgh Penguins vs. the Washington Capitals as must-see TV and even more of a must-see in ...
In his first statement since the Washington Capitals fired him on Monday, Bruce Boudreau told ESPN.com that he and Alex Ovechkin "got along famously" and that reports of a rift weren't accurate. Tarik El-Bashir of the Washington Post got a bit more out of Boudreau in a sit-down interview with the former coach, and it reveals someone who — like general manager George...
Bruce Boudreau isn't blaming his newfound unemployment on Alex Ovechkin. The Washington Capitals coach spoke publicly Wednesday for the first time since being fired on Monday. Boudreau says he doesn't believe two-time league MVP Ovechkin "was ever a problem." He says when Ovechkin's statistics went down, people were putting "two and two together and they...
The bitter taste in Washington is still settling in, but, while everything is progressing quickly, the game of coaching musical chairs is still on-going. With the popular, or often unpopular Bruce Boudreau out of the saddle, in part because of the lack of productivity from guys like Alexander Ovechkin, the Washington Capitals will go the way many teams did this offseason...
Sidney Crosby and Alex Ovechkin didn't produce their customary fireworks when playing against each other.
WASHINGTON--As if a Penguins-Capitals contest needed added story lines. Yet there are plenty of them going into tonight's game at the Verizon Centre, more than the usual Sidney Crosby vs. Alex Ovechkin platform which the NHL used to love to...
For all of Bruce Boudreau's success with Alex Ovechkin and the Washington Capitals -- no coach in the modern NHL reached 200 victories as quickly -- he failed to take them far in the playoffs. And now, suddenly, the regular season was becoming problematic, too.
NHL News

Delivered to your inbox

You'll also receive Yardbarker's daily Top 10, featuring the best sports stories from around the web. Customize your newsletter to get articles on your favorite sports and teams. And the best part? It's free!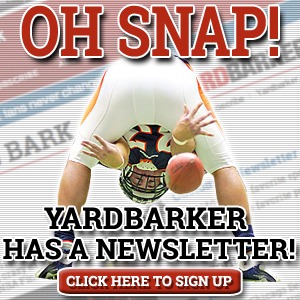 Latest Rumors
The Backyard

Today's Best Stuff

For Bloggers

Join the Yardbarker Network for more promotion, traffic, and money.

Company Info

Help

What is Yardbarker?

Yardbarker is the largest network of sports blogs and pro athlete blogs on the web. This site is the hub of the Yardbarker Network, where our editors and algorithms curate the best sports content from our network and beyond.