Found June 28, 2013 on Fox Sports Carolinas:
PLAYERS:
Jim Rutherford
,
Patrick Kane
,
Jeff Skinner
,
Eric Staal
,
David Poile
,
Chad LaRose
,
Joe Corvo
,
Marc-Andre Bergeron
,
Dan Ellis
,
Ryan Murphy
TEAMS:
Carolina Hurricanes
,
Chicago Blackhawks
,
Nashville Predators
With the NHL Draft set for Sunday, FOXSportsCarolinas.com spoke to Carolina Hurricanes general manager Jim Rutherford to get some insight into the team's strategy going into the event and also into the busy offseason process, which is set to begin on July 5 with the start of free agency. The 'Canes hold the fifth overall pick in the draft. John Manasso: Do you think you will take the best player available (as opposed to drafting for a specific need)? Jim Rutherford: Well, I think so. I wouldn't say 100 percent for sure. There's different types of players who fall into that area in the first round. We have a lot of skill guys. We feel we have enough guys who can score so I would say we could opt to do a different type of player, if the player could come in and play this year or next. Manasso: Are there a lot of NHL-ready players in this draft? Rutherford: Yeah, I think so. Usually, the higher you pick, the better chance you have to play right away. There's probably a group of five or six you'd put into that group. I don't know for sure. I'm not going to say everybody in the top 10 will play next year. You could find players picked in the top 10 and somebody could end up playing next year. Manasso: A lot of the players who are projected in the top six or so are big players (Seth Jones, Darnell Nurse, Aleksander Barkov and Valeri Nichushkin all are 6-2 or taller). Does that help make the transition easier to playing in the NHL right away? Rutherford: There's no question. The league's getting bigger all the time. Certainly, you watch those playoffs and you see a lot of big players in them. But the one player thats a little bit smaller (Chicago's Patrick Kane) won the Conn Smythe (as playoff MVP). It's not that smaller players can't compete. Manasso: You haven't drafted a forward in the first round since 2010 when you took Jeff Skinner. Does that mean you'll trend towards taking a forward? Rutherford: Not really. Eric Staal (drafted as an 18-year-old in 2003) is still is a young guy. You start looking at (Jiri) Tlusty and (Tuomo) Ruutu and Skinner. That's some pretty good skill up front. They should be able to score enough goals for us to compete in the division. Manasso: The top two European skaters, as rated by NHL Central Scouting, are both Russian speakers. Does the fact that you have an established Russian veteran like Alex Semin who can show them the ropes make you any more likely to take those players? Rutherford: It wouldn't factor for us in making a decision on a player. Nichushkin and Barkov are really good players on their own. That would not be a factor at all. Manasso: Nashville general manager David Poile compared this draft to the 2003 draft, which is considered the best in recent memory. Do you agree? Rutherford: This is a real good one. This is really, really loaded at the top end, the first couple of rounds. It could end up being like the '03 draft, which was a very, very strong draft. I think this year's draft and next year's are a lot like the '03 draft. Manasso: Shifting gears towards free agency, forward Chad Larose (a member of the 2006 Stanley Cup-winning team) has been one of your longest tenured players. Where do negotiations stand with him? Rutherford: He'll go into July as a free agent. I think all of our UFAs (unrestricted free agents, including defensemen Joe Corvo and Marc-Andre Bergeron and goalie Dan Ellis) will go to July and will see if they work their way back to us. That's the way free agency will start. Manasso: Will you look for a depth defenseman in the free agent market? Rutherford: Our main priority is a top-four defenseman, whether it's free agency or trade. I would say it's going to be apt to be a trade. When you get into free agency, there are longer-term contracts involved. I would say that's our priority. Hopefully, we're going to be able to fill that hole. Manasso: Do you think a top-four defenseman might be available on the trade market with the salary cap set to decrease, which will make some teams have to shed salary? Rutherford: Maybe. There could be a chance. Manasso: Do you expect defenseman Ryan Murphy, your first-round pick in 2011, to be on the team next season? Rutherford: He'll have every opportunity to be on the team. He came up and played a few games last season. The first couple of games the coaches loved him and overplayed him. He played about 23 minutes a game then they took his minutes down to 17 or 18. He played very well. He has the skill level. It's a type of player we need, a quarterback on our power play. He's going to be given every opportunity to be there.
Original Story:
http://www.foxsportscarolinas.com/nhl...
THE BACKYARD
BEST OF MAXIM
RELATED ARTICLES
Cam Ward has been the Hurricanes workhorse in goal for so long that it sometimes feels like the fans take him for granted. He'll have his share of bad starts and is coming off a rough, injury plagued season, but he has given the Hurricanes above-average goaltending for the better part of his career. Since 2009, he has the 12th highest save percentage of any starting goalie in...
Defense has been the Hurricanes biggest need for what feels like years now .They are consistently one of the worst teams in the league at preventing shots and have had to rely on their goaltenders to win more games than they would like. It's frustrating to watch and generally not a successful strategy going forward. The defense corps itself isn't the only problem because...
When analyzing a team's draft needs, it's important to look at what kind of position they are in for both the present and the future because an area that might not currently be a position of need could easily be on in another few years. This is the spot the Hurricanes are in now at right wing. At the NHL level, they have plenty of talent with Alexander Semin and Tuomo Ruutu...
By Dylan Howlett (@Dylan Howlett) Drafting a player is a lot like pinning the tail on a donkey, while wearing a blindfold in the pitch black, and not knowing whether it's a donkey, thoroughbred or rented mule. It's an imprecise art. It's easier when the talent pool from which to choose extends several leagues into the sea as, by most accounts, does the 2013 NHL Draft class...
Reports out of New Jersey suggest the Carolina Hurricanes at asking around to see what teams would offer if they traded down. This is a perfect scenario for the Oilers. The reason the 'Canes are willing? They need defense. It's a safe bet that both Darnell Nurse and Rasmus Ristolainen will still be available at Pick #5. Pick #7 if the Oilers and Hurricanes swapped picks...
The Hurricanes enter this year's free agency period in a bit of a different position compared to year's past. Their usual "needs" are to find a winger for the first line and improve the defense and while the latter point is still a huge issue, they don't really need to make any additions to their top-six. Taking a chance on Alexander Semin last year paid off...
The Carolina Hurricanes hold the fifth pick in this draft. The team wants to add a veteran defenseman capable of playing on one of it top two pairings.The free agent market for defensemen is not exciting, so general manager Jim Rutherford is ready to deal."Getting a defenseman is our top priority before the start of the season," Rutherford told the Raleigh News & Observer...
About this time last year, I wrote a blog hollering for the Canes to step up and sign Alexander Semin to a 1-year deal while the rest of the NHL was chasing supposedly better options. Over the next 14-15 hours, I got taken out to the wood shed via comments and even a decent number of emails and HockeyBuzz messages. After about 15 hours of verbal abuse, the Carolina Hurricanes announced...
With draft day finally here, most people have weighed their opinions on what they think the Hurricanes should do with the fifth overall pick and the overall consensus is split. Some think that the best thing for the Canes to do is hold onto the pick and select an elite talent with the fifth overall pick, but there are just as many people who want the Hurricanes to trade down to acquire...
NHL News

Delivered to your inbox

You'll also receive Yardbarker's daily Top 10, featuring the best sports stories from around the web. Customize your newsletter to get articles on your favorite sports and teams. And the best part? It's free!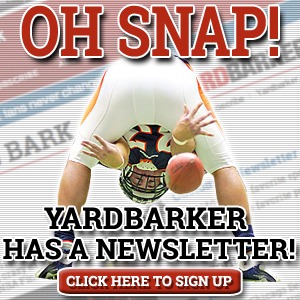 Latest Rumors
The Backyard

Today's Best Stuff

For Bloggers

Join the Yardbarker Network for more promotion, traffic, and money.

Company Info

Help

What is Yardbarker?

Yardbarker is the largest network of sports blogs and pro athlete blogs on the web. This site is the hub of the Yardbarker Network, where our editors and algorithms curate the best sports content from our network and beyond.