Found February 04, 2013 on Shutdown Line:
PLAYERS:
Ryan Murphy
,
Brock McGinn
,
Trevor Carrick
,
Keegan Lowe
,
Tyler Stahl
,
Austin Levi
,
Victor Rask
,
Matt Mahalak
,
Daniel Altshuller
,
Danny Biega
,
Brendan Woods
,
Collin Olson
TEAMS:
Carolina Hurricanes
,
Michigan Wolverines
,
Michigan State Spartans
,
Harvard Crimson
,
Wisconsin Badgers
,
Ohio State Buckeyes
Prospects sometimes become a bit of an afterthought when the NHL season gets rolling, but don't think we have forgot about them, as there is still a lot to report on regarding those in Carolina's system. This week wasn't as eventful as the last, but there were a couple big standouts. The most notable one was clearly Phil Di Giuseppe who had five points in two games with the Michigan Wolverines this weekend. We'll talk about him more along with the other NCAA kids but first, let's take a look at what the Hurricanes CHL prospects did this past week. CHL Skaters Prospect Team GP G A Pts PIM GF GA PPGF PPGA Ryan Murphy Kitchener 2   2 2   3 3 1 2 Brock McGinn Guelph 2 1 1 2 2 3 1     Trevor Carrick Mississauga 2     0         1 Keegan Lowe Edmonton 3     0 7 5 1     Tyler Stahl Victoria 0 0 0 0 0 Austin Levi Plymouth 2   1 1   1 1   4 Victor Rask Calgary 4 1 1 2 4 2 2     McGinn scored his 19th goal of the year, as his two-point game helped Guelph pick up a 6-3 win over Windsor this Sunday to give the Storm a split of that series. Also on Sunday, Ryan Murphy's Kitchener Rangers took on the Erie Otters and put up 11 goals against them. Murphy only had a pair of assists in that game but the final score of 11-4 alone is worth pointing out. You only see that happen maybe a handful of times per year. Victor Rask also got his name onto the scoresheet yet again but his point-per-game pace was broken after failing to record a point in Calgary's final two games. He wasn't the only one on the team who was struggling, though since the Hitmen were shutout in both of those games. Keegan Lowe also had a very good week at the office despite not recording a point in any of the Oil Kings five games. He was on-ice for only one even strength goal against while being on ice for five of Edmonton's. The fact that Edmonton shutout their opponents in two of the three games also helped those matters. Revor Carrick also did a nice job defensively for the Steelheads this week by not being on-ice for an even strength goal against. Unfortunately, Mississauga lost both of their games. If you're wondering why Tyler Stahl didn't play in any games this week, it's because he has been suspended eight games for an illegal check to the head. Not the first time he has been disciplined this year. CHL Goaltenders Goalie Team Sv% SV SA GA Matt Mahalak Plymouth 0.857 12 14 2 Daniel Altshuller Oshawa 0.957 44 46 2 Altshuller recorded a 20-save shutout against Mississauga and then followed it up by allowing only two goals on 26 shots against Belleville in his next start. His last few starts before this were rough so it's good to see him rebound. Meanwhile, Mahalak played only one period for the Plymouth Whalers this week and wasn't active for their next game. I'm assuming it's due to injury purposes. NCAA Skaters Prospect Team GP G A Pts SOG PIM Phil DiGiuseppe Michigan 2 0 5 5 10 0 Danny Biega Harvard 1 0 0 0 1 0 Brendan Woods Wisconsin 2 0 0 0 3 4 Big weekend for Phil Di Giuseppa, who had multiple assists in both of Michigan's games against rival Michigan State this weekend. He also had nine shots on goal in the second game and I'm still not sure if it's legitimate or an error on Joe Louis Arena's part, but either way it sounds like he had a nice game. A big reason why the Wolverines were able to get back in the win column this weekend after struggling for the last couple of months. Unfortunately, the same can't be said for Danny Biega's Harvard Crimson who were shutout by RPI this weekend. Brendan Woods' Wisconsin Badgers also went winless on the weekend with two losses to North Dakota. Woods had a good outing in the second game with three shots on goal but he couldn't get on the scoresheet otherwise.  Then there's Collin Olson, who did not get a chance to start in any of Ohio State's games this weekend and probably won't for the rest of the year. Again, it's mostly because Brady Hjelle has been fantastic as the starter and less to do with Olson's performance.  
Original Story:
http://www.shutdownline.com/hurricane...
THE BACKYARD
BEST OF MAXIM
RELATED ARTICLES
The Hurricanes made a surprising move today by deciding to send down forward Zac Dalpe to the Charlotte Checkers of the American Hockey League and recall Tim Wallace. Dalpe had two points in six games and is the only forward on the team who can go to the AHL without needing waivers, so he was sent down in favor of Tim Wallace who could possibly add some grit to the team. Wallace...
Some teams were bound to have hiccups with the abbreviated NHL season starting after only one week of training camp. In the case of the Carolina Hurricanes, they might have been holding their breath to try to find a cure for what ailed them after their first two games. They lost that pair of games by a combined 9-2 score and while that might have given them cause for despair, the...
Jordan Staal scored his first goal with the Hurricanes, and his brother Eric added the winner in Carolina's 4-1 victory over the Toronto Maple Leafs on Monday night. Jeff Skinner had three assists, Patrick Dwyer added a goal and an assist, and Justin Faulk also scored for Carolina. Cam Ward backed up the offense with a 41-save performance. Matt Frattin scored the only goal...
TORONTO (AP) -- Jordan Staal scored his first goal with the Hurricanes, and his brother Eric added the winner in Carolina's 4-1 victory over the Toronto Maple Leafs on Monday night. Jeff Skinner had three assists, Patrick Dwyer added a goal and an assist, and Justin Faulk also scored for Carolina. Cam Ward backed up the offense with a 41-save performance. Matt Frattin scored...
Carolina goaltender Cam Ward finally got his second win of the season. It took a 41-save effort to hold the Toronto Maple Leafs at bay in a 4-1 but he got another win. Jordan Staal and Eric Staal each scored for Carolina and Jeff Skinner pitched in with three assists in the win. Carolina improved to 4-4 while Toronto dropped below .500 to 4-5-0. Matt Frattin scored the lone goal...
The Hurricanes have been a pretty decent team at even strength so far this year but their underlying numbers are skewed heavily due to the fact that they have been forced to play from behind in all but two of their games. This is partially the reason why they have outchanced their opponents in every game this year and why most of their players have very positive underlying numbers...
Once again, the Hurricanes were involved in a game where they were playing from behind and ended up having a huge lead in shots and scoring chances partially because of it. Don't get me wrong, Carolina having an advantage in shots and scoring chances for yet another game is a good thing in the long-run, but it's still very early in the year and I'm not sure how much stock...
Sportsnet Ontario flexed their creative muscle during the Carolina Hurricanes / Toronto Maple Leafs game on Monday night. Midway through the second period, Carolina led the Maple Leafs by a score of 2-1 thanks to goals from Jordan Staal and his brother Eric.  As the station prepared to go to break (or returned from break, we're not sure), they opted to run a slightly modified...
TORONTO -- Jordan and Eric Staal, Justin Faulk and Patrick Dwyer scored as the Carolina Hurricanes defeated the Toronto Maple Leafs 4-1 on Monday before a crowd of 19,073 at Air Canada Centre. Matt Frattin scored for the Maple Leafs, who took a 1-0 lead out of the first period. Cam Ward stopped all but one of 41 shots in the Carolina goal and was strong during a Toronto power...
Carolina Hurricanes at Toronto Maple Leafs 7 p.m., Air Canada Centre TV: FS-Carolinas, SportsNet-Ontario Starting this long road trip with a 5-3 loss to an injury-depleted Flyers team on Saturday night probably wasn't what the Hurricanes had in mind, so they will look to turn things around tonight against the Toronto Maple Leafs. That loss to the Flyers was yet another...
Hurricanes News

Delivered to your inbox

You'll also receive Yardbarker's daily Top 10, featuring the best sports stories from around the web. Customize your newsletter to get articles on your favorite sports and teams. And the best part? It's free!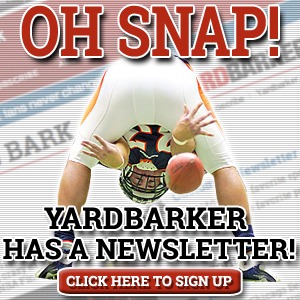 Latest Rumors
Best of Yardbarker

Today's Best Stuff

For Bloggers

Join the Yardbarker Network for more promotion, traffic, and money.

Company Info

Help

What is Yardbarker?

Yardbarker is the largest network of sports blogs and pro athlete blogs on the web. This site is the hub of the Yardbarker Network, where our editors and algorithms curate the best sports content from our network and beyond.