Found December 20, 2011 on Shutdown Line:
PLAYERS:
Cam Ward
,
Jeff Skinner
,
Joni Pitkanen
,
Tomas Kaberle
,
Drayson Bowman
,
Eric Staal
,
Bryan Allen
,
Jamie McBain
,
Alexei Ponikarovsky
,
Tuomo Ruutu
,
Brian Boucher
,
Jussi Jokinen
,
Justin Faulk
,
Brandon Sutter
,
Andreas Nodl
,
Tim Gleason
,
Chad LaRose
TEAMS:
Carolina Hurricanes
,
Montreal Canadiens
Three points in three games this past week for the Canes. That doesn't sound too bad, but they were outshot, outchanced and outscored for yet another week. All three games were decided by only one goal and the fact that two came in losses does show that the Canes were getting slightly unlucky the past week but they were VERY lucky to even escape Toronto with a point and they were outplayed by the Canucks at even strength in their only victory. The numbers for the week match up with the team's overall performance this year, though. Their shot rate was about 46.6 while their chance rate was roughly the same. It is frustrating that we're not seeing much of an improvement in that area under Kirk Muller but we're seeing some improvement on the powerplay with 12 scoring chances generated on the man advantage compared to only 7 powerplay chances given up. Cam Ward also seems to be regaining his usual form and he could steal us some more wins down the road. He did against Vancouver and Carolina may have not have even earned a point in the standings last week if it wasn't for him.
Injuries are playing a big role into the lack of progress, though. Jeff Skinner and Joni Pitkanen were two of the team's best possession drivers and it's going to be interesting to see what the numbers look like with both of them out of the lineup. I have a feeling they won't be pretty though. Most of us have accepted that this team is too far out of the race to make a push towards the playoffs so it's evaluation time from now on.
More after the jump
Remember. The blue dots are forwards and red ones are defensemen. Jaro Spacek's data is still skewed from his time in Montreal but he is still getting some of the softest assignments on the team and he's performing well with them so I have no complaints. He's basically doing what Tomas Kaberle couldn't do in the same role. Drayson Bowman's data is also pretty skewed from a small sample size and it's worth noting that he was getting a lot more zone starts in the game against Florida because he was playing on Eric Staal's line. I would expect his marker to move further to the right by the next feature.
Bryan Allen has been seeing some easier assignments while Jamie McBain's workload is getting a lot tougher. I don't neccesarily agree with how they are being used but I'm interested in what becomes of it. Alexei Ponikarovsky has been used on the second lien this week and as a result, he's getting easier assignments but he's still getting no help in terms of zone starts. I still think it's odd how Jokinen's line isn't getting the benefit of protection but with a rookie playing on Staal's line and Skinner out, it makes some sense. The heavy lifters remain the same (Allen, Gleason, Sutter, Dwyer, LaRose) while the guys being sheltered are also the same group (Stewart, Joslin, Spacek). Although, I'd keep my eye on Tuomo Ruutu because he's had quite an offensive outburst recently and is on the borderline of easy/tough competition. Which way will he lean towards? With Muller, that's always a mystery. Not that I have a problem.
Top Performers:
Cam Ward: This was a no-brainer. He faced 99 shots in three games and allowed only 8 goals which gives him a save percentage of .919 for the week. That's a huge improvement for him this year and like I said earlier, there's a good chance that the Canes would have gone 0-3-0 if it wasn't for him. He needs to play like this with Brian Boucher on the shelf.
Tuomo Ruutu: I can't help but think that he's quietly climbing his way to leading the team in scoring because he now has 10 goals and 18 points after picking up three this past week. He's also been putting up a lot of offense even if he isn't lighting up the score sheet. He had 10 shots on goal this past week, was on ice for 7 of the 12 PP chances Carolina produced, had a 61.1% scoring chance rate and was a +6 in corsi. Considering there were players in the -20-30 range, what Ruutu did was very impressive.
Jussi Jokinen: I've been talking about how underwhelming he's been since returning from injury but last week was one of his better showings. Like Ruutu, he also had a positive corsi rating and Carolina had 61% of their chances go in the team's favor with him on the ice. He only recorded two assists but maybe he'l see more points if his line can keep it up.
Drayson Bowman: All he's done is create offense and it resulted in two goals against Vancouver. Hopefully he can develop some consistency and stick around for longer.
Alexei Ponikarovsky: I might as well just grouped the second line together because they were very productive the past week. Poni was the weakest link with scoring chances (only 52.9%) but he still played a hell of a lot better than the rest of the team and scored a powerplay goal against the Leafs. Speaking of which, Poni was on ice for half of the Canes powerplay chances. Crash the net, score goals. I think I got the right idea there?
Jaro Spacek: Was the only defenseman with a scoring chance rate above 50% (probably due to the o-zone starts) but it's hard to say that he's not making the most of them. Also scored his first goal as a Hurricane last Wednesday.
Under Acheivers
Justin Faulk: The Hurricanes had only 36% of their even strength chances go in their favor when Faulk was on the ice. If that wasn't enough, he was held off the scoresheet completely. He did have seven shots on goal and was only on ice for one goal against, though. I do think that luck played a role with that because having a -22 corsi rating in three games isn't good no matter who you are.
Brandon Sutter: Speaking of players with awful corsi, Sutter was a -36 the past week. Combine that with a goose-egg on the scoresheet, three goals against and a -7 scoring chance rating and you have a down week for #16. This is the first time I've put him here to my memory. Disappointing.
Eric Staal: Finished on the negative side of the scoring chance spectrum for the first time in about a month. He recorded an assist and was on ice for 13 of the Canes chances but he's been giving up too much in the other end and that's what did him in. Really killed it on the powerplay, though. Nine scoring chances.
Andreas Nodl: When he is not playing in the top nine, he is completely invisible and that was the case the last three games. He was on ice for zero scoring chances again while giving up seven in his own end. Does he need more ice-time or a test on the penalty kill? There has to be some use we have for him because he certainly can't be this bad.
Honorable Mentions:
Tim Gleason/Jamie McBain: The team's newest shutdown pair were shelled in terms of corsi (-25-30 for both) but they didn't give up as many quality chances (-2). They were still outplayed at even strength though but it isn't too bad when you see the assignments that they've been given. Gleason also recorded his first goal of the season Sunday against Florida.
Chad LaRose: He's had a case of Jekyll/Hyde the last month because after bieng one of the team's best players the past week, he was a -26 in corsi and was slightly outchanced at even strength. LaRose has been one of our more consistent players this year but it seems he's been the opposite of that lately. Still added another goal and assist to his season total , though.
Patrick Dwyer: Seems like his days on the first line are done for the time being. Hard to keep a guy who is only on ice for three scoring chances in as week on the top unit. Still doing a solid job at preventing them, though. He's been dependable in that area all season.
Original Story:
http://www.shutdownline.com/hurricane...
THE BACKYARD
BEST OF MAXIM
RELATED ARTICLES
There are high expectations for captain Eric Staal, and that won't change just because of a coaching change. The Hurricanes are intent on seeing more production out of the big center. That's where the coaching change comes in because an established former All-Star player such as Kirk Muller might be the remedy that Staal needs. How demanding Muller becomes in regard to...
Canes general manager Jim Rutherford said today rookie defenseman Justin Faulk would not be participating for Team USA in the 2012 World Junior Championship in Calgary and Edmonton. Rutherford said last week the team was still considering allowing Faulk, who competed for Team USA in the 2011 WJC, to play. But he said today that Faulk was needed with the Canes. Rutherford said Faulk...
The Canes have called up center Riley Nash from the Charlotte Checkers (AHL) with Tim Brent unable to play tonight against the Phoenix Coyotes. Nash, who will making his NHL debut, was an emergency recall. To make room on the roster, forward Jeff Skinner was placed on injured reserve retroactive to Dec. 7. Brent was injured Tuesday in practice and is day-to-day, Canes coach Kirk...
Derek Joslin, the extra defenseman in Sunday's game at Florida, was filling in today for center Brandon Sutter in practice at the RBC Center. Joslin was at center with Anthony Stewart and Andreas Nodl on the fourth line, and also scored on the shootout that ended practice. Canes coach Kirk Muller said Sutter was taking a maintenance day for a lower-body concern but would play...
It was announced the other day that Justin Faulk would not be joining Team USA for the World Junior Championship and will be staying on the Hurricanes for the time being. The general consensus seems to be that Faulk is here for the rest of the year, especially with Joni Pitkanen out indefinitely. However, the team still has seven NHL defensemen even with Pitkanen on the IR, which...
Tweet RALEIGH, NC – Jim Rutherford, President and General Manager of the National Hockey League's C...
Tweet RALEIGH, NC – Jim Rutherford, President and General Manager of the National Hockey League's C...
Canes general manager Jim Rutherford continues to say he's looking at potential trades and has often mentioned dealing a defenseman for a forward. But should that be it? Or should more players be available and on the table when deals are being discussed? And which ones? Question: which players would you consider the "untouchables" in potential trades? The floor is open.    
U.S. Army SSG Patrick Jacobson had planned out the next two months before a scheduled 9-month redeployment in Afghanistan at the end of January 2012. He sold an old truck for $1,000 and planned to use that money to visit his three sons in New York. He would spend Christmas with his wife Shannon and their family — Tatianna, 12, and RJ, 10 — in the Fayetteville, NC, home they...
Tweet RALEIGH, NC – Shane Willis, Youth and Amateur Hockey Coordinator and Carolina Hurricanes alumnus, w...
Courtesy of Russ Cohen at Sportsology. Head over and check out his page. Great stuff!  I've been covering the NHL for over a decade and I've never seen so many players currently out with concussions. Here is the latest list: Jeff Skinner – Hurricanes Joni Pitkanen – Hurricanes Milan Michalek – Ottawa Sidney Crosby – [...]
'Nothing comes easy' for the Panthers, says coach Kevin Dineen. Take Sunday's game, in which they rallied to beat Carolina.
NHL News

Delivered to your inbox

You'll also receive Yardbarker's daily Top 10, featuring the best sports stories from around the web. Customize your newsletter to get articles on your favorite sports and teams. And the best part? It's free!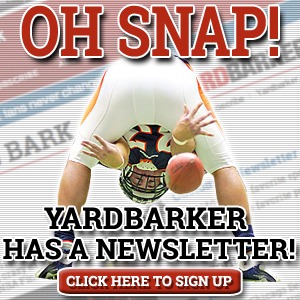 Latest Rumors
Best of Yardbarker

Today's Best Stuff

For Bloggers

Join the Yardbarker Network for more promotion, traffic, and money.

Company Info

Help

What is Yardbarker?

Yardbarker is the largest network of sports blogs and pro athlete blogs on the web. This site is the hub of the Yardbarker Network, where our editors and algorithms curate the best sports content from our network and beyond.