Found January 21, 2012 on Shutdown Line:
Jim Rutherford has been a busy man this week as he made his second trade in four days by dealing winger Alexei Ponikarovsky to the New Jersey Devils for a 2012 4th round pick and defenseman Joe Sova. The timing of this trade may have been a bit weird, but I think it is safe to say that we all saw a move like this coming. Ponikarovsky is a pending unrestricted free agent and signed to a cheap $1.5 mil. contract so he was probably the easiest to move even if his performance in Carolina hasn't been great. My belief was that a team looking for a depth forward would give up a mid-round pick for him and that's pretty much what happened here. It's not a blockbuster trade or anything but it's a deal that works for both teams and should tell us a little bit about the market over the next few weeks. 
My expectations for Ponikarovsky were pretty low when we signed him because of the season he had in Los Angeles but I was slightly optimistic because a lot of his struggles were related to decreased ice-time and weak line-mates. I figured a return to top-six minutes would help him rebound but his 7 goals and 15 points in 49 games indicate that hasn't been the case. With guys like Zac Dalpe, Drayson Bowman, Jerome Samson and even Zach Boychuk looking to earn ice time in the NHL, some players are going to be moved and Ponikarovsky ended up being the first odd man out.
So why would the Devils want someone who can't score? Well, I don't know if you have looked at their roster lately but their bottom-six depth is pretty brutal, especially at left wing. After Zach Parise and Patrik Elias, they don't have any left wingers who can drive possession and/or play against tough competition. That's where Ponikarovsky fits in. They should be able to get an instant upgrade at LW on their third line with him and make their forward corps a little more deep as they push towards the playoffs.
Poni may have "lost his scoring touch" ever since he left Toronto in 2010, but one thing he is consistently good at is getting the puck moving in the right direction. In fact, he was one of the Hurricanes better forwards at driving possession and is performing slightly above the team average at creating scoring chances. The problem is that none of the pucks have been going in for him or his teammates. Ponikarovsky is getting about two shots on net per game and is on pace for only 12 goals, but his shooting percentage is only 7.1% and the Canes are shooting the puck at only 4.61% at even strength when he is on the ice. So, luck hasn't exactly been on Poni's side this year and it is possible that he may rebound. The Devils made a good low-risk move by trading for him since they had nine picks in this coming draft and Sova doesn't appear to be in their plans.
The biggest concern I had about trading Poni was that the Canes would get little to no value in return and they actually got more back than I thought. A fourth round pick probably means nothing to the Devils with their surplus of draft picks and that alone is worth Ponikarovsky to me. Getting a prospect along with him makes me like this deal a little more from Carolina's perspective.
For those of you who know nothing about Sova, the Devils blog In Lou We Trust has a fantastic write-up about him here where Britton Anderson gives some details on how Sova's game has developed at college. For those of you who want the Cliff Notes version, I will explain it here. Sova is talented offensive defeseman who attended the University of Alaska-Fairbanks for three years before signing with the Albany Devils. While at college, he was well known for his strong two-way game and was excellent at working the powerplay, which is where he accumulated most of his points. He is also known for his hard slapshot, which could make him a nice addition to the Charlotte Checkers lineup but Anderson notes that his decision making in the defensive zone is his biggest issue. He has spent this most recent season with the Kalamazoo Wings in the ECHL and Albany Devils of the AHL and his offensive productionfrom college has yet to carry over in either. (11 points in 31 games between the two leagues). It doesn't look like he has much of a future in the NHL but there's some potential here and I'm sure we'll find something to do with him.
In short, we got a mid-round pick and a prospect for a rental, which is pretty good in my book. There are going to be more trades coming from the Canes the next month or so and the players we have on the block right now will probably get us a much bigger return than what Ponikarovsky went for, so I would be cautiously optimistic about the trade deadline.
Original Story:
http://shutdownline.com/hurricanes/ar...
THE BACKYARD
BEST OF MAXIM
RELATED ARTICLES
from Chip Alexander of Canes Now, The trade deadline is still a month away, but the Carolina Hurricanes picked up a draft pick and cleared one of their expiring contracts off the books Friday night. After a 3-0 win over the Washington Capitals, the Canes traded forward Alexei Ponikarovsky to the New Jersey Devils for a fourth-round draft pick in 2012 and minor-league defenseman...
The trade deadline looms nearer each day, and NHL analysts are already tearing apart the rosters of the bottom-dwellers of each conference. The Blue Jackets, the Hurricanes, and the Ducks have been deconstructed and sold off in fantasy draft fashion by pundits nearing February 27th, and that includes the members of this site. But one of the more intriguing deadline scenarios concerned...
Flew with Hurricanes to New York after Friday night's game
The Devils have acquired forward Alexei Ponikarovsky from the Carolina Hurricanes in exchange for minor-league defenseman Joseph Sova and a fourth-round pick in the 2012 NHL Draft. Ponikarovsky, 31, had seven goals and 15 points in 49 games for...
Alexei Ponikarovsky makes debut after trade with Hurricanes
Devils give up minor-league defenseman Joe Sova and a fourth-round pick
Newcomer Alexei Ponikarovsky will wear No. 12.
Most of us have been waiting for Jim Rutherford to make a few trades and he did so last night by dealing forwards Jon Matsumoto and Mattias Lindstrom to the Florida Panthers in exchange for forwards Evgeny Dadonov and AJ Jenks. This trade likely won't much in the grand scheme of things but it does make sense for both teams. Florida needs forward depth for their AHL team in San...
No. 1 Star: Dustin Jeffrey, Pittsburgh Penguins The Montreal Canadiens jumped out to a 3-1 lead in this game, but they couldn't stop the Penguins' dominant centre. No, not Evgeni Malkin -- Dustin Jeffrey, who scored twice and added an assist to keep the Penguins in the game. Speaking of Malkin though, he eventually went into beast mode and scored the game-tying goal. Rawr...
The cornerstone Hurricanes are playing very well. Center Eric Staal and goaltender Cam Ward have picked up their game, giving GM Jim Rutherford full confidence they can be part of the solution as the team rebuilds.But Rutherford is busily altering the supporting cast, adding young players and prospects to expedite the turnaround.Carolina traded forward Alexei Ponikarovsky to the...
RALEIGH, NC – Jim Rutherford, President and General Manager of the National Hockey League's Carolina Hurricanes, today announced that the team has acquired defenseman Joe Sova and New Jersey's 2012 fourth-round draft pick from th...
NHL News

Delivered to your inbox

You'll also receive Yardbarker's daily Top 10, featuring the best sports stories from around the web. Customize your newsletter to get articles on your favorite sports and teams. And the best part? It's free!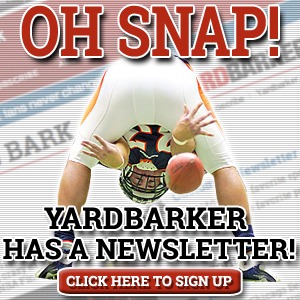 Latest Rumors
Best of Yardbarker

Today's Best Stuff

For Bloggers

Join the Yardbarker Network for more promotion, traffic, and money.

Company Info

Help

What is Yardbarker?

Yardbarker is the largest network of sports blogs and pro athlete blogs on the web. This site is the hub of the Yardbarker Network, where our editors and algorithms curate the best sports content from our network and beyond.