Found July 16, 2012 on Fox Sports Ohio:
As Columbus Blue Jackets fans waitand waitand wait for a resolution to the Captain Rick Nash trade saga, there are a couple other Blue Jackets players who fans can focus on momentarily. Oh, and one non-NHLer whose story of an ECHL tryout after a double-lung transplant resonates loudly with any hockey fan and player. Blue Jackets wingers and agitators Jared Boll and Derek Dorsett, both re-signed by the club earlier this summer, signed autographs at the 2nd annual Make CF History weekend hockey tournament in June to help tournament organizer Chad Eddy raise nearly 19,000 for the Central Ohio chapter of the Cystic Fibrosis Foundation. The Blue Jackets mascot, Stinger, also made an appearance during the weekends kids skate. Eddy said the player and mascot involvement is just another way he appreciates how the Blue Jackets support the Central Ohio community. Having Jared and Derek support the event is a really big deal for us. Saturday of the event weekend is really geared toward the general public and raising awareness to as many people as we can reach. Jared and Derek are the big draw and they clearly have a strong following in Columbus, so it's a perfect match, said Eddy. Also, Jared has a connection with a family in Michigan who has a family member with CF. The family has come down for the event both years to show their support and spend time with Jared. Their son also plays in the event and is good friends with Jared. Dorsett, who had 12 goals and eight assists last season, signed a three-year contract with the club. The 25-year-old had 235 penalty minutes in 77 games in 2011-12 and has been a penalty minute top three leader in the NHL for the last three seasons. Boll, 26, was signed to a two-year contract. The agitator, injured last season, had two goals, one assist and 126 penalty minutes in 54 games in 2011-12. But the hockey player who had the most impact on this years 10-team tourney was Canadian Trevor Umlah, who played goalie at the Easton Chiller weekend tourney. Hes just inspiring, said Eddy. You get to (your 40s) and you complain about aches and pains and here comes Trevor going through what he has gone through and seeing his attitudeits just totally inspiring. Perspective is what it gives for us. The 43-year-old Umlah was diagnosed with cystic fibrosis at birth and lived a relatively healthy and normal childhood with no symptoms of CF and no lung issues during his years of playing hockey, baseball and football. But once he hit his early 30s, his lungs started to fail him. Over the course of 3 years or 4 years is when my lung function started to decline, said Umlah, who was told in February of 2007 that he would need a double-lung transplant. I was at 18 percent (lung function) when I had my transplant. The married father of one daughter traveled to Toronto because surgeons didnt offer lung transplants in Nova Scotia. He was off the ventilator in 18 hours and on his feet within 24 hours after his surgery. He hit the ice in full hockey gear six months later after battling post-surgery setbacks of a collapsed lung and contracting a virus. I was very lucky, he said, adding he was never told who his donor was. I do know that this person was relatively the same size as me. I dont know age or sex or how the trauma came about. I do know that the same person donated at least one kidney to somebody on my ward. Life took on a new meaning for Umlah after his transplant. Doctors told him only 80 percent even survive a surgery like his, 70 percent survive the first year and 50 percent are still alive after five years. He could live up to 15 years. Being given a timetable for life inspired Umlah to try out for hockey on a pro level. I left some things on the table in my 20s, said Umlah. I certainly had the skills and was playing at that level, but I got to University and just concentrated on University. The regret of not pursuing hockey harder lingered for Umlah. So when his friend, Malcolm Cameron, who coached the ECHL Elmira Jackals squad, mentioned a free agent camp at the beginning of the season last year, Umlah jumped at the chance. They supported organ donation. He recommended that I come to try out, said Umlah, who took the chance. There were about 60 kids there and I say kids because they were kids. Most were between 19 and 23. Umlah said there was a lot of speed, a lot of size and a lot of skill on the ice for the three-day camp that had intense practices. I held up pretty well; I was pretty impressed with myself, said Umlah, adding that he didnt get invited to the main camp following his try-out. I had no expectations to make the team. I just wanted to prove to myself that I could stand in there and pick up where I left off. I was really doing it for organ donation and to demonstrate the quality of life you could have after someone gives you an organ. Umlah, a contract manager for a regional airline in Halifax, held up well at this years tournament, too, giving it his all in the net over three days of competition. His energy and attitude were inspiring to all in attendance. My message really is to rise to any challenge that you have. Relationship challenges or work challenges or athletic challengesyou think that challenge has got you licked but just stand up and face it and youd be surprised. Youd be surprised what you can do when your back is against the wall. I dont take any day for granted now. I live every day 100 percent, said Umlah. You never know whats going to be tomorrow.
Original Story:
http://www.foxsportsohio.com/07/16/12...
THE BACKYARD
BEST OF MAXIM
RELATED ARTICLES
As Dave noted last week in our ongoing discussion about Rick Nash, it's very possible that Nash wouldn't be the only Blue Jacket coming back to the Rangers in a potential blockbuster trade this summer. There have been wide-ranging reports of Columbus GM Scott Howson's trade demands, but the general consensus seems to be that he wants a couple of NHL forwards, a top prospect...
For the first time since Rick Nash 1 back in February I am hearing the price for Nash may be coming down ever so slightly. source: "It's not enough, but at least one GM called it 'a hint of a step in the new direction'." Alright, granted, that's not much...but having heard similar things from three other sources this morning I feel this may be the...
                                  Rick Nash trade rumors have been swirling since the trade deadline last season, but no deal has been made yet. As much as I would love to see Rick Nash in a Bruins uniform, it just isn't going to happen.  Columbus wants way too much in return for their superstar forward, and I do not think the Bruins are willing to give up that...
If the Columbus Blue Jackets pull the trigger on a long-rumored Rick Nash trade, GM Scott Howson has said he wants "NHL forwards" back Continue reading →
Aaron Portzline at the Columbus Dispatch wonders if a training camp holdout would be an option for Rick Nash if he's not traded this offseason....that would be an absolutely nightmare scenario for Columbus and their GM Howson. They'd lose what little leverage they might actually still have and the Rangers would probably be able to get Nash for some 1994 memorabilia.In other...
Columbus Blue Jackets GM Scott Howson explains to TSN what he's looking for in return for Rick Nash..."If we do complete a trade, we're trading out a 30 to 40 goal scorer," said Howson. "Defence is probably the strongest part of our team if we look at it today, so we're looking to get some NHL forwards back first and foremost."...fine, Dubi and AA...
If the NHL is able to lower the salary cap under a new collective bargaining agreement, which it is drastically looking to do, then it will alter how many teams are able to construct their teams going forward. Free agency will look quite different in the upcoming seasons whenever the new agreement is implemented, but it could also affect how teams pursue current players...
Via RedWingsFeed, I believe this counts as a mid-July blockbuster: According to MLive's Ansar Khan, the Red Wings did their very best to attempt to acquire: the superstar forward, but the Columbus Blue Jackets simply wouldn't do business with their self-proclaimed arch-rival: The Red Wings made "a hell of an offer'' to Columbus for Nash, according to a person with knowledge...
Aaron Portzline at the Columbus Dispatch says if the NHL salary cap is lowered by $10 million as the owners have proposed, it could knock out almost all the potential Rick Nash suitors except for the Rangers and Red Wings who each have significant cap room to bring in the Blue Jackets captain..."Will the salary cap by (sp) lowered by $10 million? It's obviously too early...
Just wanted to give everyone a heads up that I will be out of the country on vacation for the next five days and will not be updating the blog, unless something major happens such as a Rick Nash trade for example (I highly doubt that it will).  Also, when I get back, I will be on the hunt for fans out there that are interested in writing for the blog during next season. I will...
Blue Jackets News

Delivered to your inbox

You'll also receive Yardbarker's daily Top 10, featuring the best sports stories from around the web. Customize your newsletter to get articles on your favorite sports and teams. And the best part? It's free!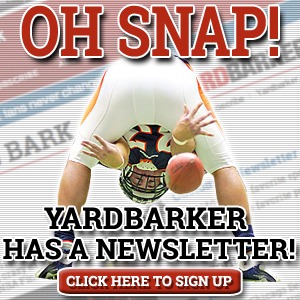 Latest Rumors
The Backyard

Today's Best Stuff

For Bloggers

Join the Yardbarker Network for more promotion, traffic, and money.

Company Info

Help

What is Yardbarker?

Yardbarker is the largest network of sports blogs and pro athlete blogs on the web. This site is the hub of the Yardbarker Network, where our editors and algorithms curate the best sports content from our network and beyond.