Found April 08, 2013 on Boston's Bettah:
Jaromir Jagr brings veteran savvy to the Boston Bruins Toady's guest post comes to us from David Brockman. If you also want to write a guest-post for Boston's Bettah, send an e-mail and an article to benti@bostonsbettah.com Jarome Iginla was supposed to be a Boston Bruin but the lure of playing for Pittsburgh, a team with players like Sidney Crosby, Evgeni Malkin, an exciting offensive style was just too much for the fiery veteran. Bruins' GM Peter Chiarelli had to make some sort of move to make up for the Iginla debacle, especially since it seemed as if it was a done deal with Iginla. The potential pick up for the Bruins provided a silver lining to yet another third period collapse by the Bruins this time to arch-rival Montreal the night before Iginla's decision. Luckily there was a team in financial misery and suffering in the standings looking to unload some pricy veterans, the Dallas Stars. Enter Jaromir Jagr, for the price of two A-list prospects the Bruins were able to add veteran depth, a power play wizard (much needed, B's PP ranks 25th) but also add the incredible wealth of knowledge with his 1,679 points, two Stanley Cup rings and being the best player of his generation to the Bruins locker room. When I heard that Jagr was joining the Bruins I instantly thought about his lame goal celebration from the 1990's, the famed, "Jagr salute". The next thought went to when Mark Recchi was acquired by the Bruins a year before they went on to win the Stanley Cup. Recchi shared his knowledge of the game with line mates Brad Marchand and Patrice Bergeron which made their line a formidable one for their march to the Stanley Cup in 2011. Recchi managed to embrace the role of teaching the Bruins how to be winners and how to react to unique situations. Following a game in Montreal which saw captain Zdeno Chara check Montreal rising-star forward Max Pacioretty into the turnbuckle (the glass between benches) rendering Pacioretty lifeless on the ice for several minutes, Recchi did a radio interview where he defended his captain. Essentially Recchi took the heat off of Chara and aimed it on himself, calling out the Montreal media and the Canadiens for trying to make a big deal out of nothing taking note that Pacioretty was tweeting about being at a movie 3-days following the incident, effectively defusing the situation. While age and stature are two things that Recchi and Jagr have in common, their styles are a bit different. Recchi is more of a good solid Sam Adam's Boston Lager to Jagr being a Pinot Noire. Recchi was a passer, a play-maker, a guy who wasn't afraid to go into the corners and still knew where his teammates were and where they were going to be. Jagr is more flashy and more well rounded in a scoring sense. Jagr has the vision of a Recchi and he had the insane highlight videos displaying his incredible puck handling and scoring touch along with his MVP awards. Jagr was the heir-apparent of the NHL when Gretzky and Lemieux had hung up the skates. Jagr is the most senior of all the Bruins being 41 years old with Zdeno Chara his closest regular teammate in age at 36, much like Recchi was. But unlike Recchi, Jagr is not the grizzly veteran looking for one last Stanley Cup run, Jagr is in the twilight of his incredible career but still has plenty to give. Are the Bruins Jagr's perfect fit for the end of his career? Will being a second or third line forward for the Bruins and their defensive style suite Jagr? Will being on the top power play and helping to further develop the Bruins relatively young group of forwards be enough for Jagr to want to sign an extension or is this merely a pit stop on his NHL odyssey. The next two to three months we will see what the answers are, we'll see if Jagr will sign an extension with the Bruins or with someone else, or maybe it will be the end of one of Hockey's greatest players.
Original Story:
http://www.bostonsbettah.com/?p=5948
THE BACKYARD
BEST OF MAXIM
RELATED ARTICLES
BOSTON — The Jaromir Jagr experiment in Boston has been pretty successful thus far, aside from the whole trying to figure out where to put him part. The Bruins may have gotten that answer Monday night against Carolina. Jagr was one of the best players on the ice as the Bruins dominated the Hurricanes. He was once again strong on the puck, and he created space for his new linemates...
BOSTON — Bruins head coach Claude Julien has had plenty that he could be upset about when it comes to his team's play as of late. The B's have fallen off of their early-season pace, and they don't look nearly as sharp as they did when they were running off points at a historic rate. The head coach would certainly like things cleaned up, especially with only 10 regular-season...
It's no secret that the Bruins have struggled to capitalize on opportunities in the last month. The B's have struggled to come away from games with a win, so head coach Claude Julien is mixing things up in practice to see what works. Julien said there is no clear-cut 1, 2, 3, 4 when it comes line rankings, and the team seems to agree that they can't rely on just one line to...
The Bruins are offering the chance for one lucky fan and a group of friends to take the ice at TD Garden for an hour-long private skate. Tickets for the experience can be purchased for five dollars, with all proceeds going to benefit Boston Children's Hospital and the Boston Bruins Foundation. The winning ticket will be drawn this Thursday, April 11, and that ticket-holder will...
The Bruins added a couple of pieces at the trade deadline, and it sounds like they're getting very close to adding another player a week after the deadlines. Multiple reports say that the B's are close to adding Swedish center Carl Soderberg to the mix. Soderberg, who the B's acquired the rights to from St. Louis in a 2007 trade for Hannu Toivonen, is reportedly close to inking...
After acquiring some additional depth players to help them in their quest for another Stanley Cup, the Bruins are reportedly close to landing another. Sources indicate that the team is close to signing Carl Soderberg, the Swedish center whose rights were acquired by Boston in the Hannu Toivenen trade to St. Louis back in 2007. The Bruins have publicly stated that they're hopeful...
Chris Kelly says that he's been medically cleared to play, and he'll be good to go tonight vs the Hurricanes #BruinsTalk — Joe Haggerty (@HackswithHaggs) April 8, 2013 Good news this morning for Bruins fans. Chris Kelly will play tonight after missing most of March with a broken tibia. A side note, defensemen Adam McQuaid skated today and maybe will be back in game action...
The Bruins had their most successful offensive performance of the season Monday night. The Cam Ward-less Hurricanes were no match for the B's relentless attack, as Boston's retooled lineup gave Canes goalies Justin Peters and Dan Ellis fits with repeated wraparound attempts from behind the net. The B's second line was the most dangerous in the 6-2 win, with Jaromir Jagr, Gregory...
Canadiens defenseman Alexei Emelin has developed the reputation as a big hitter around the NHL. That cost him his season on Saturday night, though. The Habs announced Monday that Emelin will miss the rest of the season with a knee injury. The blue liner tore a ligament in his left knee while trying to deliver a hit to Bruins forward Milan Lucic during Montreal's 2-1 win Saturday...
       Kirk Luedke, a New England hockey scout and writer has hinted via twitter (@kluedeke29) that Swedish center Carl Söderberg is headed to Boston. The Swedish forward was drafted 49th overall in 2004 by the St. Louis Blues, but has yet to make an appearance in the NHL.        He is currently playing in the Elitserien League for Linköping. Söderberg lit it up in the...
Chris Kelly will reportedly return to game action for the Bruins when they take on the Carolina Hurricanes at home on Monday night. Kelly hasn't played since March 11, when he suffered a broken leg after colliding with Ottawa's Chris Neil. This comes as welcome news for the Bruins, who have been dealing with their fair share of struggles since Kelly exited the lineup. The 32...
Once again, the Canes were facing a team that did not bring their best game but were on the receiving end of another blowout loss because they could get a timely save from either of their goalies or buy a goal at the other end. This is the same thing that has happened to them over the last four weeks or so and the whole process is getting tiring because the outcome of most of their...
Bruins News

Delivered to your inbox

You'll also receive Yardbarker's daily Top 10, featuring the best sports stories from around the web. Customize your newsletter to get articles on your favorite sports and teams. And the best part? It's free!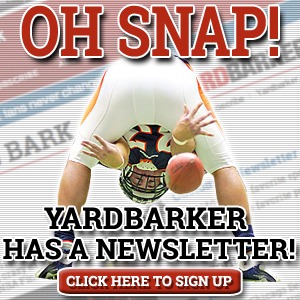 Latest Rumors
Best of Yardbarker

Today's Best Stuff

For Bloggers

Join the Yardbarker Network for more promotion, traffic, and money.

Company Info

Help

What is Yardbarker?

Yardbarker is the largest network of sports blogs and pro athlete blogs on the web. This site is the hub of the Yardbarker Network, where our editors and algorithms curate the best sports content from our network and beyond.