Jaromir Jagr brings veteran savvy to the Boston Bruins Toady's guest post comes to us from David Brockman. If you also want to write a guest-post for Boston's Bettah, send an e-mail and an article to benti@bostonsbettah.com Jarome Iginla was supposed to be a Boston Bruin but the lure of playing for Pittsburgh, a team with players like Sidney Crosby, Evgeni Malkin, an exciting offensive style was just too much for the fiery veteran. Bruins' GM Peter Chiarelli had to make some sort of move to make up for the Iginla debacle, especially since it seemed as if it was a done deal with Iginla. The potential pick up for the Bruins provided a silver lining to yet another third period collapse by the Bruins this time to arch-rival Montreal the night before Iginla's decision. Luckily there was a team in financial misery and suffering in the standings looking to unload some pricy veterans, the Dallas Stars. Enter Jaromir Jagr, for the price of two A-list prospects the Bruins were able to add veteran depth, a power play wizard (much needed, B's PP ranks 25th) but also add the incredible wealth of knowledge with his 1,679 points, two Stanley Cup rings and being the best player of his generation to the Bruins locker room. When I heard that Jagr was joining the Bruins I instantly thought about his lame goal celebration from the 1990's, the famed, "Jagr salute". The next thought went to when Mark Recchi was acquired by the Bruins a year before they went on to win the Stanley Cup. Recchi shared his knowledge of the game with line mates Brad Marchand and Patrice Bergeron which made their line a formidable one for their march to the Stanley Cup in 2011. Recchi managed to embrace the role of teaching the Bruins how to be winners and how to react to unique situations. Following a game in Montreal which saw captain Zdeno Chara check Montreal rising-star forward Max Pacioretty into the turnbuckle (the glass between benches) rendering Pacioretty lifeless on the ice for several minutes, Recchi did a radio interview where he defended his captain. Essentially Recchi took the heat off of Chara and aimed it on himself, calling out the Montreal media and the Canadiens for trying to make a big deal out of nothing taking note that Pacioretty was tweeting about being at a movie 3-days following the incident, effectively defusing the situation. While age and stature are two things that Recchi and Jagr have in common, their styles are a bit different. Recchi is more of a good solid Sam Adam's Boston Lager to Jagr being a Pinot Noire. Recchi was a passer, a play-maker, a guy who wasn't afraid to go into the corners and still knew where his teammates were and where they were going to be. Jagr is more flashy and more well rounded in a scoring sense. Jagr has the vision of a Recchi and he had the insane highlight videos displaying his incredible puck handling and scoring touch along with his MVP awards. Jagr was the heir-apparent of the NHL when Gretzky and Lemieux had hung up the skates. Jagr is the most senior of all the Bruins being 41 years old with Zdeno Chara his closest regular teammate in age at 36, much like Recchi was. But unlike Recchi, Jagr is not the grizzly veteran looking for one last Stanley Cup run, Jagr is in the twilight of his incredible career but still has plenty to give. Are the Bruins Jagr's perfect fit for the end of his career? Will being a second or third line forward for the Bruins and their defensive style suite Jagr? Will being on the top power play and helping to further develop the Bruins relatively young group of forwards be enough for Jagr to want to sign an extension or is this merely a pit stop on his NHL odyssey. The next two to three months we will see what the answers are, we'll see if Jagr will sign an extension with the Bruins or with someone else, or maybe it will be the end of one of Hockey's greatest players.
Original Story:
http://www.bostonsbettah.com/?p=5948
MORE FROM YARDBARKER
Bruins News

Delivered to your inbox

You'll also receive Yardbarker's daily Top 10, featuring the best sports stories from around the web. Customize your newsletter to get articles on your favorite sports and teams. And the best part? It's free!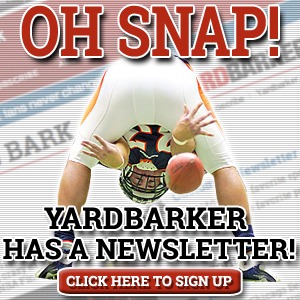 Latest Rumors
Best of Yardbarker

Today's Best Stuff

For Bloggers

Join the Yardbarker Network for more promotion, traffic, and money.

Company Info

Help

What is Yardbarker?

Yardbarker is the largest network of sports blogs and pro athlete blogs on the web. This site is the hub of the Yardbarker Network, where our editors and algorithms curate the best sports content from our network and beyond.