Found June 17, 2012 on The Prospect Park:
(New York Rangers) It seemed kind of odd that only one member of the New York hockey media reported that New York Rangers had extended qualifying offers to their own restricted free agents. No way to confirm this nor was there any word regarding any of the restricted free agents playing for the CT Whale.
Really there has never really been any doubt that the Rangers were going to qualify Michael Del Zotto, Anton Stralman and Mats Zucarello; but the Rangers are not required to extend qualifying offers until June 25 according to the NHL/NHLPA collective-bargaining agreement (article 10.2 pages 30-31 stick tap to
CapGeek.com
).
No offense to anybody but I think we have a case of jumping the gun here and it's really not a big thing. But what is the thing is understanding what the New York Rangers need to do in order to keep the right of first refusal/draft pick compensation for these free agents as there has been several differing amounts/statuses making things rather confusing.
Another area that needs to be mentioned is whether or not an offer needs to be a one way or two way offer. It is the difference in this offer status that I believe is the main reason why Mats Zucarrello is heading to the KHL.
At the NHL level, it would seem foolish for Michael Del Zotto to turn down his qualifying offer. According to CapGeek.com, the Rangers are required to offer
Del Zotto a qualifying offer
of 826,875.
According to CapGeek the offer is based on:
Because his base salary of $787,500 — total salary of $875,000 minus signing bonus of $87,500 — is greater than $660,000 and less than $1,000,000, it is increased by 5 percent for the purposes of his qualifying offer.
Now question number two is does Michael Del Zotto qualify for a one-way or two-way contract? I'll be the first to tell you that I'm not a contract specialist but my own understanding is Michael Del Zotto has to be offered a one-way contract.
This is based upon Article 10.2 (iii)
It must be a one-way qualifying offer if a) the player appeared in 180 or more NHL games in three previous seasons; b) the player appeared in 60 or more NHL games the previous season; and c) the player did not clear waivers during the previous season.
Del Zotto has appeared in 204 NHL games over the last three years, 77 last season and while he has not been exposed to waivers; Del Zotto is no longer exempt from waivers.
Now the another area of interest here will be Article 12.1 which defines whether or not a player is eligible for salary arbitration. In Del Zotto's case, he is not eligible to file for salary arbitration because he only has three years of professional experience rather than the four required for player who signs his first standard players contract between the ages of 18-20.
Del Zotto has almost no leverage and considering that he knows given the Rangers history that he has a good season he will be rewarded for it. I would urge him to accept the qualifying offer because of that as well as knowing that he is the Rangers best offensive weapon on defense.
Be greedy and hold out when you haven't put back-to-back seasons together is a very poor business decision. Considering who Del Zotto's agent is (Bobby Orr) then it is doubtful that Del Zotto would reject the qualifying offer because he knows a good year will lead to a much better payday.
The second Ranger on the list is Anton Stralman who again going back to CapGeek is due for a qualifying offer of 945,000. Stralman qualifies for a one-way offer as well and could file for salary arbitration if if he chose to.
The Rangers would be wiser to make a qualifying offer to protect their rights but to sit down with Stralman and make it worth his while to stay a Ranger. To sign with the Rangers for the past season, Stralman took over a $1 million pay cut after being set free by Columbus.
Now if you're the Rangers you know that Stralman struggled in the first half of the season but played decently in the second half and was one of the Rangers better defenders during the playoffs. If you think Tim Erixon is NHL ready then you might consider gambling here.
If it's me, I make a qualifying offer to Stralman just to make sure I protect his NHL rights but I would also sit down with him and talk to him about maybe a two-year deal as an insurance policy. The Rangers don't want Stralman to file for arbitration because they may be in a position of a one year deal that they may not like.
Stralman says he wants what is best for his family and you can't blame him. Offer him a two-year deal where you reward him for his playoff by making the first year base salary 1.25 million with an opportunity to earn performance bonuses to add an extra 500,000 to the salary.
Second year 1.5 million with bonus opportunities of 500,000 again. If Tim Erixon is NHL ready then you have a proven NHL player with a good salary cap hit that another team could always use.
The third player eligible for restricted free agency is Mats Zucarrello and it doesn't matter what the Rangers offer him, Zucarrello will not accept it. We can save the debate on how Zucarrello was treated by the Rangers for the summer since there is almost no chance that Zucarrello will accept any NHL offer at this point in time.
Forget what salary cap hit that Zucarrello had as he never came close to making any of that salary because of the time spent in the AHL. Zucarrello's qualifying offer is 850,500 and odds are that because he doesn't have enough time in service that it would be a two-way contract.
It's understandable that Zucarrello is not going to risk that he will wind up back in the AHL next season. Pretty sure if any of us were in his position that we would take the sure money offered by the KHL.
Zucarrello from all accounts was a likable guy and a good teammate; it's a shame that things didn't work out for him with the Rangers but that's the business side of hockey.
Something else that should be made aware of is that while qualifying offers must be made by June 25, they cannot be accepted until July 1. It'll be interesting to see if the Rangers are able to keep Anton Stralman as I think the Rangers really do need him to return as he was a much better option over Steve Emminger and the others.
It will also be interesting to see who on the CT Whale that the Rangers will qualify as there are 8 restricted free agents. I would at most qualify Cam Talbot and Casey Wellman.
Still you are not offering six players contracts (two have already signed to play in Europe) and you have another six who are unrestricted free agents. It's part of the reason why I believe the Rangers might not get as much help from the minor leagues next season as they are going to have several first year players.
Back to house hunting.
Original Story:
http://feedproxy.google.com/~r/ThePro...
THE BACKYARD
BEST OF MAXIM
RELATED ARTICLES
The RFA paperwork has been submitted. And after the smoke cleared, the Rangers made qualifying offers to Anton Stralman, Michael Del Zotto, and Mats Zuccarello. Stralman, MDZ, and Zuccarello were the only three RFAs at the NHL level. NHL qualifying offer rules dictate that players earning under $660,000 in base salary be qualified at a 10% increase in base salary, players earning...
In keeping up with the offseason trend of articles here at BSB, we wanted to take some time to discuss locking up perhaps the most important free agents on the market, our own. Michael Del Zotto finished up his entry-level deal this season, which was a three year deal at just under $1.1M per season. This summer the 21 year old is a restricted free agent with no arbitration rights...
Aside from John Mitchell, the only other pending UFA that the Rangers fan base seems to be divided about is Ruslan Fedotenko. Both players are bottom six players –an area of strength for the Rangers– and both do more than their offensive stats suggest. Players like Fedotenko are evaluated beyond their offensive numbers. It's the defensive metrics that really show where Fedotenko's...
John Mitchell was not a player anyone really expected to touch the ice in a Rangers jersey at any point this season, but that changed on November 25 of 2011 when he was recalled by the team from the Connecticut Whale of the AHL to play against the Washington Capitals, along with Carl Hagelin. Mitchell would never look back to the AHL from that point on, sticking with the Blueshirts...
Brandon Prust, along with Ryan Callahan, is the heart and soul of the New York Rangers. His relentless attitude and persistent work ethic have both been aspects of his game that have been appreciated by the Garden Faithful as well as the coaching staff since he was first acquired from the Calgary Flames in 2010, and have carried through over the course of his three-year career with...
With the 2012 NHL Entry Draft right around the corner, I figured now would be the perfect time to get the pulse of what the New York Rangers need to do this year. To do so, I asked the best Rangers' prospect analyst around, Jess Rubenstein of The Prospect Park to give us his thoughts. PH: What do you think the Rangers' overall goal should be at this year's NHL Entry Draft...
One position the Rangers might like to improve on is their wing depth, specifically in the form of power forwards.  New York boasts a handful of gnat-sized forwards that possess bundles of talent, but could struggle to match up against bigger NHL players.  There are a few players that could be available at pick #28 that bring size and skill and may catch the Rangers' eyes. Just...
As the offseason ramps up and we get closer to the draft, trade rumors take center stage. While many writers –MSM and bloggers alike– will try to stir up the conversation by using the E.K.L.U.N.D. rumor strategy to try to convince people they are true insiders, we won't even bother with that. We are not insiders. We do not post fake rumors or even "logical" rumors. We take...
(Courtesy- USA Hockey) It's a nice welcome break from all the rumors as on Monday afternoon we will find out if any New York Ranger or New York Islander prospects will be invited to take part in the annual summer evaluation camp held by USA Hockey. The camp will be held August 4-11 at Lake Placid and is the start of the process used to determine which players might be...
The New York Post's Larry Brooks offers takes on three very specific topics this morning, focusing on the New York Rangers' attempts to win the Rick Nash sweepstakes, the high likelhood of Alex Radulov cashing in with CSKA Moscow instead of remaining in the NHL, and the equally high likelihood that New Jersey Devils forward Ilya Kovalchuk was dealing with a significant to severe...
(ironydesign.com) Forgive me if I am not so politically correct today as really some of the ideas making the rounds in the New York Ranger universe are pushing the limits of reality. House hunting is beginning to push me to the end of my sanity. I'm beginning to think that as punishment for those who keep going rumor crazy is that they be required to try to buy a house...
Rangers News

Delivered to your inbox

You'll also receive Yardbarker's daily Top 10, featuring the best sports stories from around the web. Customize your newsletter to get articles on your favorite sports and teams. And the best part? It's free!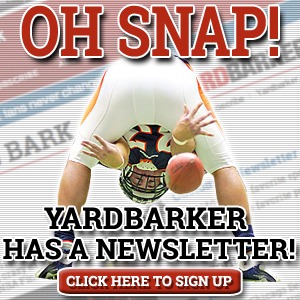 Latest Rumors
The Backyard

Today's Best Stuff

For Bloggers

Join the Yardbarker Network for more promotion, traffic, and money.

Company Info

Help

What is Yardbarker?

Yardbarker is the largest network of sports blogs and pro athlete blogs on the web. This site is the hub of the Yardbarker Network, where our editors and algorithms curate the best sports content from our network and beyond.