The biggest surprise of the year for Carolina has to be the emergence of Justin Faulk. The thought coming into this season was that the 19-year old would spend most of the season in Charlotte but he ended up playing 66 games with the Hurricanes and was one of their more consistent defensemen. Faulk's development is leaps and bounds above what many expected as he is already playing top four minutes on the Hurricanes without needing to be sheltered from tough competition. In addition to that, he performed a lot better than most of the team's other blue-liners in those situations and was one of the Canes' best special teams players. Faulk is probably the best defenseman of this year's rookie class but his defensive game is still coming along, which is evident when you look at his even strength play. Faulk was on ice for more of Carolina's even strength chances relative to his ice time than any other defensemen, but he was also on ice for more of the opponent's, showing that his two-way game is still a work in progress. He performed better than most of Carolina's defensemen but he was also playing easier minutes than the likes of Tim Gleason and Bryan Allen, which is worth keeping in mind when evaluating Faulk as a player. It's hard to be upset about the season Faulk had, though. He's already playing 20+ minutes a night while contributing on both the powerplay and penalty kill as a rookie. Faulk is still very young and I am sure that his overall game will be more polished in years to come. His numbers on the powerplay and penalty kill suggest that he plays well when he has a specific task, but finding the balance between offense and defense is what he needs to work on. The Hurricanes have to be happy with what they saw out of Faulk this year as it looks like he can be a top pairing defenseman somewhere along the line if he can continue to improve. Scoring chance breakdown coming after the jump Justin Faulk 2011-12 Scoring Chances Average TOI: 22:50
Scoring Chance% Defense Ranking: 4/9
Scoring Chance Diff/60 Defense Ranking: 5/9
QualComp Ranking: 4/9
OZ% Start: 52% Scoring Chances by Season Segment Game # TCF TCA SCF SCA Segment% Team % 1-10 10 12 10 12 0.455 0.475 11-20 14 17 4 5 0.444 0.527 21-30 70 72 56 55 0.505 0.518 31-40 114 122 44 50 0.468 0.473 41-50 168 183 54 61 0.470 0.465 51-60 225 234 57 51 0.528 0.511 61-70 281 303 56 69 0.448 0.454 71-82 333 357 52 54 0.491 0.548 TC = total chances, SC = segment chances, Segment% = scoring chance percentage during segment, Team %= Hurricanes' scoring chance percentage during segment Scoring Chance Segment by Line Graph Click to enlarge graph The red line is Faulk's even strength scoring chance ratio for the season and the black line is the Hurricanes' team average. Faulk had a bit of a rough start out of the gate, but he didn't take long to adjust when he was called up in late-November. He was pretty consistent throughout the year, though as his peaks and valleys weren't too extreme when you look at his overall numbers. He actually performed around the team average for most of the middle part of the season, which is both a good and bad thing. It's good because that's where he started playing 20+ minutes on a nightly basis and he performed no worse than a lot of his teammates. However, it's also bad because the team's overall scoring chance average was pretty low during that section, showing that Faulk definitely has some holes in his game.  Faulk also had one very strong stretch in the final half of the season followed by a very rough patch where he played worse than he did all year. I am going to guess this was fatigue catching up with Faulk because he was playing more minutes than he ever had before and that usually takes it's toll on younger players. Something else you might notice about the line graph is that Faulk's segments mimic the team's average and this trend started around game 21, which was around the time of his second call-up. This might not be too surprising because Faulk played a lot of minutes at even strength and as the team's performance went, so did Faulk's. WOWY Faulk's most frequent partner was Jay Harrison and those two were a very solid against secondary competition for most of the year. They actually had one of the highest scoring chance ratios at even strength among Carolina defensemen. Yes, they were playing easier minutes than Allen & Gleason but they were still playing 20+ minutes on most nights and were still facing opposing team's top-sixes. For them to come out on top against them is impressive even if it was by a small margin.  Those two also struggled a lot when they were separated from each other. Their numbers took a huge drop-off when they were playing on different defense pairings and Faulk really struggled when he was playing with Gleason. One could say that Faulk had trouble "developing chemistry" with other defensemen but I think this relates to the situations that both players are used in. Gleason has always been the Hurricanes' "heavy lifter" on defense and he is regularly used in the toughest situations. Faulk was only 19 for most of the year and he probably wasn't ready to be used in a tough minute role yet. This is reinforced when you look at the forwards Faulk had the most success with. The even strength chances were going in the Hurricanes' favor when Faulk was playing with the Hurricanes top-six players and went down the chute when he was playing with third-liners, most notably Brandon Sutter. Whenever the Hurricanes have a defensive zone draw, Sutter & Gleason are usually out there and Kirk Muller used Faulk in those situations a few times to see if he could handle them. According to the underlying numbers, Faulk was not ready to play those minutes and was better suited for the second pairing role with Harrison. Faulk could play those minutes one day, though. The potential is certainly there.  
Original Story:
http://www.shutdownline.com/hurricane...
MORE FROM YARDBARKER
Hurricanes News

Delivered to your inbox

You'll also receive Yardbarker's daily Top 10, featuring the best sports stories from around the web. Customize your newsletter to get articles on your favorite sports and teams. And the best part? It's free!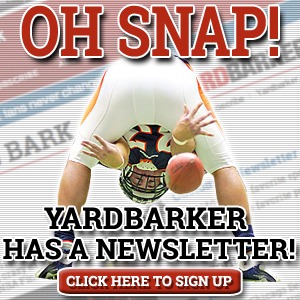 Latest Rumors
Best of Yardbarker

Today's Best Stuff

For Bloggers

Join the Yardbarker Network for more promotion, traffic, and money.

Company Info

Help

What is Yardbarker?

Yardbarker is the largest network of sports blogs and pro athlete blogs on the web. This site is the hub of the Yardbarker Network, where our editors and algorithms curate the best sports content from our network and beyond.