Found January 27, 2013 on NorthWest Sports Beat:
Shortened Season Tips We have all been so excited that Canucks hockey is back (unless you are still bitter and 'boycotting' the NHL) that we haven't really had time to analyze the season the way we usually do. This shortened season will prove interesting regarding playoff races, which will essentially begin next month. The Canucks still haven't set up any deal to trade Roberto Luongo, nor have they really made any significant changes to last year's roster. The team is certainly in good shape for talent, as per usual, but there are some things that need to change this year in order for Vancouver to remain near the top of the West. Here are some early signs to watch for. Consistent Goaltending This is a touchy issue still in B.C. The fans that treat their goalies like unwanted stepchildren are still undecided on Cory Schneider. It's safe to say Bobby Lu's departure will be welcomed with applause by Canucks fans, but then what? With Schneider as the number one goalie what can we expect? He's proven he can play, but he hasn't blown anyone away by any means. Since Vancouver is nowhere near the goal scoring machine it once was, solid goaltending is very important for the team to be successful. More Physical play please!!! Kevin Bieksa is never one to stand down… Defense was also shaky last season which only adds more pressure to whomever is between the pipes. There really isn't such thing as a 'brick wall' shut down goalie anymore, but teams with consistency in their nets are usually the most competitive down the stretch. Effective Powerplay Last season the Canucks finished in the top 10 in both power play percentage and penalty kill percentage. Those are great numbers to have on your side, and if the blue and white can keep it up this season it will be a big boost. I'll admit I'm always disappointed in the team's lack of urgency on power plays, and this season they're not off to the best start. But if they can ramp things up on man advantages like last season they will definitely help their own cause, being that they don't quite have the offensive firepower to outplay some teams on even strength. Physical Play This has been lacking from Vancouver hockey for years. There are always glimpses of a physical resurgence, but it's never sustained for any length of time. The addition of Zack Kassian last season was a great step in the right direction. Last year I was skeptical of the young bruiser, but this year he seems to be coming into his own. We sometimes forget that he is only 22 and has many great years ahead of him. Of course Kevin Bieksa is never one to stand down from a confrontation, but they really did need someone to step in and protect the twins. Kassian is a great piece to this puzzle, but one or two more aggressive, physical players would be nice. Alex Edler, fresh off his huge contract extension, has seemed to get the message and is putting his body into more opponents than in years past. Let's hope Kassian and Boom-Boom can fire up the rest of the locker room and the C's can start intimidating some teams. There are obviously other keys to success, like minimizing penalties, getting off to quick starts, and staying healthy, but those are very generic and every team wishes to achieve them. Let's hope the Canucks can brush off their first few losses and get things rolling. The past few games have been an indication that they're back and ready to play Canucks hockey and regain their top spot in the league. Go Nucks! CLICK HERE TO CHECK OUT THE CANUCKS CLUBHOUSE TODAY AT NWSPORTSBEAT!
Original Story:
http://www.nwsportsbeat.com/canucks/v...
THE BACKYARD
BEST OF MAXIM
RELATED ARTICLES
Regicide Last night was full of disappointment for the Canucks, but the compressed schedule means it's a fresh sheet of ice tonight in Los Angeles. There lie the Kings, who eliminated the Canucks last year. LA is struggling, having finally picked their first win on Saturday. Matchup: Vancouver Canucks (2-2-1) v Los Angeles Kings (1-2-1) Venue: Staples Center Time: 7:30 pm TV...
For The NHL Gamblers! Headline: Canucks In LA Monday Looking To Climb Over .500 You can forgive the Canucks just a little bit for their 5-1 Sunday loss in San Jose – nobody has come close to beating the Sharks so far in this young season. On Monday night, the Canucks take on the LA Kings, a team that has stumbled out of the gate – a 4-2 win last time out over Phoenix Saturday...
Cory Schneider made 30 saves in his fifth career shutout, Mason Raymond scored twice, and the Vancouver Canucks avenged last week's blowout loss to Anaheim with three power-play goals in a 5-0 win over the Ducks on Friday night. Daniel Sedin and Raymond scored on power plays in the first period, and Zack Kassian added a man-advantage goal in the third period as the Canucks quieted...
It doesn't take a vivid imagination to connect Roberto Luongo to the Edmonton Oilers.The injury-depleted Vancouver Canucks desperately need a Top 6 forward. They are eager to move Luongo and his massive contract.The Oilers have lots of second- and third-line forward options, including Sam Gagner. As luck would have it, Sam's father Dave works for the Canucks.With 900-year-old...
Love ' Em & Hate 'Em Boxscore | Recap Hot off the heels of their first victory of the year, the Canucks did one better and stuffed the Ducks like they were foie gras. It was easily the best game of the year for Vancouver, and fitting revenge for last weekend. This was one of those flawless victories. I mean, Zack Kassian scored again and Jordan Schroeder picked his first...
Afternoon, folks The Canucks are in San Jose today to play the second game of their three game road trip in California where they take on the Sharks for a late afternoon game. The Canucks, fresh off a 5-0 win over the Anaheim Ducks, look to carry the momentum from their first regulation win of the season into the Shark Tank to face the red hot Sharks. Cory Schneider fresh off his...
ANAHEIM, Calif. (AP) -- Cory Schneider made 30 saves in his fifth career shutout, Mason Raymond scored twice, and the Vancouver Canucks avenged last week's blowout loss to Anaheim with three power-play goals in a 5-0 win over the Ducks on Friday night. Daniel Sedin and Raymond scored on power plays in the first period, and Zack Kassian added a man-advantage goal in the third...
Shark Attack Fresh off Friday's big win over the Ducks, the Vancouver Canucks are back in action tonight with a Sharks team that's undefeated in their first four games. The Sharks beat the Avalanche 4-0 last night with Patrick Marleau scoring twice. He's now done that in every game of the year so far. Matchup: Vancouver Canucks (2-1-1) v San Jose Sharks (4-0-0) Venue: HP...
Mason Raymond scored twice and Cory Schneider turned aside 30 shots as Vancouver blanked Anaheim 5-0 last night. The Canucks got revenge on the Ducks for a 7-3 drubbing to open the season. Let's take a look at the rest of the night on ice. Boston knocked off the Islanders 4-2 Dougie Hamilton had a pair of assists for Boston in the win. Keith Aucoin scored both Islander goals in...
ANAHEIM, Calif. -- Off to its best offensive start in team history, Anaheim approached its home opener just hoping to ride the wave of momentum. Cory Schneider sent the Ducks back to square one. The Vancouver goalie held a scorching Anaheim offense scoreless and the Canucks pounced on the Ducks early to earn a 5-0 win on Friday at the Honda Center. Anaheim entered the contest...
Road Trippin' Time for another Canucks gameday team & opponent scouting report. The Vancouver Canucks are in California for their first road trip of the shortened season. The first stop for the boys is in Anaheim tonight. Vancouver will be looking for a little revenge on the Ducks who spanked them 7-3 during the season opener at Rogers Arena on the 19th. Cory Schneider is getting...
Canucks News

Delivered to your inbox

You'll also receive Yardbarker's daily Top 10, featuring the best sports stories from around the web. Customize your newsletter to get articles on your favorite sports and teams. And the best part? It's free!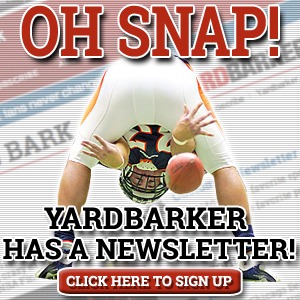 Latest Rumors
Best of Yardbarker

Today's Best Stuff

For Bloggers

Join the Yardbarker Network for more promotion, traffic, and money.

Company Info

Help

What is Yardbarker?

Yardbarker is the largest network of sports blogs and pro athlete blogs on the web. This site is the hub of the Yardbarker Network, where our editors and algorithms curate the best sports content from our network and beyond.