Found April 10, 2012 on NorthWest Sports Beat:
Can we just get going already…
It's been a long hard road, but we've finally arrived at Game 1 of the 2012 Stanley Cup Playoffs. If you've been around since Game 1 of the regular season, good for you. You are officially a better person than any kind of bandwagoner.
It would be quite a shame to let the journey so far go to waste, so the Canucks better do the 5 things I'm about to suggest. Here are my five keys to winning this opening round series against the Los Angeles Kings.
Capitalizing on the Powerplay
Vancouver is more than likely going to have plenty of opportunities to work on the powerplay. Los Angeles took the 6th most minor penalties this season but with all those opportunities against, they've had lots of time to practice killing them. The Kings had the 4th best PK in the league so Vancouver bearing down when they have chances is so important.
The Canucks PP has been horrible in the stretch run but still finished 4thoverall on the season. They have the fire-power and hopefully the will-power to insert that puck behind Jonathan Quick on a regular basis.
Juice needs to hold up his end of the bargain as well...in the defensive zone. (Photo - Jeff Vinnick/NHL/Getty Images)
Putting Blips Behind Them
In the first round of the 2009 playoffs, the LA Kings scored on about 39,000 straight powerplays.  In the Stanley Cup Final last June, one goal against in the TD Garden meant a gaping wound in the Canucks' flesh that bled more as time went by rather than slowing.
Hockey God forbid Roberto Luongo lets in a bad goal or should the Kings score with their 17th ranked powerplay, the guys need to keep it together.
That's where experience comes in because most of them spent last spring on the roller coaster ride of their life feeling the up and down emotions of a lonely circus clown.
Perhaps the most annoying thing they'll have to deal with is that stupid red light that blares in the crease when L.A. scores at home.
Sedinery
Monday morning saw the return of Daniel Sedin to practice. This was glorious news to the ears of every single soul in Canucks nation. I won't say the twins NEED to be extraordinary against the Kings for Vancouver to come out of this series because of what we saw last year, but it'd do a great deal.
They both had a big series against L.A. in 2009; Daniel had 10 points and Henrik had 8 in just 6 games. Assuming Daniel remains healthy to not only start game one but remain in for the rest of the series, they could be the x-factor in moving on to round two.
AV Maintaining His Cool
Coach has to maintain his head as much as the players because should he remove Roberto Luongo from a game too soon, the Kings and potentially their fans will eat that up.
Now I'm not saying it will affect how Schneider plays in Lu's stead but it sows the seed for Luongo to have the hockey version of a nervous breakdown. (See Games 3, 4 and 6 of the SCF last June.)
I firmly believe that if Luongo has one bad game, it would be the wrong decision to give Schneider the next start. It doesn't matter what game it is, AV needs to stick by his main man for his and Roberto's sanity. Bobby Lu's bounce-back record after an atrocious outing is stellar.
We saw that just this past week after he was pulled against Anaheim and then shutout Edmonton is his next start.
To lose with Cory Schneider in net would only prove this point further and one bad game or blemish does not justify the risk of failing with your backup.
Keeping the Lights On
The chatter heard from through the grapevine this past March was about if the Canucks could flip the proverbial switch come playoff time. We saw they could do that once Chicago knocked out their best player and they won 8 of 9 to finish the season off and win the President's Trophy like a bunch of bosses.
Coach Vee needs to keep his head. That's why he's head coach.
The switch is currently flipped and it needs to stay that way. It's like when you leave your home and you're supposed to turn off the lights to not waste energy.
Well, the Canucks have to keep them on for the entire series.
Don't let up, stay in the zone and for crying out loud, don't let anyone throw off their groove.
Maybe get a couple llamas named Kuzco for good luck.
Seriously though, forget about being green, these guys need to be blue and green, skin to bone, head to toe, dawn to dusk, breakfast to midnight snack, Magikarp to Gyarados, the Shire to Mount Doom, Arctic to Antarctica, black to white, stone mason to cobbler, or what have you!?
Let's go!
CLICK HERE CHECK OUT THE CANUCKS BLOG IN THE CLUBHOUSE TODAY!
© Vancan19 for North West Sports Beat, 2012. | Permalink | No comment |
Follow NWSB on Twitter or join US on Facebook for real-time updates OR... | Share This on Twitter | Share NWSportsBeat.com on Facebook
Post tags:
#DownTheCrown
,
#OwnTheThrone
,
2012
,
2012 Playoffs
,
5 Keys
,
Alain Vigneault
,
Canucks
,
Cory Schneider
,
Daniel Sedin
,
Henrik Sedin
,
Kings
,
Kings vs. Canucks
,
LA Kings
,
LA vs. Vancouver
,
los angeles
,
los angeles kings
,
Mason Raymond
,
NHL Matchup
,
NHL Playoffs
,
Playoff matchups
,
Roberto Luongo
,
Rogers Arena
,
Stanley Cup Playoffs
,
Staples Center
,
vancouver
,
Vancouver Canucks
Original Story:
http://www.nwsportsbeat.com/canucks/f...
THE BACKYARD
BEST OF MAXIM
RELATED ARTICLES
VANCOUVER, Canada -- Greetings from Vancouver, where only one of the Sedin twins was on the ice for the Canucks game-day skate in advance of Wednesday nights first-round playoff opener against the Kings. Coach Alain Vigneault said afterward that Daniel Sedin, who has a concussion, won't play Wednesday. "This is a unique injury and you have to take it day by day," he...
Daniel Sedin was a no-show at the Vancouver Canucks' workout Tuesday morning, then skated with teammates after practice. Sedin, out with a concussion since March 21, was expected to take part in his second practice before Wednesday's first-round playoff series opener against the Los Angeles Kings. He was injured when he took an elbow in the head from Chicago defenseman...
Vancouver Canucks left wing Daniel Sedin returned to practice Monday after missing nine games with a concussion."He's 100 percent now," said twin Henrik Sedin after practice Monday.Daniel Sedin led Vancouver with 30 goals before being elbowed by Chicago Blackhawks defenseman Duncan Keith on March 21. Keith was suspended five games for the hit."We'll see how...
from the CP at TSN,  Daniel Sedin was a no-show at the Vancouver Canucks practice Tuesday morning. Sedin, out with a concussion since March 21, was expected to take part in his second practice before Wednesday's first-round playoff series opener against the Los Angeles Kings. continued
from David Ebner of the Globe and Mail, Team management had previously - on the record, and quietly - suggested the younger of the Sedin twins would be ready for the playoffs - and indeed he appears to be, skating Monday morning with his regular blue helmet, which means he is cleared for contact and pretty much good to go. Ahead of practice, Sedin was out only for about 10 minutes...
Henrik Sedin scored the only goal the Vancouver Canucks needed and they won the Presidents' Trophy with a 3-0 victory over the Edmonton Oilers on Saturday night. The Canucks ended up with the most points in the NHL for the second straight season as they finished the 2011-12 season with a 51-22-9 record. They got help earlier Saturday when the New York Rangers lost to the Washington...
Sometimes, the best trades are the ones you don't make, even if you did want to make them in the first place. The Bruins, once upon a time, offered to trade Joe Thornton to the Florida Panthers for Roberto Luongo of all people, according to then Panthers general manager Mike Keenan. The longtime NHL coach who is currently does some TV work appeared on Sportsnet's NHL playoff...
And that's a wrap The Vancouver Canucks finished the regular season with a solid performance, shutting down the Edmonton Oilers in a convincing 3-0 win Saturday on Hockey Night in Canada. The Oilers held their own for the first half of the game but broke down shorthanded after both Ben Eager and Darcy Hordichuk took respecting roughing penalties in the second period.  The Hat...
Vancouver Canucks (1) vs. Los Angeles Kings (8) Season Series: Vancouver: 2-1-1; Los Angeles: 2-2-0 Vancouver, MarchApril: 11-5-1 Los Angeles, MarchApril: 11-4-3 Outlook: Daniel Sedin's concussion casts a question mark on this series, though the Canucks are more than deep enough to handle their star winger's absence and finished 8-1 after Duncan Keith's elbow took him...
It's a 1st round picks column. (also, if you read this Wednesday, be sure to join my playoff pool)(1) Vancouver Vs (8) Los Angeles KingsI really like Vancouver as a team. The Sedins are great players, as is Ryan Kesler. They have a very strong 6-7 man deep defense, and a goaltending duo that rivals any in the NHL. Vancouver was the best team all season, and a worthy winner of...
Game #1 LA KINGS 40-27-1595 pts, 8th in Western Conference, 13th in NHLvsVANCOUVER CANUCKS51-22-9111 pts, 1st in Western Conference, 1st in NHL Regular Season Series Tied 2-2 7:30pm, Rogers ArenaVancouver, BCKCOP 13NBC SN BEST PLAYER TO WEAR BOTH COLORS IN THE PLAYOFFS: BEST OPPOSITION BLOG THAT I'VE ATTENDED A PLAYOFF GAME WITH IN PERSON:Benched Whale BEST OPPOSITION...
from Jason Botchford of the Vancouver Province, Is Luongo a playoff goalie? At times. There was the 54 saves against the San Jose Sharks in Game 5 last year. There was the overtime stop in Game 7 of Round 1 off of Patrick Sharp. There were two shutouts in the Stanley Cup finals. There was also the six goals he gave up to Chicago in Game 4, the eight goals he gave up to Boston in...
NHL News

Delivered to your inbox

You'll also receive Yardbarker's daily Top 10, featuring the best sports stories from around the web. Customize your newsletter to get articles on your favorite sports and teams. And the best part? It's free!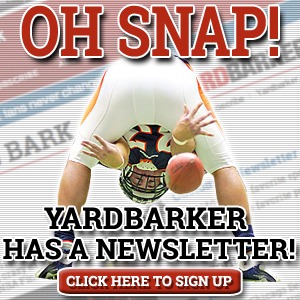 Latest Rumors
Best of Yardbarker

Today's Best Stuff

For Bloggers

Join the Yardbarker Network for more promotion, traffic, and money.

Company Info

Help

What is Yardbarker?

Yardbarker is the largest network of sports blogs and pro athlete blogs on the web. This site is the hub of the Yardbarker Network, where our editors and algorithms curate the best sports content from our network and beyond.