Found September 20, 2012 on The Prospect Park:
(Canadian Hockey League) It is the night before the start of the 2012-2013 Canadian Hockey League regular season and New York Ranger and New York Islander prospects will be facing some new rule changes regarding fighting. The OHL and WHL both unveiled rules designed rid their leagues of some of the fighting.
The WHL starts by addressing the "staged" fights; you know the ones that happen after a faceoff where players just start yapping at each other and as soon as the puck is dropped so do the gloves.
The WHL has adopted this as a rule:
1. Adoption of a staged fighting rule. Should a fight occur following a face-off during a game, it will be considered a staged fight. Should a stage fight occur during a pre-season, regular season or playoff game, the players involved shall each receive an automatic game misconduct in addition to the major penalty. Should one player clearly initiate or instigate the fight, only that player will receive the game misconduct in addition to a minor penalty for instigating the fight. Should the linesmen intervene and prevent the fight from starting, the players involved will each receive misconduct penalties.
If the NHL had this rule in place last year then the brawl that happened between the Rangers and the New Jersey Devils would have seen all of the participants ejected. I know this will be a rule that is unpopular with those who think this is about "softening" the game but it is not.
There isn't any kind of honest legitimate reason why those fights have a place in the game. The excuse they are about changing the momentum of the game doesn't work.
You can't make the argument that these fights are important to the games because they aren't. Want to change the momentum of the game then make a hockey play.
Over in the OHL, they are now going to crack down on the "frequent fighters" as new rules are in place for those players who receive 10 or more fighting majors.
If a player is assessed a fighting major for the 11th – 15th time during the regular season, such player is assessed an automatic two (2) game suspension for each additional fighting major in addition to any other penalties assessed

If a player is assessed a fighting major for the 16th time or more during the regular season, such player is assessed an automatic two (2) game suspension and the hockey club is fined $1,000.00 for each additional fighting major in addition to any other penalties assessed.

If a player is deemed to be the instigator in any of the fights above the ten (10) game threshold, such player would be assessed an automatic four (4) game suspension in addition to any other penalties assessed.
The two leagues are starting the process in which eventually there will one day when fighting itself is banned at the junior level. As
Gregg Drinnan writes
these are moves that had to be made.
Everyone in authority seems to agree that a crackdown on headshots was and continues to be a necessity. Therefore, it only stands to reason that you move to get rid of fighting.

After all, the powers-that-be in major junior hockey don't want to find themselves in a courtroom sometime in the future, trying to explain how they worked so hard to get rid of shoulders and elbows to the heads of unsuspecting opponents, but did nothing to stop two teenagers from pounding away at each others' heads with their bare fists.

On top of all that, no one knows what's in the future for hockey in terms of concussion-related lawsuits. The NFL right now is being sued by more than 3,000 former players. Hockey doesn't want to find itself in the same boat.
Some will argue that the way around this rule will be for referees to call more instigator penalties but remember that is giving the other team a power play. Few coaches who value their jobs will want to see anything that causes his team to be shorthanded.
It is not a perfect solution but at least it is a start because if they (the 3 leagues) don't start addressing fighting themselves then a lawsuit over an injury or death on the ice will.
Central Scouting's first ranking of the season
The NHL may be locked out but that doesn't mean that Central Scouting is not already working on the 2013 NHL Entry Draft.
The CSB is going to do things a little differently this year
breaking the prospects into groups of players ranked "A", "B", or "C".
The
rationale behind the changes
makes a lot of sense as it will help the fans understand the prospects better.
The lists, comprised of "A," "B" and "C" players for the upcoming season in each of the major junior hockey leagues, are sent to NHL team scouts for the purpose of tracking the top draft-eligible players entering the 2012-13 season.

All "A" skaters have been identified as potential first-round picks, while "B" players are considered second- or third-round candidates. The players on the "C" list are thought to be fourth-, fifth- or sixth-round possibilities.
The
North American list
has some familiar names on it that should catch your eye. I can't wait to see how many Ranger fans will react to seeing someone they think they know.
The International list is
right here
.
Real Live Hockey
If you are seriously missing hockey then you have your choice of games in the 3 leagues.
Ranger prospects Peter Ceresnak (2011 6th) will be in action for Peterborough. You can listen for free
here
or
watch online for a fee here
.
Out west will feature the Islander's 2012 1st round pick Griffin Reinhart and newly signed Ranger prospect Michael St. Croix (2011 4th) as their Edmonton Oil Kings will raise the franchise's first championship banner. You can listen to the game
live online
or like the OHL watch
online for a fee
Our First Poll
The first BMO CHL MasterCard Top 10 Rankings are out and 3 teams with Ranger prospects (and 1 Islander prospect) are on it
1 Quebec Remparts
2 Edmonton Oil Kings (St. Croix and Reinhart)
3 London Knights
4 Portland Winterhawks
5 Kitchener Rangers
6 Halifax Mooseheads
7 Plymouth Whalers (J.T. Miller)
8 Blainville-Boisbriand Armada
9 Saskatoon Blades (Shane McColgan)
10 Oshawa Generals
Original Story:
http://feedproxy.google.com/~r/ThePro...
THE BACKYARD
BEST OF MAXIM
RELATED ARTICLES
Notable players lost: PA Parenteau (COL), Micheal Haley (NYR) Notable players obtained: Lubomir Visnovsky (ANA), Brad Boyes (STL), Matt Carkner (OTT) Drafted: Griffin Reinhart- 1st round, 4th overall There are many things we can call the Islanders. The term I'll use for them is 'puzzling' since the Islanders used all 7 of their draft picks on defensive prospects in...
From Patrick Hoffman at Canada.com: While these kinds of injuries would be considered a disappointment for any team/player, DiPietro's injuries are looked at as being worse due to the fact that the Islanders signed DiPietro to a then record-setting contract for 15-years at $67.5 million in September 2006. For a team that is paying that much money, they are certainly not...
Michael St. Croix (Edmonton Oil Kings) Opening night for some of the New York Ranger and New York Islander prospects turned out to be a mixed evening. For a couple of teams there were banners to raise to the rafters celebrating last season's success. First in Edmonton with Mark Messier dropping the ceremonial first puck, Ranger prospect Michael St. Croix (2011 4th) needed...
It was a beautiful day to be at Bethpage Park, especially on the golf course. This was the fifth annual New York Islanders Golf outing and the weather decided to cooperate this year. Of course, due to the situation with the NHL lockout, the cast of characters changed a little, but there were plenty of hockey celebrities and future stars to go around with the links. There were...
Montreal Canadiens defenseman Yannick Weber and New York Islanders captain Mark Streit plan to play in Switzerland during the NHL lockout. Bern announced it has signed Streit, and Geneva-Servette says it has added Weber, according to TSN. Streit had seven goals and 40 assists last season, and Weber had four goals and 14 assists.
NHL News

Delivered to your inbox

You'll also receive Yardbarker's daily Top 10, featuring the best sports stories from around the web. Customize your newsletter to get articles on your favorite sports and teams. And the best part? It's free!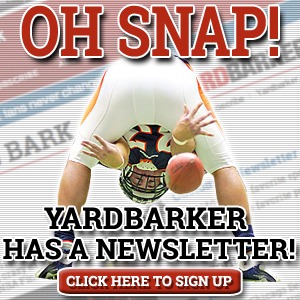 Latest Rumors
The Backyard

Today's Best Stuff

For Bloggers

Join the Yardbarker Network for more promotion, traffic, and money.

Company Info

Help

What is Yardbarker?

Yardbarker is the largest network of sports blogs and pro athlete blogs on the web. This site is the hub of the Yardbarker Network, where our editors and algorithms curate the best sports content from our network and beyond.