Found August 08, 2012 on Blue Seat Blogs:
The Rangers top six (health allowing) looks a lot more intimidating these days, thanks to Rick Nash's arrival. It's amazing what one addition can do to change people's perceptions. That said, the Rangers continue to be linked with Shane Doan and on the right deal he'd be another welcome upgrade but Doan is a mistake waiting to happen. The arrival of a declining but still somewhat effective Doan on anything other than a short term deal is reckless spending that was the hallmark of the previous Glen Sather, before the Hall of Fame Sather re-appeared. Assuming Doan leaves the Coyotes – still a big assumption – and rumours of his desire for four years are true, then buyers beware. Those demands stink of a desire for job security, of a pension plan rather than of a player yearning for a chance at an elusive Cup. Those rumoured demands don't appear to be the demands of a player whose priority is ambition/success. Of course, you cannot blame Doan for making such demands when numerous NHL general managers routinely throw crazy contracts at players; who wouldn't want a piece of that action? However, Sather needs to let Vancouver or Pittsburgh (or whoever) be the team that gives Doan the crazy commitment. Why? Chris Kreider. The Rangers don't lack for character. Last time I checked, leadership wasn't an issue either. The cap is in a healthy state and the depth is no longer an issue. Elite skill? Nash, Richards and Gaborik have that covered too. Taking Doan on the right terms is indeed a coup; anything else is this team's management getting greedy. Doan on his apparent terms adds more risk to the franchise than it solves problems. While numerous Rangers fans continue to set the bar unnecessarily high for Chris Kreider's debut season the fact remains he is a much better solution than Shane Doan. Certainly better long term and potentially short term too. Shane Doan scored 22 goals last year and Kreider could match that with the right ice time. If you believe some fans beliefs Kreider will saunter past that total. Ideally, you have both players for a season or two and Krieder has the best on-the-job-training possible in the form of Nash and Doan. Is there any better example for a burgeoning power forward to have internally? The Rangers need to delicately balance 'going for it this year' with not hindering Kreider's development and messing up a relatively healthy cap situation. If Sather cannot convince Doan to take less term then it needs to be Kreider and Nash as this team's primary power forwards. Realistic expectations or not; that's a fine combination to enter the season of Rick.
Original Story:
http://www.blueseatblogs.com/2012/08/...
THE BACKYARD
BEST OF MAXIM
RELATED ARTICLES
According to Pat Leonard of the New York Daily News, the New York Rangers are a favorite to land Phoenix Coyotes' Shane Doan. "The Rangers' strengths include their formidable roster but also Doan's connections with their coaching staff: Assistant GM/assistant coach Jim Schoenfeld coached Doan for two seasons in Phoenix (1997-98 and 1998-99), with John [...] [[ This is a...
  Half the NHL would welcome Shane Doan if the unrestricted free agent left the Phoenix Coyotes due to their unsettled future in Arizona, but Doan has apparently narrowed his list of potential destinations to just three teams.Doan will choose between the New York Rangers, Pittsburgh Penguins and Vancouver Canucks, writes New York Post scribe Larry Brooks, who goes as far as saying...
As if we aren't sick to death of the Shane Doan rumors, Josh Cooper of The Tennessean adds fuel to the fire by reporting Nashville Predators Head Coach Barry Trotz has been speaking to Doan."I've been in contact with Shane Doan almost a month now. I keep in contact with him," Trotz said. "To be quite honest I hope everything gets resolved in Phoenix and he retires as...
Here we go again, per the Phoenix Business Journal's Mike Sunnucks (via the Sporting News): The perpetually on-again, off-again saga regarding the sale of the Phoenix Coyotes hockey team is on again. Prospective Coyotes buyer Greg Jamison has brought investment money and partners back into the fold and could soon close on the purchase of the team from the National Hockey League...
David Pollak at the Mercury News reports that a well-placed source advised him that Shane Doan's camp is looking for a four-year deal. And because of that, the San Jose Sharks are officially out of the Doan sweepstakes.Meanwhile, Pat Leonard at the Daily News notes that Doan's agent recently confirmed that his client has received a four-year, $7 million per year offer from...
Sunday Larry Brooks of the New York Post reported that free agent forward Shane Doan cut his list of destinations to three teams, Pittsburgh, the New York Rangers and Vancouver. This is obviously concerning for some Wings fans who were still holding out hope that Holland would continue to make a pitch for the veteran forward. However according to Mike Sunnucks of the Phoenix Business...
Just Bourne of Backhand Shelf has a piece giving five reasons why he believes Rangers rookie Chris Kreider will win the Calder next season for best NHL rookie, citing age, experience, size, linemates and draft class. This year's draft saw defensemen selected with eight of the first 10 picks. While defensemen are certainly capable of winning the Calder Trophy, the position just...
After landing the player they have wanted for a long time in Rick Nash, the New York Rangers might be at it again, this time with UFA Shane Doan. In last weekend's New York Post, Larry Brooks wrote the following: Depth has been compromised. Dependency on young Chris Kreider and Carl Hagelin to accelerate the learning curve is not insignificant. If the season starts on or close...
What do Brad Richards, Rick Nash, Zach Parise, Gary Suter, and Shane Doan have in common?  Besides being NHL superstars, the Buffalo Sabres weren't mentioned as serious contenders to land any of them. Joe Pinzone of Buffalo Wins thinks he knows why, and so do I.  In episode 4 of our 5-part audio series, we each give one main reason why the goal of Terry Pegula to make Buffalo...
With the Rick Nash acquisition and the changing faces among the Rangers bottom six forwards the Rangers roster has undergone considerable change. Glen Sather appears to have made most of his moves when factoring in the new contracts handed out to players such as Anton Stralman. Barring a Shane Doan arrival the last significant move the Rangers GM must make is re-signing Michael Del...
Rick Nash's class was on full display last week as he took out a full page ad thanking Blue Jackets fans for their support over the years, now Down Goes Brown unearths Scott Gomez's "thank you" to Rangers fans that for some reason wasn't printed in any of the New York papers......bravo DGB, bravo....assuming Canadiens fans didn't find this as funny as I...
The offseason is an import time for all. It can be a time for teams to regroup after a disappointing season, or a time when a team tries to keep a gelled team together and intact for a another run at a Stanley Cup. It is hard to say who the winners are due to the various ways you can look at the summer's results. A few candidates could be the Los Angeles Kings have kept a Stanley...
NHL News

Delivered to your inbox

You'll also receive Yardbarker's daily Top 10, featuring the best sports stories from around the web. Customize your newsletter to get articles on your favorite sports and teams. And the best part? It's free!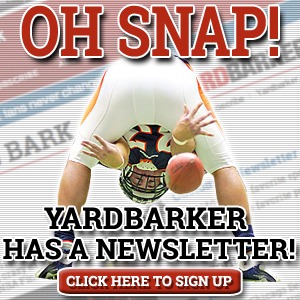 Latest Rumors
Best of Yardbarker

Today's Best Stuff

For Bloggers

Join the Yardbarker Network for more promotion, traffic, and money.

Company Info

Help

What is Yardbarker?

Yardbarker is the largest network of sports blogs and pro athlete blogs on the web. This site is the hub of the Yardbarker Network, where our editors and algorithms curate the best sports content from our network and beyond.