Found August 23, 2013 on Blue Seat Blogs:
Sad, sad truth. This past offseason, the Rangers addressed their biggest holes, signing and trading for depth players that will likely play a key role in this team's push for a trip to the Stanley Cup Finals. While there are still some questions to be answered (mostly around line formations), perhaps the biggest area for concern heading into the season is the lack of right-handed shots, specifically those that can play on the powerplay. The current right-handed shots on this club are Ryan Callahan, Derek Stepan, Arron Asham, Derek Dorsett, Dan Girardi, and Anton Stralman. That's four forwards (of which only one will likely be in the lineup) and two defensemen. Compounding this is the fact that only two of them can realistically perform well on the powerplay (Stepan, Callahan). Dorsett and Asham won't sniff PP time, Girardi really doesn't play well there, and Stralman has just one year of success on the powerplay. That year was 2009-2010 when Stralman put up 4-18-22 on the Columbus powerplay, but hasn't even come close to that since. This becomes an issue because –and we saw it time and time again last season, especially in the playoffs when the Rangers trotted out five lefties on the powerplay– the Rangers need a right-handed shot to play the off-wing with the man advantage. Inserting a player on the off-wing adds multiple options for the powerplay, specifically one-timers, and keeps the opposition from easily predicting the game plan. As we saw with Rick Nash, an off-wing shot at the top of the circle can be lethal. After all, he was the only one that scored consistently outside of the goal crease. Since neither Cally nor Stepan possess the shot that Nash has, their placement on the off-wing is simply to give a better angle at passing the puck to Nash for those one-timers that were so effective last season. Stepan is a whiz with the puck, so one would assume he is capable of this. With just two right-handed shots capable of playing valuable minutes on the powerplay, it means taking Cally away from his home in front of the net (Stepan too). This leaves just one player (Derick Brassard) who scored more than one goal in front of the net on the powerplay last season (chart here). You can see the conundrum. If the Rangers place both Cally and Stepan on the off-wing, then it leaves one hole open in front of the net. If they leave one in front of the net –using Brassard as the other– then they have four guys playing from the slot and higher with left handed shots. It doesn't exactly scream versatility. There are two wildcards here: Chris Kreider and Danny Kristo. Kreider is incredibly skilled, but he also has a nose for the net. While this is far from a guarantee, he should be able to at least get some PP2 time in front of the net. That leaves room for Cally to slide over to the off-wing mentioned above. As for Kristo, well he's a right handed shot. While this is a hole that the Rangers seemingly have to fill, they may have internal options to fill that hole. It just depends on how these guys play and mesh on the ice, and how the coaching staff chooses to deploy each player with the man advantage. The hole can be filled internally, but if Kreider doesn't develop, this could turn into a larger problem. Tweet
Original Story:
http://www.blueseatblogs.com/2013/08/...
THE BACKYARD
BEST OF MAXIM
RELATED ARTICLES
The Rangers would love the Dallas Stars version of Brad Richards to return. Perhaps the smallest but most intriguing piece of news that has come out of Ranger land in recent days is that of Brad Richards already spending significant time on the ice ahead of the up coming season. Last season Richards wasn't prepared (at all) for the abbreviated, condensed season and it showed all...
My name is Rick Nash. I am very good at hockey. The quiet season is well and truly underway but that doesn't mean the hockey world is standing still. Let's have a look around the league and have an impromptu musings shall we? The Capitals signed Mikhail Grabovski this week and it's a good move. They needed to add some talent and he's a solid center. It's incredible to think...
New York Rangers general manager Glen Sather usually stays pretty quiet. When he's not busy smoking cigars he keeps a pretty low profile especially when he still has work to do this summer in needing to re-sign Derek Stepan and Carl Hagelin still. When he does talk though Sather is usually pretty straightforward and honest. Such as when he went on Edmonton's Team 1260 to...
Glen Sather was a guest on Edmonton Sports Radio 1260 yesterday and was fairly expansive and pointed when discussing various players, the former and current coach. If you haven't listened to the whole interview , it's well worth the 17:45 to do so. The key headlines, as others have pointed out are: 1) Sather denied that the players came to him asking for Torts to be...
Less than 24 hours after NY Rangers GM Glen Sather said that he's not interested in signing RFA Derek Stepan to a long term contract, comes news out of Toronto that Leafs RFA center Nazem Kadri is not intersted in signing a "bridge contract" like the one that Slats is hard-lining for. Sportsnet's David Alter tweeted the following: Leafs and Kadri still far...
As the offseason wears on, us and Matt Josephs of Blue Line Station (Twitter: 11Matt_Josephs8) will be running a tournament for the Best Ranger since the 2005 lockout. Yesterday, #3 Marian Gaborik took out #6 Fedor Tyutin. Today the second round continues with #2 Martin Straka vs. #7 Michal Rozsival. Martin Straka (acquired – 2005 unrestricted free agent) Many laughed when the...
Bruins rookie defenseman Torey Krug burst onto the scene during the 2013 NHL playoffs. Against the New York Rangers, Krug scored four goals in his first five career post-season games. He played his way into starting lineup finishing with six points in 15 playoff games. Krug talks about when he received the call up in the video below. Krug is the puck moving defenseman the Bruins...
from Brad Ziemer of the Vancouver Sun, With his wife Christine and their four dogs, new Canucks coach John Tortorella is on his way to Vancouver. Sun hockey writer Brad Ziemer caught up with him Wednesday somewhere deep in the woods in Wisconsin. Their telephone conversation follows, with Tortorella's comments on his latest discussion with Roberto Luongo, his disappointment...
Since displacing veteran backstop Kevin Weekes as the starter in his rookie season of 2005 – 2006, Henrik Lundqvist has been considered by many to be the backbone of the New York Rangers. He has earned a Vezina Trophy nomination five times in his eight NHL seasons, winning the award following his 2011 – 2012 […]
The champagne that symbolizes success, MOET & Chandon celebrated it's 270th Anniversary Tuesday night at Chelsea Piers here in NYC. This star-studded event hosted by Tennis star/global brand ambassador Rodger Federer, featured luminaries such as  fashion icon Anna Wintour, and a performance by singer-songwriter Emeli Sande. The gala also unveiled the latest MOET advertising...
For the past couple of months, I've been keeping you updated on the RFA status of four young centers: Cody Hodgson, Derek Stepan, Nazem Kadri, and Adam Henrique. Whats the hold up in re-signing these four dynamic players? NY Rangers GM Glen Sather said Friday night that he will not be signing Stepan to a long term contract. Therefore, the player will have to accept his...
Rangers News

Delivered to your inbox

You'll also receive Yardbarker's daily Top 10, featuring the best sports stories from around the web. Customize your newsletter to get articles on your favorite sports and teams. And the best part? It's free!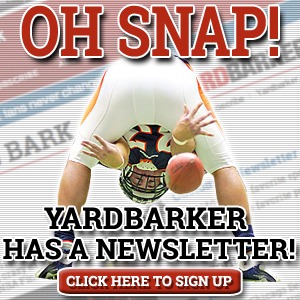 Latest Rumors
The Backyard

Today's Best Stuff

For Bloggers

Join the Yardbarker Network for more promotion, traffic, and money.

Company Info

Help

What is Yardbarker?

Yardbarker is the largest network of sports blogs and pro athlete blogs on the web. This site is the hub of the Yardbarker Network, where our editors and algorithms curate the best sports content from our network and beyond.