Found January 06, 2012 on Thrashing the Blues:
Lars Eller, showing his ass.
I had an interesting conversation on Twitter the other night with a good buddy who is a Winnipeg Jets fan. It was the day after this spin-o-rama penalty shot goal by Lars Eller on Chris Mason that had the Montreal fans on their feet and Winnipeg fans up in arms:
[youtube]ojYNplEaRrc[/youtube]

 My initial reaction on seeing it was "damn, nice." And then I stopped to think about it for a second - was it necessary? The Habs were already taking it to the Jets 6-2, and Eller already had three goals an an assist on the night. At that point, this game is the pinnacle of his career hands down. To get a penalty shot and a chance to make it four goals is exciting - you probably don't care that it's adding insult to injury to the other team. By no means do you slack off out of pity - you go for that goal. You don't need to rub salt in the wound, though.
My friend mentioned that what Eller did was unnecessary and classless, and he's right. Goofing in practice, sure. In a shootout when it's part of strategy, uh, ok. But on a penalty shot against a team that's losing terribly and a goalie that's not known for excellence in one-on-one situations? Probably more than a bit show-boaty.
I'm not trashing Eller or calling him classless - he's a good kid and I'm happy for both his production and the chance he's gotten on the Canadiens. But it certainly wasn't humble. Kids make decisions that aren't rational, and Eller's only 22. To him, what he did wasn't classless; he was just having fun. That lack of differentiation is the problem.
Look at how the Czech team behaved against the United States this past World Juniors series. The US was terrible, so it wasn't like the Czech team was climbing a mountain by beating them. When Petr Holik (no relation to Bobby) scored what would be the winning goal - with time left in regulation, mind you - the team jumped on each other at center ice like they'd won the Stanley Cup let alone a game. Goalie Petr Mrazek left his crease to fling himself on the pile.
[youtube]JpEbTAGNT6Q[/youtube]
In what world is that considered appropriate?
Why are kids acting like this? Because they're built up from youth to think that they're the center of importance. They're treated like superstars at age 15 and 16, so how is it a surprise when they get onto a large stage that they behave like they do? Jake Ciely of Xlog raises this point with the rediculous attention placed on football players during college recruiters. Never mind that they're being plastered on ESPN at age 17 or 18 trying to tell everyone what college they've chosen to go to. Their games are broadcast on ESPN or local sports networks. There are publications dedicated to high school sports. They're covered in the local newspapers more than some professional teams are.
When the focus of the Canadian press gets fixated on youth hockey like it does the World Juniors, it treats it like the NHL. A good chunk of that goes to the fact that Canada loves hockey like a meth addict needs some meth. But you have to step back and realize that they're kids, and you're - whether it's intentional or not - are feeding into very young egos and encouraging some very classless behavior.
Pictured: probably a bad idea.
The Tampa Bay Lightning's response to Artem Anisimov's machine gun goal celebration was the right one. If they would have tolerated it, he never would have known that flashy celebrations are inappropriate in a team sport, and disrespectful to the competition. When you start disrespecting your teammates and the opposition in order to bring attention on yourself, you undermine the ideal of  sportsmanship and you undermine the legitimacy of your sport.
I'm pretty sure Lars Eller didn't have that intent, and I'm sure the Czechs didn't either. But ignorance is no excuse. The media and the parents need to show these kids that they themselves are not the center of the world, and that the outcome of the game for the team, as well as how they and the team are perceived, is more important than showing off.
Original Story:
http://www.thrashingtheblues.com/2012...
THE BACKYARD
BEST OF MAXIM
RELATED ARTICLES
Lars Eller capped an evening imaginable to very few, and capable by even fewer. If there's a team who needs to eat up wins now more than ever — given the coaching controversy — it's the Montreal Canadiens. And Eller, a 22-year-old from Denmark, racked up five points — four of them goals. Under interim coach Randy Cunneyworth, the Habs move to 2-6 — which...
It sure looks like a ***** in this picture, and I wouldn't put it past a Montreal Canadiens fan to bring such an item to a game in anticipation of one of the Habs netting a hat trick.  I just hope that it wasn't in slightly used condition when it made it's way to the ice. Whether or not the red, phallic-shaped item found amongst the hats strewn on the ice following Montreal...
Have you ever wondered who would think, "Boy, I'd so much rather be the guy who picks up the dead duck thrown from the stands during a hockey game?" The answer, we imagine, is the guy who has to pick up the rubber phallus thrown on the ice in celebration of a hat trick. According to Gerard Yee on Twitter, somebody at the Montreal Canadiens' 7-3 home victory over...
Tweet MONTREAL – Scoring a hat trick is impressive; four goals, astonishing – what Lars Eller did Wednesday night can ...
Lars Eller had four goals and an assist, Travis Moen had three assists, and the Montreal Canadiens bounced back from a poor road trip with a 7-3 win over the Winnipeg Jets on Wednesday night.
MONTREAL (AP) Lars Eller had four goals and an assist, Travis Moen had three assists, and the Montreal Canadiens bounced back from a poor road trip with a 7-3 win over the Winnipeg Jets on Wednesday night.
CANADIENS 7, JETS 3 MONTREAL - Lars Eller had four goals and an assist, Travis Moen had three assists, and Montreal...
Lars Eller had four goals and an assist, Travis Moen had three assists, and the Montreal Canadiens bounced back from a poor road trip with a 7-3 win over the Winnipeg Jets on Wednesday.
Lars Eller doubled his goal total for the season in a one night, registering his first career four-goal game in Montreal's resounding 7-3 win over the Winnipeg Jets at the Bell Centre.
After an explosive effort from Lars Eller in their last trip to the ice, the Montreal Canadiens will try to win consecutive games for the first time under head coach Randy Cunneyworth as they host the Tampa Bay Lightning tonight at the Bell Centre.
    It is time to hop back into it today with a little Fantasy Hockey ONE.  First up, let's take a look back at what happened last night with our FANTASY POTN first and then Ian Gooding will give us his Pick Six for the night. ============================================== FANTASY POTN: This one was a very easy choice as we went with Lars Eller of the Montreal...
NHL News

Delivered to your inbox

You'll also receive Yardbarker's daily Top 10, featuring the best sports stories from around the web. Customize your newsletter to get articles on your favorite sports and teams. And the best part? It's free!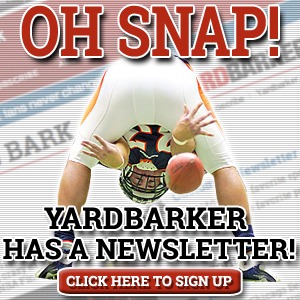 Latest Rumors
Best of Yardbarker

Today's Best Stuff

For Bloggers

Join the Yardbarker Network for more promotion, traffic, and money.

Company Info

Help

What is Yardbarker?

Yardbarker is the largest network of sports blogs and pro athlete blogs on the web. This site is the hub of the Yardbarker Network, where our editors and algorithms curate the best sports content from our network and beyond.