Found November 22, 2012 on Fox Sports:
PLAYERS:
Henrik Lundqvist
,
Brad Richards
,
Scott Hartnell
,
Martin Brodeur
,
Bobby Ryan
,
Steven Stamkos
,
Kimmo Timonen
,
Braydon Coburn
,
Simon Gagne
TEAMS:
New York Rangers
,
Philadelphia Flyers
,
New Jersey Devils
,
Anaheim Ducks
,
Tampa Bay Lightning
,
Los Angeles Kings
Henrik Lundqvist finally found a game to play. It won't be under the bright lights of Madison Square Garden, or in front of a hostile crowd in Philadelphia trying to rattle the man in the red, white and blue mask. But it will be meaningful and rewarding in a unique way. Like players and fans all across North America and the world, the New York Rangers goalie misses the NHL. Lundqvist has run the gamut of emotions as the long lockout lingers. His thirst to get back on the ice will be quenched Saturday night - however briefly - as he joins other hockey stars in giving back to people who were ravaged by Hurricane Sandy. Lundqvist will step on the ice in storm-damaged Atlantic City, N.J., along with Rangers teammates and foes from the Flyers and other teams to lend a helping hand to those recovering from the devastation. It won't have the intensity of a regular NHL game, but it will be filled with emotion and enjoyment. ''Absolutely. It's not only the hockey fans. You want to pay back to people working in the community around New York and people that got hit by this storm,'' said Lundqvist, last season's Vezina Trophy winner as the NHL's top goalie. ''I was not there, but obviously I have a lot of friends who were still there, and I had people move into my place. ... ''I hope it's going to be a positive day, and that people who come in to watch the game get some energy and give the people some hope who need it.'' ''Operation Hat Trick'' will be held at famed Boardwalk Hall on Saturday. All proceeds from the event will go directly to the Empire State Relief Fund, the New Jersey Hurricane Relief Fund and the American Red Cross, which is aiding New York and New Jersey families affected by Hurricane Sandy. Brad Richards of the Rangers joined Flyers forward Scott Hartnell and partnered with Caesars Atlantic City to stage the event. Richards and Hartnell will serve as captains of the two teams that will feature other NHLers such as Martin Brodeur, Bobby Ryan, Steven Stamkos, Kimmo Timonen, Braydon Coburn, James van Riemsdyk and Simon Gagne. As of Monday, 28 players had signed up to play. ''We are all overwhelmed by the damage and destruction caused to our area by Hurricane Sandy, and as professional hockey players we wanted to come together to help those who were victimized,'' Richards said. The mere idea that Rangers, Flyers and other rivals could come together for a common goal is special in itself. ''To have the opportunity to be able to raise money for the relief effort by participating in this game is an honor,'' Hartnell said. Lundqvist has been spending time at home in Sweden. His Thanksgiving plans included an international flight back to his hockey home that hasn't had hockey since the Los Angeles Kings captured the Stanley Cup in June. This trip should be well worth it for the seven-year NHL veteran. ''I'm trying to stay busy,'' said the 30-year Lundqvist, who joined the Rangers in 2005 after an earlier lockout forced the cancellation of the previous season. ''I've been skating every week, trying to stay ready in case something happens. I'm not sure if things are going to open up in the NHL or here in Sweden. Right now I'm just trying to stay ready, but it's tough, though. ''Just a couple of nights skating. It's not ideal, obviously, but it is what it is.'' A glimmer of optimism that arose this week when the NHL and the players' association got together twice for negotiations was dashed on Wednesday when the league quickly rejected an offer it said it was eagerly awaiting. The NHL has already canceled all games through November and the highly popular outdoor Winter Classic. All-Star weekend is very close to being lost along with another round of games. ''I'm kind of tired of hearing that they're getting together,'' he said. ''We need progress here. I don't know what to say now. The first couple of weeks you hope it's going to end fast, and now you've had two months of talking. ''It doesn't really matter. We just have to figure it out here with the owners and come to a solution. Everybody is suffering, from the fans, the players, people working with the game. It's not necessary. The game is strong enough that we should be able to figure it out.'' Lundqvist has rolled with the ups and downs of the lockout that began in September, when the previous collective bargaining agreement between the players' association and the NHL expired. He hasn't signed up to play in Europe or anywhere else, but if a deal isn't reached soon, he might have to change his plans. He just never thought the lockout would be going on this long. ''It's important that we try to give back to different communities and to the fans, but to us players, we miss the game a lot. We do,'' Lundqvist said. ''This is our lives. There is a business side to this sport; there is no way around it. When it comes down to just playing the game, I miss the lifestyle, I miss traveling and playing the games and having the adrenaline. ''It's just such a big part of my life. It's definitely been a weird two months here not having that. That's why it's a lot of fun to get together and play the game.'' The NHL generated record revenues of $3.3 billion last season when Lundqvist and the Rangers reached the Eastern Conference finals. Instead of being back on the ice to shoot for another run at the Stanley Cup, the star goalie is in a holding pattern he can't escape. ''I have all the emotions,'' Lundqvist said. ''I have some anger, disappointment, some embarrassment, too. I understand that the fans are disappointed, and it's hard to explain the whole situation. I don't think a lot of people know all the details and how much we really sacrificed to try to come closer to the owners. It doesn't really matter. They deserve the game out there to be played right now. I definitely feel a little embarrassment that we can't figure it out sooner.''
Original Story:
http://msn.foxsports.com/nhl/story/Lo...
THE BACKYARD
BEST OF MAXIM
RELATED ARTICLES
Henrik Lundqvist finally found a game to play. It won't be under the bright lights of Madison Square Garden, or in front of a hostile crowd in Philadelphia trying to rattle the man in the red, white and blue mask. But it will be meaningful and rewarding in a unique way. Like players and fans all across North America and the world, the New York Rangers goalie misses the NHL...
Rose over at The Henrik Lundqvist Blog has this great pic of "The King" on the cover of King Magazine... ...how so very appropriate. Speaking of Lundqvist, Rose also has his thoughts on the lockout... "I feel lost and weird mentally. I feel lost. For the first time since I was seven, I do not play hockey in November." ...i think we're...
We know Ryan McDonagh is back in the US and we know Carl Hagelin has terminated his deal with his hometown team back in Sweden. We also know Rick Nash has had his own injury issues despite scoring at an impressive rate in Switzerland. It goes without saying that the NHL is the best league in the world when they're actually playing hockey. So why then are so many Rangers players...
from Jeff Z. Klein of the New York Times, Brad Richards, the son of lobster fishers in Prince Edward Island, joined the Rangers just 17 months ago, but he is definitely a New Yorker now. In the days after Hurricane Sandy, he has been a frequent volunteer in hard-hit parts of the city, gutting flood-damaged homes in Queens and helping to organize a benefit hockey clinic on...
Ryan McDonagh back from Barys Astana #KHL w no serious injuries- minor bumps/bruises. Astana gr8 spot & thankful 4 chance play @ high level.— Ben Hankinson (@benhankinson) November 21, 2012 Hankinson is McDonagh's agent. ...good to have you back Ryan. Maybe the reason he returned so soon is because he's heard something encouraging regarding CBA talks. H/T to...
Jeff Klein at the New York Times takes a look at the huge role Brad Richards has taken in the Hurricane Sandy recovery effort in New York. All of which has been done without any publicity coming from his end. Here's Matthew Long, a retired New York firefighter, who lost his Breezy Point home in a fire discussing Richards' contributions... "Brad told me, 'I just...
As New York Ranger and New York Islander fans in the USA get ready to sit down for their Thanksgiving meal; we still have some hockey going on to talk about. Andrey Pedan (NYI 2011 3rd) and his Guelph Storm were not so very nice guests on the road against the Mississauga Steelheads for the Steelhead's annual "School Game". The Storm behind Pedan's 1-1-2 afternoon...
NHL News

Delivered to your inbox

You'll also receive Yardbarker's daily Top 10, featuring the best sports stories from around the web. Customize your newsletter to get articles on your favorite sports and teams. And the best part? It's free!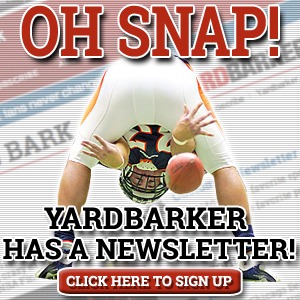 Latest Rumors
The Backyard

Today's Best Stuff

For Bloggers

Join the Yardbarker Network for more promotion, traffic, and money.

Company Info

Help

What is Yardbarker?

Yardbarker is the largest network of sports blogs and pro athlete blogs on the web. This site is the hub of the Yardbarker Network, where our editors and algorithms curate the best sports content from our network and beyond.