Found June 09, 2012 on The Prospect Park:
(courtesy NY Rangers) Looking back at the season that the New York Ranger prospects had during the 2011-2012 hockey season; there is very good reason to be positive about the future. For the first time since the 1990s the New York Rangers can say that they have some talented players working their way towards that Ranger uniform.
It was a very good year for Gordie Clark and his staff of scouts as the players that they picked showed some very good potential that's going to help the Rangers hopefully for years to come.
Shane McColgan (2011 5th)
- McColgan despite an 18-48-66 season one could say that his season was a disappointment. The one thing that the 5th round draft pick has to show more than any other round is forward progress and a strong case can be made that McColgan actually wound up with a backwards type year.
(Kelowna Rockets) While McColgan was the leading scorer for the Kelowna Rockets, a couple of things really stood out. The first was that McColgan had way too many goalless droughts of five games or more (5 of them including a 10 and 11 game droughts).
The other was that McColgan only had one multi goal games the entire season along with just three game-winning goals. Those are not the kind of statistics you want your best player to be having.
Still McColgan winds up in a very good situation for next season after Kelowna trade him to the Saskatoon Blades. The Blades will be hosting the 2013 Memorial Cup so they have already qualified but more importantly McColgan will have a lot more support than he did in Kelowna.
McColgan's got a lot of work ahead of him this off-season, he has to hit the gym and put some muscle all over his body. He needs to be stronger because he is generously listed as being 5'9 170.
McColgan will also need to improve his defense as well as his forecheck. It will be can be an uphill battle for McColgan next season as the Rangers have plenty of forwards who are under 6 foot tall. Right now I would not offer McColgan a contract because I don't see forward progress and without it there is no potential for development.
(Blueshirts United)
Chris Kreider (2009 1st)
-there is not really a whole lot you can say about a prospect who wins an NCAA championship and then joins an NHL team for the playoffs where he sets a new NHL record for most goals scored in the playoffs before appearing in a regular season game (5).
Kreider proved that he belonged in the NHL by making his debut under such high expectations and in such a pressure filled atmosphere. Was it worth burning a year off his entry level contract; on one hand the answer has to be yes because Kreider reformed well.
The only concerns remaining now will start with the NHL and NHLPA working out a new collective bargaining agreement that does not cause any stoppage in the 2012- 2013 hockey season. I acknowledge that I don't trust Gary Bettman and the NHL to freeze the rosters in the event of the lockout and keep the Rangers from sending Kreider to the CT Whale.
My other concern is colored by my dislike of John Tortorella and how he handles young players. It doesn't give me great confidence when I watch first Michael Del Zotto then Derek Stepan struggled in their second year in the NHL.
I will be very happy to be wrong if it does not happen to Chris Kreider (or Carl Hagelin) but as a player; I don't think that the Rangers have anyone even close to Kreider's potential as a player.
If developed properly you're looking at at the very least a 30 goal scorer who can play first-line duty as a responsible two-way player. Chris Kreider has star written all over him but there is one area where Kreider must change how he works.
Chris Kreider needs to become more selfish, he needs to take the shot if he has it not defer to other players. The other thing is the number of shots a game as with Chris Kreider the more he shoots the greater the chances of him put up points.
At Boston College his numbers proved that when Chris Kreider had at least four shots a game that Boston College typically won the game and that Kreider wound up in some points. They may not be are shattering but in college hockey 23-22-45 in 44 games is nothing to sneeze about.
A star will be born.
(NY Rangers)
Danny Hobbs (2007 7th)
- there is always a part about doing this job that bluntly sucks and that is when you have to say somebody's just not good enough to earn a professional contract from the team that drafted him. Unfortunately that is the case with Danny Hobbs as for whatever reasons injuries, and being on really bad teams, or it just didn't click; Hobbs just does not have NHL potential.
Five years is a long time to cover somebody especially somebody who dealt with as much adversity as Danny did over the years. Never complained about his lot in life but always came back time after time to do the best he possibly could. It just seems like every time Danny would get going an injury would happen and it would just set him back.
Coming to a Blueshirt Season real soon
(HV71) The Rangers added
Jesper Fast (2010 6th)
and
Oscar Lindberg (trade)
just days after the Ranger season ended and it was good moves at both of these young prospects. They're two entirely different players but they have one thing in common and that is they both will be bringing an excellent work ethic with them.
Fast is going to be more entertaining of the duo as is the two way solid high energy player who if he was a baseball player would always that dirty uniform. A very good skater, not the biggest dog but not afraid to go into traffic or the corners in order to make a play.
While people are saying that Fast will be a role player for the Rangers; I'm going to disagree as I see a young man who still has an offensive upside that has not been tapped. Fast was a North American style player playing in Sweden and I think coming over to North America will bring out the best of the young forward.
(Skellefteå AIK) At least a year away in order to allow his body to mature but it's kind of scary thought adding another fast skater to the lineup.
Oscar Lindberg is not going win any scoring championship but Ranger fans are going to love that he likes to play a physical game. Don't let his size fool you as he can take somebody out with a very clean very hard bodycheck.will
The Rangers are bringing him over because he also happens to be one very good face-off center. In time I can see him taking over as the key defensive zone face-off specialist for the Rangers as well as the leader of the penalty killing units. The question is going to be how soon can he adjust to North American game.
Original Story:
http://feedproxy.google.com/~r/ThePro...
THE BACKYARD
BEST OF MAXIM
RELATED ARTICLES
Over the next few weeks leading into free agency, we will be looking at the Rangers UFAs and RFAs and analyzing their contribution to the team, potential asking price, and potential future with the Rangers organization. In typical BSB fashion, we like to kick things off with the player that brings up the most debate in regards to keeping him. That player, of course is John Mitchell...
From Katie Strang of ESPN: #NYR Told there has been "progress" in contract talks btwn Rangers and goaltender Martin Biron. Had good year, works well with Lundqvist — Katie Strang (@KatieStrangESPN) June 7, 2012 Marty Biron, age 34, played in a total of 21 games during the 2011-12 regular season, and in that time managed to post a record of 12-6-2. The Quebec...
Brandon Dubinsky was often one of the most commonly debated names on the New York Rangers, at least this season, here on the blog. The fan base is split fifty-fifty on number 17 and whether or not he should be playing as a Broadway Blueshirt in a few months from now or not. He was nearly traded to the Columbus Blue Jackets for Rick Nash just prior to the 2012 trade deadline during...
This, along with that of Henrik Lundqvist, will be the easiest of the player reviews to write.  Ryan Callahan had a breakout year with the New York Rangers during the 2010-11 season, reaching career highs in all statistical categories and really making a name for himself League-wide. I remember writing an article back on December 14 of 2010 on Callahan becoming the epitome of...
The 2011-12 season for the New York Rangers is unfortunately over. The fun, the passion and the excitement of this season is now behind us but a new excitement is coming, the off-season. But before we get to the off-season let's grade the season that we all had the pleasure to witness. The writers from [...]
Now it's time to grade the left wingers of the New York Rangers. We loved the heat our grade for John Mitchell brought to our comments section, it was great. But then again, hater's who consistently hate on one name will always go after guys like Mitchell, especially in New York. And yes, for the [...]
Assuming Brandon Dubinsky is indeed available, Thursday's news of David Jones being rewarded with a new four year, $16m contract from the Colorado Avalanche may make Brandon Dubinsky's contract more appealing to potential suitors. Dubinsky stumbled through a miserable campaign in 2011/2012 with a mere 34 points, a full 20 points and 14 goals less than the previous year where...
For the last four and a half years, I have put my heart and soul into The New York Rangers Blog. I've bled blue all over this blog and it has been an honor to cover the Blueshirts on this platform.I started this blog because I felt that Rangers fans deserved a place where they could go to find out everything about their Blueshirts.And from Day 1 in November of 2007, when I had...
The New York Rangers are scheduled to select 28th overall in the June draft (barring a trade for Rick Nash) meaning they will make their first pick later than they have since 2002, when New York selected center Lee Falardeau 33rd overall out of Michigan State. By pick number 28, all of the "can't miss" prospects will be long gone and there won't be a whole lot of top talent...
In an effort to bring you all the best and the brightest opinions on Rangers prospects and the coming NHL draft, we decided to reach out to friend of the blog Jess Rubenstein. For those of you who aren't familiar, Jess runs a highly regarded draft/prospect analysis website called The Prospect Park. Unlike most websites that track this aspect of hockey, Jess actually writes his...
(Courtesy NY Rangers) The 2011-2012 prospect season for the New York Rangers clearly belonged to the 8 forward prospects playing in North America. It was the best of times and then it became even better times by the time the season ended. It was a year full of surprises as well as a year of champions. Ranger prospects almost pulled off a hat trick of national championships...
Don't laugh, don't get angry, don't ignore the rest of the post. I'm serious on this one. Michael Rozsival could be a good temporary solution to the defensive depth issues we saw during the Rangers playoff run this year. His name brings out the boo birds at MSG, and to be honest, it's easy to see why. Many looked at his contract, that $5 million per year contract, and saw...
Rangers News

Delivered to your inbox

You'll also receive Yardbarker's daily Top 10, featuring the best sports stories from around the web. Customize your newsletter to get articles on your favorite sports and teams. And the best part? It's free!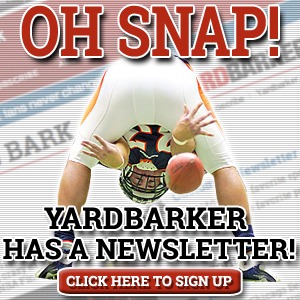 Latest Rumors
The Backyard

Today's Best Stuff

For Bloggers

Join the Yardbarker Network for more promotion, traffic, and money.

Company Info

Help

What is Yardbarker?

Yardbarker is the largest network of sports blogs and pro athlete blogs on the web. This site is the hub of the Yardbarker Network, where our editors and algorithms curate the best sports content from our network and beyond.