Found January 31, 2013 on Queen City Sports:
Through six games of the Buffalo Sabres season we've Lindy Ruff's crew commit egregious errors in defensive zone coverage several times a game, in virtually every game.  More times than not these mistakes have ended up in the twine behind Ryan Miller, and Buffalo has dropped four straight contests as a result.  Are these missteps a sign of a team that is in a slump, and hasn't yet begun to play their best hockey?  Or are these mistakes part of what we should expect game in and game out from this team because they are simply mediocre? There are two ways to score in this league, you can use skill and outperform your opponent on a particular shift, or you can out work them and capitalize off of their mistake.  Every team is going to get beat by skill once and awhile, but far too often the Sabres have been victims of the latter instance.  It's also for that reason that I believe this team truly is better than what we've seen thus far, and at some point, even if it's too late, they'll turn it around. Jordan Leopold has had a rough start to 2013, can the veteran defenseman turn it around? Players like Jordan Leopold, and Tyler Myers, who we've seen have success in the past have at times looked lost picking up forwards in front of the net.  Toronto exposed the Sabres lack of defensive zone net coverage time and time again on Tuesday, and I'm sure everyone in the league has seen the video.  The blame does not fall solely on the defense either, centers Cody Hodgson, and Tyler Ennis in particular have struggled tying up their man in the slot as well.  You expect that kind of error from an eighteen year old like Mikhail Grigorenko once in awhile, but Hodgson is the number one center now.  It's time for he and Ennis to put the big boy pants on and take ownership of this team. It's not just the kids up front, the longest tenured Sabre, Jochen Hecht was brought back into the fold specifically for his effectiveness in his own end and on the penalty kill.  After looking sharp the first couple games of the season, even Hecht has succumbed to the mind numbing plague of mental mistakes affecting this team.  Watch the power play goal Alex Ovechkin scored against the Sabres from Sunday, Hecht was way out of position on the penalty kill and when the cross ice feed came to Alex, Jochen was too slow rotating over into the shooting lane.  He was also guilty of the same sloppiness in coverage during the loss to Toronto as well. I'm not trying to single out individual players, because it's everyone, even down to Ryan Miller who has let in a few uncharacteristically soft glove side goals the past two games.  But because it's everybody it lends me to believe this team is just in a slump, they can't all be this bad can they?! Of course not, the question isn't IF they can turn it around, it's when? With only 42 games left on the schedule Buffalo can ill afford a prolonged stretch of losing.  Perhaps a date with the Bruins, the team that really took the wheels out from under the Sabres last year, is precisely what the doctor ordered to get this team on the right track.  Because if not now….when? All Images Courtesy of Getty Images North America Twitter @SabreHess The post Losers of 4 Straight, Slump or Mediocrity? appeared first on Queen City Sports.
Original Story:
http://queencitysports.net/nhl/losers...
THE BACKYARD
BEST OF MAXIM
RELATED ARTICLES
from Mike Cole of NESN, Sabres head coach Lindy Ruff called a timeout with just 13.6 seconds to play and his team leading 7-4. Ruff defended the move by saying he didn't like having Lane MacDermid, a noted fighter, lined up against one of his own skill guys. So, he called timeout and changed things up, which involved sending John Scott over the bench to keep the peace...
The Bruin's 7-4 loss last night to the Sabres didn't sit well. Neither did Lindy Ruff taking an unnecessary timeout with 15 seconds left up three goals. So here's a video of Cam Neely kicking the **** out of him back in the day. Go B's. @LiamPCunningham
BOSTON — Many thought Thursday night's Bruins-Sabres game would begin with some fireworks and controversy. However, it was what happened in the game's final seconds that have some people talking. Sabres head coach Lindy Ruff called a timeout with just 13.6 seconds to play and his team leading 7-4. Ruff defended the move by saying he didn't like having Lane MacDermid, a noted...
The Buffalo Sabres got tougher this offseason, and many think that has to do with the defending Northeast Division champion Bruins, who the Sabres continue to chase. Buffalo isn't just chasing Boston in the standings, though. They also proved last season that they also lack the toughness that has become one of the Bruins' best traits. The Sabres were criticized far and wide for...
Thursday night's game between the Bruins and the Sabres may not have gone how most people predicted. This includes not only the score of the highly offensive game, but the bad blood between these two teams as well. The result of the game was a 7-4 win for Buffalo, and an angry and offended Brad Marchand. But Marchand wasn't angry with a Buffalo player, but rather the man...
"Yeah, [Lindy Ruff] wants to be a big shot, and that's not the best play to do.  That's pretty disrespectful.  If he wants to be like that, that's fine. We just have to move on." - Brad Marchand, after Ruff called a timeout with 14 seconds left in last night's 7-4 Buffalo win over Boston. I don't know about you, but I'm certainly relieved.  It's good...
The Bruins and Sabres didn't like each other very much a season ago, and chances are, the Sabres are still pretty unhappy with a few members of the Black and Gold. Last year, the teams fought a total of six times. The B's fought the Flyers more times (eight) last season, but with five matchups against Buffalo during this year's 48-game schedule, things can get pugilistically chaotic...
Tuesday night didn't end well. Ryan Miller allowed a pair of questionable goals and there were some struggles from various players on the roster. However, Tuesday's overtime loss to the Leafs was followed by a 7-4 win over the Bruins. Thomas Vanek continued his Hart-worthy play with a five-point effort that was complimented by his first hat trick since 2011. Buffalo's defensive...
It seems as if each time the Boston Bruins face the Buffalo Sabres the rivalry between the two teams intensifies. In case you've forgotten what brought the rivalry to a boil back in 2011, here's a video reminder of the Milan Lucic hit on Ryan Miller. The two clubs still have plenty of anger brewing in 2013. When they squared off on the final day of January, the Sabres...
BUFFALO -- The Toronto Maple Leafs won in dramatic fashion over the Buffalo Sabres Tuesday night, 4-3, with Matt Frattin's late overtime winner. Frattin chipped the winner past Ryan Miller with just 1.5 seconds remaining in overtime. Frattin had two goals for the Leafs, including his overtime strike. On the goal, he drove past Sabres defenseman Jordan Leopold and went hard...
NHL News

Delivered to your inbox

You'll also receive Yardbarker's daily Top 10, featuring the best sports stories from around the web. Customize your newsletter to get articles on your favorite sports and teams. And the best part? It's free!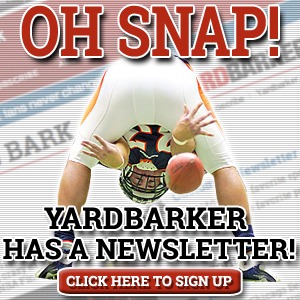 Latest Rumors
Best of Yardbarker

Today's Best Stuff

For Bloggers

Join the Yardbarker Network for more promotion, traffic, and money.

Company Info

Help

What is Yardbarker?

Yardbarker is the largest network of sports blogs and pro athlete blogs on the web. This site is the hub of the Yardbarker Network, where our editors and algorithms curate the best sports content from our network and beyond.