Found November 06, 2011 on Race Review Online:
I've written about it before and hoped to have gotten it all off of my chest.  But it features so prominently as a symptom of the psychosis linked to Leaf fans. What is it?  The Short Term Memory. For Saturday's game against the reigning Stanley Cup champions at the ACC, Ron Wilson and company opted to sit Luke Schenn out as a healthy scratch for the first time this season in favour of Cody Franson. I can completely understand this decision.  I will be the first to admit that Schenn's play has left a whole lot to be desired to start this season.  For some reason, Schenn doesn't handle the puck as if it's a puck.  He's been handling it as if it's a stick of TNT.  He seems more content to play a game of hot-potato than hockey. However, all this talk of Schenn not being the franchise player we all thought he would be and all of the speculation as to what Burke could fetch in a trade for him is complete nonsense. It's that damn Short Term Memory coming into play again. Last week, Cody Franson was its victim.  Cody has barely played to start the year and when he's been in, he hasn't really had any positive impact on the ice.  Suddenly, the man who everyone was fawning over in the off-season as a future stud d-man was being tossed around in speculative trade scenarios by everyone and their grandmother. This week, Luke Schenn is its victim. Over the summer, Schenn signed a rather hefty five year deal paying him $3.6 million each season.  Is the pressure getting to him?  It's possible.  But keep in mind, he's been a $3 million cap hit since playing his way on to the team in his rookie campaign.  I don't personally believe that the extra $0.6 million per year is what's ailing him. I'm more inclined to think that Luke just isn't used to other players out-playing him.  Phaneuf, Gunnarson, Liles, and Gardiner have clearly been their best defensemen.  The play of Komisarek, Schenn, and Franson has been nowhere near that of their fellow defenders. However, we have seen a little bit of this before.  His start to the year reminds me of exactly what he went through in his sophomore campaign.  It must be difficult on such a young defenseman to go from playing 22 minutes per night last year to 14 minutes and plummeting this year.  It's all about confidence for Luke.  He's not used to playing on the third pairing, plain and simple. Now don't get me wrong, this is not to be used as an excuse for his poor play.  But it's definitely a contributing factor. At the end of the day, if each person who is a part of either the rabid fan-base or blood-thirsty media horde would take 10 seconds to recall exactly how dominant a force Luke has shown he can be, no one would be having these discussions right now and I woudn't have to have written this article. But that's never going to happen.  Things are never going to change.  It is not pessimism, it is the only conclusion one can land on given the infinite availability of empirical evidence shown day by day in Leaf land.  The conclusion itself? That no Toronto Maple Leafs fan or media contributor's memory has the capacity to recall any Leaf-related event beyond the span of the most recent 60 to 65 minutes plus shootout of hockey played. It's unfortunate, but all too often true. The positive side of this is the fact that Luke has dealt with this situation before, as I stated earlier.  A few growing pains now will yield fantastic results in the long term.  Schenn's body of work dictates this to be true.  Those few of us that have the capacity to recall his body of work beyond the last game played take comfort and solace in this fact. So, for the time being, Schenn-critics, my message to you is simple: Shut it down.
Thanks for reading!
Original Story:
http://sports-at-work.com/20111106621...
THE BACKYARD
BEST OF MAXIM
RELATED ARTICLES
The Toronto Maple Leafs has been a curious case this season in regards to special teams. The Northeast Division leader has been without its No. 1 goalie in James Reimer since Oct. 22, and are dead last in the penalty kill in the NHL at 70.9 percent success rate. The Maple Leafs rank last in the penalty kill so far this season. But they've been able to hold up well...
Hello Tim, the guy from the Tim Horton's Ad I dressed up as for Halloween,   Special thanks to @DasNordlicht91 and @kid_kawartha for the still. I'm sorry if my costume was offensive. It was kind of an inside joke with me and the other Leafs guys.  They kept buying me Tim Horton's coffee (even though I don't really drink coffee) and asking me about a BELT...
The Toronto Maple Leafs will be without Tim Connolly for up to two weeks after the veteran center suffered an upper-body injury in Saturday's one-sided loss to the Boston Bruins.Connolly missed practice on Monday, and afterward head coach Ron Wilson confirmed the injury and recovery timetable.He wouldn't say if it was the same ailment that caused Connolly to sit out the first...
from Terry Koshan of the Toronto Sun, The $9.5-million US centre will be out of action for up to 10 days and possibly as long as two weeks, Leafs coach Ron Wilson said after practice on Monday. Connolly missed the first eight games of the season with a cracked bone in his shoulder. In six games, he has one goals and three assists. "He got an upper-body injury that is totally...
Welcome to Center Ice Chat's Top 5, an irregular series ranking performances this season. In this post, we take an unannounced look at the American Hockey League, the leaders on the stats sheets, and what it means for this NHL season. 5. Keith Aucoin, Hershey Bears (Washington Capitals) Keith Aucoin is the cousin of 39-year-old Phoenix Coyotes defenceman Adrian Aucoin...
Tyler Seguin's hat trick against the Toronto Maple Leafs on Saturday night might have been the first of his career. But given the talent that the 19-year-old has, it likely won't be his last. Seguin scored his fifth, sixth and seventh goals of the season in the 7-0 rout. And each of Seguin's goals was unique, though he gave a great deal of credit to his linemates. NESN...
The Maple Leafs were without Tim Connolly at Monday's practice. The Leafs forward suffered an upper body injury during Saturday's game and will be lost from 10 days to two weeks. "He got hurt during the first penalty kill and ...
Tyler Seguin showed yet again why he's a force to be reckon with in the National Hockey League. The sophomore player, going into Saturday's game against the Toronto Maple Leafs with four goals and seven assists in 11 games, netted a hat trick. It was his first of probably many more to come. He scored them first to get the Bruins up 1-0 at 06:23 into the first period...
Boston 1 4 2--7 Toronto 0 0 0--0 First Period--1, Boston, Seguin 5 (Peverley, Bergeron), 6:23 (pp). Penalties--Crabb, Tor (holding), 5:13. Second Period--2, Boston, Seguin 6 (Bergeron), :34. 3, Boston, Lucic 5 (Chara, Krejci), :42. 4, Boston, Seguin 7 (Bergeron, Marchand), 15:01. 5, Boston, Krejci 2 (Lucic, Ference), 15:15. Penalties--Lucic, Bos (high-sticking), 15:44. Third Period...
Maple Leafs center Tim Connolly is expected to be sidelined 10 to 14 days because of an upper-body injury.
Maple Leafs News

Delivered to your inbox

You'll also receive Yardbarker's daily Top 10, featuring the best sports stories from around the web. Customize your newsletter to get articles on your favorite sports and teams. And the best part? It's free!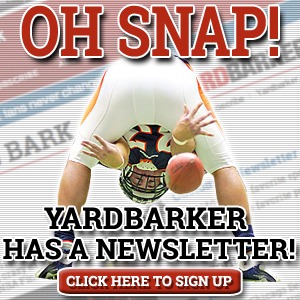 Latest Rumors
Best of Yardbarker

Today's Best Stuff

For Bloggers

Join the Yardbarker Network for more promotion, traffic, and money.

Company Info

Help

What is Yardbarker?

Yardbarker is the largest network of sports blogs and pro athlete blogs on the web. This site is the hub of the Yardbarker Network, where our editors and algorithms curate the best sports content from our network and beyond.