Found January 31, 2013 on Boston Sports Then & Now:
PLAYERS:
Lane Macdermid
,
Claude Julien
,
Chris Bourque
,
Daniel Paille
,
Chris Kelly
,
Rich Peverley
,
Milan Lucic
,
Ryan Miller
,
John Scott
TEAMS:
Boston Bruins
,
Buffalo Sabres
,
New York Rangers
Lane MacDermid will make his return to the Bruins' lineup tonight as they take on the Sabres at TD Garden. Through six games, the third line of the Bruins has done next to nothing for the team offensively. They have combined for no goals and just two points in just over 15 minutes of ice time per game. So, it's time to shake things up. For that reason, coach Claude Julien has made his first performance-related move of the season as the team will designate Chris Bourque as a healthy scratch tonight when the team takes on the 2-3-1 Sabers at TD Garden.   In six games so far this season, Bourque has contributed just three shots in 96 shifts while not really adding to the second unit of an already struggling power-play. His line of 0-0-0 is not exactly getting it done.   Tough guy Lane MacDermid will be inserted into the lineup tonight and Daniel Paille will take Bourque's place on the third line to the left of Chris Kelly and Rich Peverley. On the first shift of his NHL career last season, the 6-foot-3, 205-pound MacDermid dropped the gloves with notorious tough guy Mike Rupp of the New York Rangers and his toughness will potentially have a chance to be on display tonight as Buffalo is still a bit upset about the incident involving Milan Lucic and their goalie Ryan Miller last season. Buffalo's John Scott said after his team's skate this morning that "it's fun playing against physical teams." MacDermid certainly adds to the physicality of the Bruins.   Julien said this morning that Bourque had been "putting too much pressure on himself" and that "you're going to see a much more efficient player than he's shown so far."   He also added that he does not like holding healthy scratches like MacDermid out for long periods of time. Bourque, Kelly and Peverley had averaged 15:11 of ice time in the first six games of the shortened season and Bourque accounted for just 12:18 of that total time.   Bourque will be watching the game from high above the Garden ice, not far from where his father's No. 77 hangs in the rafters. In three years in the NHL, he has just one career goal and is minus-10, but had not played in the NHL since 2010 before Boston traded for him prior to the start of the season. The 5-0-1 Bruins, in the midst of their best start since 1970-71, open Northeast Division play tonight against the  Sabres.   Follow me on Twitter @RealAndyLarmand.
Original Story:
http://boston.sportsthenandnow.com/20...
THE BACKYARD
BEST OF MAXIM
RELATED ARTICLES
BOSTON — The Bruins are a defensive team with a defensive-minded coach who has instituted a system rooted in playing defensive hockey. If you watched the Bruins play the Sabres on Thursday night, though, you would think those statements are nothing more than bold-faced lies. The B's had by far their worst showing of the year Thursday in a 7-4 loss to Buffalo. It was an uncharacteristically...
With the (at least temporary) departure of Tim Thomas, Tuukka Rask is making the most of his opportunity to prove he's a true No. 1 goaltender. The netminder has started five of the Bruins' first six games this season and has yet to lose, compiling a 4-0-1 record and a very impressive .932 save percentage in the process. Of course, given the Bruins' tight defensive system,...
Tyler Seguin scored two shootout goals in Boston's 2-1 victory over New Jersey. Unfortunately for Seguin, only one actually counted as the first was waved off after a fan tossed a piece of debris on the ice as he was shooting. While the trash didn't appear to interfere with the play, Seguin had to take his shot over again. He buried it - again - much to the delight of the...
    A.B. As a dog lover I truly believe they are man's best friend. Dogs are loyal and loving and are happy to see you every time you come home. That being said, dogs can also be bastards. Sometimes they rip apart your couch, sometimes they eat their own poop and sometimes they just won't leave you alone. But Tyler Seguin's brown lab has taken being a "bad dog' to...
Bruins goaltender #40 Tuukka Rask has been outstanding in the #1 role this season The Boston Bruins have gotten off to an excellent start in the lockout shortened 2012/13 season. Having only lost one game in overtime and none in regulation; the B's have been performing at level similar to that of their Stanley Cup run in 2011. Here are six thoughts in reference to their start to...
BOSTON — The anticipation and the build-up leading into Thursday night's Bruins-Sabres game was undeniable. Much of that surrounded the possibility of some hand-to-hand combat between two increasingly bitter rivals. However, not much came of that, aside from one quick first-period scrap that might leave the Bruins without one of their toughest players moving forward. Shawn Thornton...
Tyler Seguin turned 21 on Thursday, and he celebrated by playing against the Buffalo Sabres. He also celebrated with 200,000 or so of his closest friends on Twitter, with hundreds and hundreds of fans sending along well-wishes and the occasional marriage proposal. NESN Nation's Dan Duquette dove into the Bruins forward's mentions to find some of the best. Check it out in the...
  It's been a while since Ace Reporter and DOY GM has made a public appearance. He took an extended vacation during the NHL Lockout and barely gave us the keys to DOY HQ for work. But he's back in town and just in time. Last night some asshat threw debris on the ice during Tyler Seguin's shootout attempt. The reffs ruled that Seguin had to do it again. Luckily...
It seems as if each time the Boston Bruins face the Buffalo Sabres the rivalry between the two teams intensifies. In case you've forgotten what brought the rivalry to a boil back in 2011, here's a video reminder of the Milan Lucic hit on Ryan Miller. The two clubs still have plenty of anger brewing in 2013. When they squared off on the final day of January, the Sabres...
The Boston Bruins knew they weren't going to earn a point in all 48 games this season, though the fashion in which their streak ended was a bit discouraging. That's quite the opposite feeling they had after each meeting with the Toronto Maple Leafs last season. Boston heads to Toronto looking to get back to its winning ways with a seventh consecutive victory in this series...
Awful. Just awful. We didn't expect the Bruins to go undefeated obviously but damn that was awful. If the Maple Leafs scouts only saw that game, not even they would trade for any of the Bruins defense. That game was the worst thing I've watched since Pearl Harbor. By comparison, Pearl Harbor is one of the greatest films of our time. I am too mad at the Bruins defense to even...
"Yeah, [Lindy Ruff] wants to be a big shot, and that's not the best play to do.  That's pretty disrespectful.  If he wants to be like that, that's fine. We just have to move on." - Brad Marchand, after Ruff called a timeout with 14 seconds left in last night's 7-4 Buffalo win over Boston. I don't know about you, but I'm certainly relieved.  It's good...
NHL News

Delivered to your inbox

You'll also receive Yardbarker's daily Top 10, featuring the best sports stories from around the web. Customize your newsletter to get articles on your favorite sports and teams. And the best part? It's free!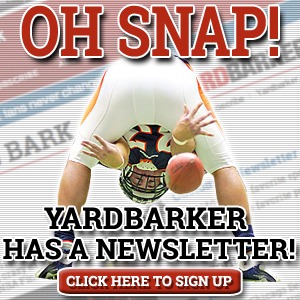 Latest Rumors
The Backyard

Today's Best Stuff

For Bloggers

Join the Yardbarker Network for more promotion, traffic, and money.

Company Info

Help

What is Yardbarker?

Yardbarker is the largest network of sports blogs and pro athlete blogs on the web. This site is the hub of the Yardbarker Network, where our editors and algorithms curate the best sports content from our network and beyond.