Found February 15, 2013 on NESN.com:
About once or twice every year, NHL fans emphatically agree on one or two pressing issues. One of those issues is that it's time to kick Matt Cooke out of the NHL once and for all. Cooke's recent antics with the Senators are just one of many on his disgusting resume. From blind-side elbows to leg checks to cowardly hits from behind, the Penguins' winger has done it all, and then some. It didn't all start with Marc Savard and it won't end with Erik Karlsson. For those reasons and more, Senators owner Eugene Melnyk recently decided to take a stand. "[Cooke] should be kicked … He doesn't belong in the league. He belongs somewhere where the goons play," an emotional Melnyk told The Ottawa Sun. "Get him in the Central league. He can be a $60,000-a-year guy playing pick-up hockey there. "The guy does not deserve … He's got one purpose. I remember when this happened with [Jason] Spezza. I said, 'If these are the rules, I just want to know.' We'll play with the same rules. Make sure y
Original Story:
http://nesn.com/2013/02/matt-cookes-d...
THE BACKYARD
BEST OF MAXIM
RELATED ARTICLES
Today, the discussion on twitter and around the hockey blogsphere is the hit that Matt Cooke put on Erik Karlsson.  You can see the hit on the embedded video posted above. The NHL's department of Player Safety has reviewed the play and will not suspend Matt Cooke. First, I hate Matt Cooke, I think he is a disgusting P.O.S. and if this guy was hurt in a fight or by a check...
Penguins forward Matt Cooke is known for his dirty hits, this hit, however is not a dirty or a malicious hit. Hockey is a physical sport and injuries happen from time-to-time.
Pittsburgh Penguins winger Matt Cooke has always had a reputation for being a dirty player. Once again, he finds himself at the center of a controversial play that has resulted in serious injury for an opponent. During a win over the Ottawa Senators on Wednesday night, Cooke threw what appeared to be a clean hit on Ottawa's Erik Karlsson, but the replay revealed that it was more...
SHADY MOVE
Ottawa Senators defenseman Erk Karlsson had his Achilles' tendon cut by Pittsburgh's Matt Cooke. Did Cooke injure him intentionally?
By now you've undoubtedly seen the footage of Senators star defenseman Erik Karlsson suffering a terrifying laceration to his left Achillies tendon. If not, well, that's what we're here for: He suffered the injury battling for puck possession along the boards with Pittsburgh forward Matt Cooke. Yes, that Matt Cooke, former bad boy extraordinaire and bane of the NHL...
Matt Cooke reached out to Erik Karlsson and apologized for the freak, disturbing injury that likely ended the young defenseman's season. As seen in a report by the Winnipeg Sun, Cooke texted Karlsson but wasn't sure if the young star would respond to his apology.  Cooke's apology comes a day after Ottawa Senators owner Eugene Melnyk stated he didn't believe...
One night after Senators defenseman Erik Karlsson was found guilty of submitting a "Dive of the Year" candidate, he suffered what looks to be a pretty serious injury.  Karlsson and Pittsburgh's Matt Cooke battled for the puck in the corner when, as the video shows, Cooke seemed to bring his skate down hard on the back of Karlsson's left ankle. Karlsson immediately fell...
On Saturday Night's Coach's Corner, Don Cherry weighed in on Ottawa Senators defenseman Erik Karlsson's torn Achilles' tendon at the hand...I mean foot of Pittsburgh penguins forward Matt Cooke, and Cherry actually defended Cooke, suggesting instead that Karlsson was at fault for not taping his skate to his ankle:
Last night Matt Cooke made yet another controversial hit to an NHL star. This time his target was well below the head. While driving Erik Karlsson into the boards his skate caught the back of Karlsson's leg and ended Karlsson's and the Senator's season. Ouch. That's painful. Karlsson needs surgery. Who knows when he'lla ctually be back. It really...
Devastating news for the Ottawa Senators as Erik Karlsson was lost indefinitely after Matt Cooke's skate lacerated his Achilles tendon in what is probably one of the more painful injuries in all of sports. The injury came in the second period between the Senators and Penguins as both Karlsson and Cooke were heading over to [...]
Tonight's NHL action was focused mainly on the Pittsburgh-Ottawa game. Some NHL GIFs: Erik Karlsson of the Ottawa Senators fell victim to what appears to be an unintentional injury from the skate of the Penguins' Matt Cooke. It was later revealed that Karlsson suffered a lacerated achilles tendon that will require surgery to repair and his length of recovery is indefinite. Also...
NHL News

Delivered to your inbox

You'll also receive Yardbarker's daily Top 10, featuring the best sports stories from around the web. Customize your newsletter to get articles on your favorite sports and teams. And the best part? It's free!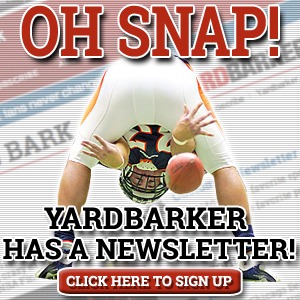 Latest Rumors
Best of Yardbarker

Today's Best Stuff

For Bloggers

Join the Yardbarker Network for more promotion, traffic, and money.

Company Info

Help

What is Yardbarker?

Yardbarker is the largest network of sports blogs and pro athlete blogs on the web. This site is the hub of the Yardbarker Network, where our editors and algorithms curate the best sports content from our network and beyond.