Found March 04, 2012 on Rob The Hockey Guy:
In case you haven't noticed, Max Lapierre is having one heck of a season. Lapierre, who was picked up a year ago at the trade deadline, has brought an element needed to the Canucks. Early on this season, Lapierre filled-in nicely centering the third line while Ryan Kesler was injured and Manny Malhotra was struggling to get his game back. After Kesler got back, Hodgson established himself and Malhotra improved, Lapierre settled in to playing on the wing on the fourth line. He has played in a lot of different spots all year, and excelled through all of them.
I feel like Lapierre is a guy that doesn't get talked about enough in Vancouver. He's also a guy that is still trying to shed his reputation as a rat and a diver. Aside from a couple of instances in last year's Stanley Cup final, I feel like he has done everything he can in that regard. Sure, he'll still get under the skin of the other team, but he's doing that with big body checks and tough play a lot more than yapping and diving. I'm sure that it'll take a lot longer for him to change his reputation in the eyes of most in the league, but for me, I see him differently.
With 6 goals and 7 assists, Lapierre won't set career highs in goals and assists this season. His career high came in 2008-09 when he had 15 goals and 13 assists with the Montreal Canadiens. But that season Lapierre played a much different role. Lapierre played a large portion of the season on the Habs' 3rd line, getting about 15 minutes of ice time per game. Compare that to his 11 minutes per game this season (much of which is spent killing penalties or on even strength beginning on faceoffs in the defensive zone), and you can see why Lapierre won't reach those numbers. But Lapierre's value to the Canucks extends far beyond goals and assists.
For starters, Lapierre has been a contributor on the Canucks penalty killing, which is currently 5th best in the NHL. He is also very reliable on faceoffs, winning 53% of his draws. Perhaps more importantly, Lapierre has been the most consistent physical presence on the team this season.
The hits stat is a flawed one (different arenas seem to define a 'hit' differently), but Lapierre's numbers are impressive nonetheless. Despite his ice time this season, Lapierre is first on the Canucks with 193 hits. That's more than 60 hits more than Kevin Bieksa, who sits in second place. It also places him ninth in the league among forwards.
Lapierre has also been in 7 fights this year, the most he has ever had in a season. He has done that while only being in the box for 10 minor penalties.
Max Lapierre is a great energy player for Vancouver. Look no further than his momentum shifting shift against the Buffalo Sabres on Saturday night, where he hit everything that moved. Nothing, short of a goal, got the normally quiet crowd at Rogers Arena riled up more than that shift. He is a very important player for the Canucks and he's the type of guy that should elevate his game in the playoffs. Quite simply, he the Canucks' unsung hero.
Original Story:
http://www.robthehockeyguy.com/2012/0...
THE BACKYARD
BEST OF MAXIM
RELATED ARTICLES
It ain't me, it ain't me, I ain't no senator's son, son With apologies to Northwest Sports Beat colleague Riley Trottier, I'm going to rant. Cody Hodgson wanted out of Vancouver, on this there can be no debate. You can argue over the logic of the decision but the continued non-answers from Hodgson prior to the Sabres vs. Canucks game Saturday night is evidence enough that...
The Canucks three stars Big game tonight versus the Buffalo Sabres. Let's get you ready with the past week's Canucks 3 stars. FIRST STAR: Corey Schneider Cory Schneider was the first star in the Canucks game against New Jersey, where he made 30 saves and helped the Canucks win against one of the hottest teams in he second half of the seasons so far. Against Phoenix he made 34...
from Tara Carman of the Vancouver Sun, Vancouver Canucks anthem singer Mark Donnelly had tried almost every weight-loss plan in the book — Atkins, Weight Watchers, Jenny Craig and even the grapefruit diet — before he hit upon the one that enabled him to drop 172 pounds over the last year and a half. continued Video via GlobalTVBC,
Sabres vs Canucks Game Recap Did you miss the Buffalo Sabres vs. Vancouver Canucks Saturday night on Hockey Night In Canada? Boxscore | My Post Game Recap We've got the highlights for you. Sabres vs. Canucks highlights courtesy NHL.com. CLICK HERE CHECK OUT THE CANUCKS CLUBHOUSE TODAY AT NWSB! © NWSports "Q" for North West Sports Beat, 2012. | Permalink | No...
Wolfgang Amadeus Gragnani Quick what happened last Monday? I can't actually hear you but I'm assuming you said the Canucks traded Cody Hodgson for Zack Kassian, though you should never assume because it makes an ass out of you, especially when you got the trade wrong. Alex Sulzer, who you forgot existed until 3:30 pm Monday, was also shipped out in the deal for Marc-Andre Gragnani...
Puck drop was 7:05, NOT 7:10! The Buffalo Sabres broke out to an early lead on Saturday, taking advantage of a pair of point shots to allow Ville Leino to snap home his fifth and sixth of the season only minutes into the hockey game. The Vancouver Canucks couldn't keep the puck out of their own end in the first five minutes on Saturday, resulting in long night on the bench for...
Canucks host the playoff hopeful Stars The Vancouver Canucks were overdue for a dud performance and that is just what happened in their 5-3 loss on Saturday night to the Buffalo Sabres. Now the Canucks will try to get back in the win column against another desperate team fighting for a playoff position – the Dallas Stars on Tuesday night. CLICK HERE CHECK OUT THE CANUCKS BLOG...
Welcome Back "Why you've returned?" said the Canucks writer. Chuckling, the disgruntled Canucks fan and occasional reader replied, "Yes we forgive you for having an opinion on Cody. There really isn't a right or wrong answer as we can see just yet." "Well thank you!" the writer exclaimed graciously. Honey Badger don't care 'bout Mark Fistric When the Dallas...
What is up all you sexy Canucks fans? Are you over my COHO article yet? May I be freed from purgatory? Okay, okay, I get it. You just want a huge buttload of Canucks blog posts from across the interwebz. Done like dinner folks. Did you miss the Buffalo Sabres vs. Vancouver Canucks Saturday night on Hockey Night In Canada? Boxscore | Our Managing Editor "Q"'s  Post Game Recap...
Ville Leino scored twice in the first 3:44 and Ryan Miller made 32 saves to help the Buffalo Sabres beat the NHL-leading Vancouver Canucks 5-3 on Saturday night, spoiling Zack Kassian's first games against his former teammates. Kassian, dealt to Vancouver along with Marc-Andre Gragnani in exchange for Cody Hodgson and Alexander Sulzer at the trade deadline Monday, scored his...
It's not shocking that the Vancouver Canucks have a commanding lead atop the Northwest Division, but the fact that the Dallas Stars are contending for the Pacific Division title probably is a surprise. These teams meet three times within the next four weeks, starting with Tuesday night's matchup in Vancouver. The defending Western Conference champion Canucks (41-17-8) have...
This is the OPEN thread for the Sabres at Canucks gameday! Stop by and leave some comments. Remember if you make 100 posts (IN any amount of time) on our forums we'll ship you a Canucks hat from our team store! Puck Drop is at 7 Pacific and you can catch the action on CBC Hockey Night In Canada or Team 1040 Radio. Recent Trends Buffalo: BUF are 1-8 in their last 9 Sat...
NHL News

Delivered to your inbox

You'll also receive Yardbarker's daily Top 10, featuring the best sports stories from around the web. Customize your newsletter to get articles on your favorite sports and teams. And the best part? It's free!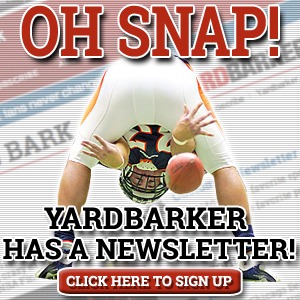 Latest Rumors
Best of Yardbarker

Today's Best Stuff

For Bloggers

Join the Yardbarker Network for more promotion, traffic, and money.

Company Info

Help

What is Yardbarker?

Yardbarker is the largest network of sports blogs and pro athlete blogs on the web. This site is the hub of the Yardbarker Network, where our editors and algorithms curate the best sports content from our network and beyond.