Found January 23, 2012 on The Rangers Tribune:
It's been nearly two months since defenseman Michael Sauer has played a game for the New York Rangers, and it looks as if the 24-year-old sophomore isn't as close to returning to the lineup as we thought he was a week ago. Sauer was concussed back on December 5 in a game against the Toronto Maple Leafs, when Dion Phaneuf caught him along the boards with a thunderous blow. Sauer left the game and would not return, and has been on the road to recovery ever since. 
Just last week Sauer began skating with the team in practice again, of course wearing a non-contact jersey as a precaution. The fact that he was on the ice gave the team hope that they would soon be getting one of their top four defenseman back around the time of the All-Star break. However, Sauer was kept off the ice Thursday and Friday for an unspecified reason, and one that the team wouldn't divulge much information on. 
Head coach John Tortorella claims that he has not heard of any setbacks in regard to Sauer's comeback, but did note that Michael has been working off-ice with trainer Jim Ramsey. This is odd, because as we saw with Marc Staal last month, once he hit the ice for practice, he did not come off of it. He was out there everyday until he eventually lost the non-contact jersey and then re-joined the lineup. 
If a concussed player is able to participate in practice with no symptoms appearing whatsoever, then it would not make sense to pull him off the ice and disrupt the most important time period during the recovery process. Now there's no real inside information to back this, but it does seem like there is something we are not being told about Sauer's situation. Before jumping to conclusions, however, we will have to wait and see if he again is held out of practice later today. If he is, then something's definitely up. 
I think Sauer's role on the Rangers often goes under the radar. He's a pretty important shutdown guy for this team that is very vocal out on the ice, so there's a big hole on defense when he is not playing. I personally love Sauer and what he brings to this hockey club, so it's been frustrating to watch him have to go through two injuries that have kept him sidelined for long periods of time this season. 
Plus, now with the Ryan McDonagh situation, we are not sure what we are looking at for the Rangers on defense. According to Brendan Shanahan's explanation video for Andrew Ference's suspension yesterday, the original reports were that McDonagh has not sustained any sort of serious injury, but the Rangers have yet to confirm. 
I guess that's just another question that will be answered during today's practice. 
Original Story:
http://www.rangerstribune.com/the-ran...
THE BACKYARD
BEST OF MAXIM
RELATED ARTICLES
Good news and bad news to share as a follow-up to this morning's article. Starting with the good news, defenseman Ryan McDonagh was on the ice for Rangers practice today and will play in tomorrow's game against the Winnipeg Jets at Madison Square Garden, according to Andrew Gross. McDonagh left Saturday afternoon's matinee in Boston during overtime after he was sent head...
… this is really tough and terrible news especially since he was progressing just a couple of weeks ago. This is the problem with concussions, they are very unpredictable when treating them.  Let's hope Michael continues to feel better and progresses in the coming weeks. His health is more important than him returning to the [...]
WHALE SIGN FORWARD RANDY McNAUGHT Six-Foot-Five, 221-pound Winger was Seventh-round Ranger Draft Pick in 2010 HARTFORD, January 23, 2012:  Connecticut Whale general manager Jim Schoenfeld announced today that the Whale has signed forward Randy McNaught to an American Hockey League contract. McNaught, a 6-5, 221-pound native of Nanaimo, B.C., comes to the Whale from the University...
In what was merely a formality, Christopher Botta at the New York Times reports that after staying in a hotel his first seven weeks with the Rangers, Carl Hagelin has been told by management to find a place of his own, a sign that he is likely to stay in the NHL for a while.On getting a permanent place..."I was hoping to play a few N.H.L. games this year," Hagelin said...
New York, January 24, 2012 – New York Rangers President and General Manager Glen Sather announced today that goaltender Chad Johnson has been recalled from the Connecticut Whale of the American Hockey League (AHL) on an emergency basis. Johnson, 25, has posted a 10-8-5 mark with a 2.64 goals against average, .910 save percentage and one shutout in 25 appearances with Connecticut...
The Rangers battled a team today that almost mirrors themselves.  Everyone, fans included, knew that today's game was a big one. You have the number one team battling the number two team.Bostonhas the gritty, physical advantage, the Rangers have the skill set advantage.  There was no doubt in my mind that this would be an [...]
The New York Rangers are back in action tonight to take on the Winnipeg Jets at Madison Square Garden before taking a few days off for the NHL All-Star break. The Blueshirts are coming off a big 3-2 overtime victory over the Boston Bruins thanks to a goal from Marian Gaborik. It was the Rangers' 30th win of the season and as it stands right now, the team is tied for first in the...
During Brendan Shanahan's video announcing the three game suspension of the Bruins Andrew Ference for a hit from behind on Ryan McDonagh, the NHL's Senior Vice President of Player Safety and Hockey Operations notes that despite having to leave Saturday's game all reports have indicated that there are no apparent injuries to McDonagh....assuming we'll hear more after...
Norfolk Admirals 5, Connecticut Whale 4 (SO) By Brian Ring Hartford, CT, January 21, 2012 - The Connecticut Whale were defeated by the Norfolk Admirals, 5-4 in a shootout, Saturday night at the XL Center before a crowd of 5,557. Scott Tanski scored twice for the Whale and Kelsey Tessier added two assists, but it would not be enough to surpass the Admirals. The Admirals scored...
Marian Gaborik scored his second goal of the game on a power play with 3.6 seconds left in overtime, lifting the New York Rangers over the Boston Bruins, 3-2, on Saturday. The Bruins played the last three-plus minutes of overtime shorthanded after Andrew Ference's major and game misconduct for charging on Ryan McDonagh. Still, they were able to keep the Rangers out of the net...
Game 47. Last game before the all-star break. Josh Thomson, 26, is covering the game. Ya boys, tied for first in the East with the Bruins, come off that huge win in Boston Saturday. They are 3-3 in their last six, alternating losses and wins, and 13-4 in their last 17 games. Same lineup. Henrik Lundqvist starts in goal with call-up Chad "Ochocinco" Johnson as his backup...
NHL News

Delivered to your inbox

You'll also receive Yardbarker's daily Top 10, featuring the best sports stories from around the web. Customize your newsletter to get articles on your favorite sports and teams. And the best part? It's free!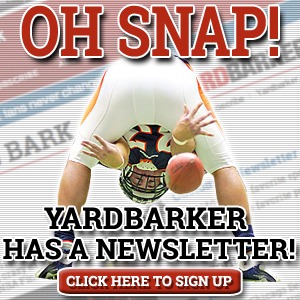 Latest Rumors
Best of Yardbarker

Today's Best Stuff

For Bloggers

Join the Yardbarker Network for more promotion, traffic, and money.

Company Info

Help

What is Yardbarker?

Yardbarker is the largest network of sports blogs and pro athlete blogs on the web. This site is the hub of the Yardbarker Network, where our editors and algorithms curate the best sports content from our network and beyond.