Found September 17, 2012 on Kukla's Korner:
Gary Bettman has been the NHL's boss for almost 20 years. He was hired by the NHL to bring the salary cap, and so he did, as he had received the salary cap NBA Basketball: acquisition. Twice the lockout has been a stoppage during his reign, and each time the lockout is done. Now it is the third! He is certainly the NHL's most hated person. For every NHL team's arrival at the hall throughout the hall buuaa and show her mind. Yes fans to know! He makes himself more than eight million dollars a year. Would Mr. Bettman willing to give up their salary and give part of it to these "poor" teams? Hmm ... interesting question. -Teemu Selanne at the blog Salama. More (translated from Finnish as is the above) from Selanne. thanks to Dmitry Chesnokov for the pointer via Twitter.
Original Story:
http://kuklaskorner.com/hockey/commen...
THE BACKYARD
BEST OF MAXIM
RELATED ARTICLES
from Michael Grange of Sportsnet, Every single contract an NHL player signs has a stamp of Gary Bettman's signature along the bottom of it. Every contract that has come to life in the past seven years carries his legal mark of approval. But over the seven-year life of Bettman's masterpiece, the CBA that expired at 11:59 p.m. Saturday night, all those contracts -...
  This time next week I should be in Nashville at a Predators/Hurricanes pre-season game. Am I fan of either team? No. Do I care? No. I want hockey. We all want hockey. We've been waiting for June for the sport to come back, attending prospect camps and kids' games and crossing off every calendar day until September 15th, praying that the CBA get resolved. Just hoping...
NHL commissioner Gary Bettman listens as he meets with reporters after a meeting with team owners, Thursday, Sept. 13, 2012 in New York. The current collective bargaining agreement between the league and the players expires Saturday at midnight. (AP Photo/Mary Altaffer) NEW YORK (AP) — NHL Commissioner Gary Bettman maintains the league will lock out [...] [[ This is a content...
Die bettman. Die. Just die. Just DIE. — autumn(:(@autumncierraa) September 16, 2012 Like I mentioned in an earlier blog post, Angry NHL Fans is a twitter account that I monitor because whenever something big happens in the NHL there are always going to be fans that are upset with something... Here is a snap shot of the fans that are unhappy with the NHL lockout... ...
Back in 1992, hockey superstar Mario Lemieux gave the NHL a label that has held up nicely for two decades: Garage League.Lemieux made that harsh assessment while complaining about the league's hapless officiating. But Garage League has become a handy catch-all phrase to cover all aspects of NHL failure.Some things have changed over time. Lemieux, for instance, moved from the ice...
For those of you not up to speed regarding the 2012 NHL lockout, let this handy video from the folks over at Next Media Animation be your guide to learning more about it. Also, Gary Bettman with a chainsaw...Gary Bettman with a chainsaw....
The Hockey Program mailbag session continues with another question sent by Captain Spaulding (@midtnweather) via Twitter.  Spaulding asks, "Is there any chance of a lockout being cancelled?".Gary Bettman, Commissioner of the National Hockey League. Yes there is a chance that the NHL lockout can be lifted. Right now, the current Collective Bargaining Agreement is set to expire...
The Toronto Sun's Steve Simmons offers many lockout-related thoughts in his Sunday column, but his main thrust involves the fact that while both the NHL and NHLPA shoulder blame for the third lockout of a certain owners' commissioner's regime, the true Chairman of the Board has clearly mastered the villain's role: Almost every time Gary Bettman opens his mouth...
NEW YORK (AP) -- With only hours until a threatened NHL lockout, the league and the players' union appear no closer to a deal. For nearly a year, NHL Commissioner Gary Bettman has vowed to lock out players for the second time in eight years if a new collective bargaining agreement isn't reached by the time the current one expires at midnight EDT Saturday. NHL deputy commissioner...
The NHL locked out its players at midnight Saturday, becoming the third major sports league to impose a work stoppage in the last 18 months. The action also marks the fourth shutdown for the NHL since 1992, including a year-long dispute that forced the cancellation of the entire 2004-05 season when the league held out for a salary cap. The deal which ended that dispute expired...
Ducks News

Delivered to your inbox

You'll also receive Yardbarker's daily Top 10, featuring the best sports stories from around the web. Customize your newsletter to get articles on your favorite sports and teams. And the best part? It's free!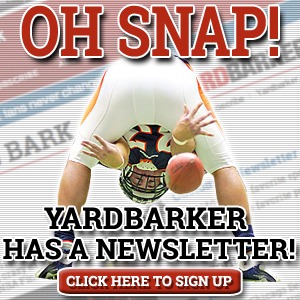 Latest Rumors
Best of Yardbarker

Today's Best Stuff

For Bloggers

Join the Yardbarker Network for more promotion, traffic, and money.

Company Info

Help

What is Yardbarker?

Yardbarker is the largest network of sports blogs and pro athlete blogs on the web. This site is the hub of the Yardbarker Network, where our editors and algorithms curate the best sports content from our network and beyond.