Found August 30, 2012 on Blue Seat Blogs:
PLAYERS:
Ed Snider
,
Steve Eminger
,
Erik Christensen
,
Stu Bickel
,
Dan Girardi
,
Carl Hagelin
,
Chris Kreider
,
Rick Nash
,
Evgeni Malkin
,
Shane Doan
,
Henrik Lundqvist
,
Alexei Kovalev
,
Michael Del Zotto
TEAMS:
New York Rangers
,
Minnesota Wild
,
Pittsburgh Penguins
,
Arizona Coyotes
Are we really still in August? Hands up who thinks the season starts on time. Anyone? No one? Ok, let's just muse a little. I read this about the CBA discussions on Wednesday: "The league's Tuesday proposal didn't address team revenue sharing". I can't imagine which owners must be the drivers behind this area; *cough* Ed Snider *cough*… A reason for optimism regarding the Rangers future is the recent, sustained ability to find unwanted players around the league and make them useful roster parts. No one will miss John Mitchell or Steve Eminger and certainly no one will miss Erik Christensen going forward. Perhaps no one will notice next season when Stu Bickel mows through the press box buffet offerings but the Rangers continue to find players for almost little cost that contribute to the team. It's not always about high draft picks or spectacular trades it's about the hidden gems and unheralded players a team uncovers. Ask Dan Girardi. Paging Michael Del Zotto….. Just a thought: Is there a direct highway/passage/tunnel from Wisconsin University to Madison Square Garden? If Carl Hagelin manages to work his way on to the top six next season is it because he's stepped up in the face of the competition or because someone has underperformed? There appears to be brutal competition for elusive top six ice time, but I'm an optimist – if he gets legitimate ice time with the big boys it's because he's earned it. I wonder if Steve Eminger – didn't think I'd name him twice in an article ever again – will have to move to Europe to continue his career. Beset by injury and 'homeless', I don't see a fit for the now former Ranger. Calder trophy time; if previous Rangers winners are any indication of or omen for a successful career let's will Chris Kreider to the trophy. Among previous Ranger winners are Brian Leetch (obviously) in 1989, Steve Vickers, Gump Worsley, Camille Henry and Edgar Laparade. That's a pretty impressive roll call of players.  Has a Ranger prospect had a better chance than Kreider since Leetch? Possibly not One interesting aspect for Rangers fans to watch this summer is whether, thanks to the CBA discussions, any Rangers players sign on for foreign teams in the next few weeks. Rick Nash and his agent have already denied reports he'll return to Switzerland but if the CBA drags out it wouldn't be a surprise to see many players confirm back up plans in case of work stoppages. By all accounts Evgeni Malkin is talking to Russian clubs so players are clearly thinking down these lines. Would you follow the progress of the Rangers players abroad? If the CBA cuts into the preseason, the NFL preseason teaches us one thing: it is a farce and isn't needed. Hardly any first teamers, games of no consequence and with training camps and large coaching teams on hand, do professional sports teams even need long pre-seasons anymore? The point is this; worry less about September 15th deadline than the actual regular season kick off date. Apparently Shane Doan's decision on where he'll sign is coming early September. I'm not sure I care anymore. I really don't see the Rangers as a legitimate option unless he leaves millions on the table. Question Time:
Would you like Doan on the Rangers if it meant eating into prospects' ice time?
How many games (based on a full season) will Henrik Lundqvist start?
How many 50 point scorers will the Rangers have?
Would you invite a guy like Alexei Kovalev to camp as a try out?
Which former Ranger will be a bigger thorn in the Rangers' side this season?
Will the Rangers have a 10 goal defenseman this year?
Rangers' powerplay: top ten or underperform?
Original Story:
http://www.blueseatblogs.com/2012/08/...
THE BACKYARD
BEST OF MAXIM
RELATED ARTICLES
In case you didn't know already, Sean Avery is retiring from hockey. Because he didn't say it a few months ago. And it hadn't been repeated since then. But he felt it necessary to repeat it on Q104 on Thursday morning to make it "official." Because saying it at least twice before wasn't making it "official" [...]
No question, the Rangers made a huge splash this summer with the acquisition of Rick Nash. Thanks to the move the Rangers find themselves with more (legitimate) elite talent than they have had in well over a decade but at some stage even top line players need offensive support. Even the dominant Edmonton Oilers of the 1980's had role players step up when needed. With the loss of...
During trying times of emptiness and pessimism like the current CBA holdout period, it's understandable for Ranger fans - correction: sports fans - to get very disillusioned with the pro athletes we so revere and admire. For hockey fans around the globe, discussions that once were excitable about how much we enjoy their play, their commitment, their passion and their fire...
Sean Avery went on New York's Q104.3 yesterday morning and officially announced his retirement. He also said this about the Rangers loss to the Devils in the Eastern Conference Semi-Finals last season..."The New York Rangers would have beaten the New Jersey Devils if Sean Avery was on the team this year."Here's full interview......there's been a lot of ups and...
Henrik Lundqvist told Expressen that he'll stay in NA for the fall. If lockout cancels the whole season, he wants to play for Frölunda. #NHL— Matias Strozyk (@MaStrozyk) August 29, 2012 ...while I hate the idea of Lundqvist possibly being injured playing for a Swedish elite league team, I guess the guy has to stay in shape somehow....and please kill me if the entire season...
The NHL and NHLPA held multiple extensive meetings yesterday in New York City and the NHL made its first counter-proposal to the players. As part of the NHL's proposal, the salary cap for the 2012-2013 season would drop down to $58 million. From TSN's Darren Dreger: "The cap for 2012-13 - projected to be $70.2 million under the existing CBA - would be cut to a fixed...
From Stan Fischler at MSGNetwork.com: "We're ready," Tortorella told me, sounding very much like he'd like to open camp in about two seconds. "Camp is set for the 21st (of September) and I'm enthused." He should be; with an impressive crop of maturing Whiz Kids such as Derek Stepan, Carl Hagelin and Chris Kreider, Torts' challenge will...
Jess Rubenstein at The Prospect Park says this is a big year for Rangers prospect Shane McColgan (2011 - 5th), who was traded from Kelowna Rockets to the Saskatoon Blades of the WHL this offseason because he has not lived up to expectations..."The Blades traded for McColgan to give them an experienced scorer who adds grit and a willingness to work hard but they also need McColgan...
NHL News

Delivered to your inbox

You'll also receive Yardbarker's daily Top 10, featuring the best sports stories from around the web. Customize your newsletter to get articles on your favorite sports and teams. And the best part? It's free!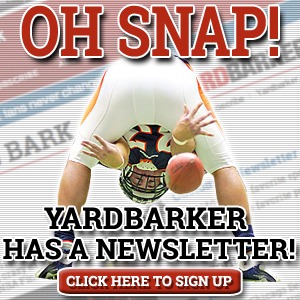 Latest Rumors
Best of Yardbarker

Today's Best Stuff

For Bloggers

Join the Yardbarker Network for more promotion, traffic, and money.

Company Info

Help

What is Yardbarker?

Yardbarker is the largest network of sports blogs and pro athlete blogs on the web. This site is the hub of the Yardbarker Network, where our editors and algorithms curate the best sports content from our network and beyond.