Found November 20, 2012 on Blue Seat Blogs:
PLAYERS:
Jeremy Jacobs
,
Stu Bickel
,
Steve Eminger
,
Anton Stralman
,
Matt Gilroy
,
Logan Pyett
,
Sean Collins
,
Chris Kreider
,
Carl Hagelin
,
Ryan Callahan
,
Rick Nash
,
Brad Richards
,
Marian Gaborik
,
Derek Stepan
TEAMS:
New York Rangers
,
Ottawa Senators
Today is one of those days where I have way too many thoughts about the Rangers in my head, so you are getting them in bullet point form. It's a musings, but more of a disjointed musings from a very tired Dave. It's going to be really interesting to see how fans react if and when the season resumes. I, like many others, refuse to attend a game with my own money –I'll go if someone buys me a ticket– because of the way the league and the players have ignored the fans. Yes, both sides have ignored the fans. While I largely believe the owners –mainly Jeremy Jacobs– are the main reason for the lockout, both sides have lied to the fans. Fans come first? Yea, right. One more lockout note: For the fans that do attend games, if there isn't a "Fire Bettman" chant in every single arena on opening night, then I will be incredibly disappointed. There comes a time when someone needs to go, and now is that time. Ok, I lied, one more lockout quip. If the NHL thinks they can lure fans back with a stupid image on the ice that says "Thank You Fans!" like they did in 2005, then they are sorely mistaken. They will need to give us something. Free NHL Center Ice for this season –and maybe next season– is a start. Now on to the Rangers. It's going to be interesting to see how the Rangers piece together their bottom defense pairing. Stu Bickel is a lock for a spot. Steve Eminger and Anton Stralman are as well. Add in the usual players (MDZ, Staal, Girardi, McDonagh), and that's already seven guys. Matt Gilroy is in Connecticut on an AHL contract. Will he sign an NHL deal? Will he play for the Whale, knowing he's #8 on the depth chart? What if someone like Logan Pyett or Sean Collins gets a call up first? It's going to be very interesting to see how Slats and Torts play this out. Chris Kreider is the Rangers super prospect, and many already have him pegged to win the Calder Trophy. But Torts generally plays his rookies on the third line to ease them into NHL playing time, which severely limits their ice time and scoring potential. Conventional wisdom suggests that Kreider would follow suit, but he's already played top line minutes in the playoffs. If Kreider does make the top-six, who gets sent to the third line? It's a choice between Carl Hagelin or Ryan Callahan. The super trio of Rick Nash, Brad Richards, and Marian Gaborik –who will be healed by the time the season starts– are guaranteed top six spots, as is Derek Stepan. In actuality, the Rangers have seven players capable of playing on the top six. That's not exactly a bad problem to have. This is actually the first time the Rangers have multiple options for their top six forwards. For every season since the lockout, the question has always been about rounding out the bottom six forwards. Those are actually set (Hagelin/Cally, Boyle, Pyatt, Asham, Rupp, Halpern, Haley). For those that have been begging for depth, here is your depth. It's pretty solid. Ok, maybe this wasn't disjointed at all. Tweet
Original Story:
http://www.blueseatblogs.com/2012/11/...
THE BACKYARD
BEST OF MAXIM
RELATED ARTICLES
Per Andrey Osadchenko, who covers the KHL, Ryan McDonagh is on his way home, as he has been granted a leave of absence from Barys to deal with personal issues and an injury. Pat Leonard has additional information, noting that the injury is not believed to be serious. McDonagh would be the third Rangers roster player to suffer a minor injury while playing overseas. Rick Nash suffered...
Uh oh...RT @aosadchenko Ryan McDonagh leaves Barys until int. break in December because of family reasons & to recover from an injury. #KHL — Laurie Carr (@byndblueshirts) November 20, 2012 ...UGH!!!!!! Can we please get a CBA agreeent done now!!!!!!!!!!!!!!!!!!!!!!!! Speaking of injured Rangers playing overseas, Mattias Ek at Hockey Expressen reports that Carl...
Ryan McDonagh back from Barys Astana #KHL w no serious injuries- minor bumps/bruises. Astana gr8 spot & thankful 4 chance play @ high level.— Ben Hankinson (@benhankinson) November 21, 2012 Hankinson is McDonagh's agent. ...good to have you back Ryan. Maybe the reason he returned so soon is because he's heard something encouraging regarding CBA talks. H/T to...
I guess Chris Kreider's hard work has finally paid off as he scored the game tying goal on the power play in the CT Whale' 2-1 win over Worcester last night (1:41 mark)... It was just Kreider's second goal in 13 games. ...got to love Kreider going to the net and getting dirty to score. ...Bourque's game winning goal was an amazing individual effort...
Hit the ice today for the first time in a while, no better feeling. — Dylan McIlrath (@dylan_mcilrath) November 19, 2012 ...welcome back Mac Truck! ...McIlrath probably won't be ready to play until January. And while it's unfortunate he missed so much time, he'll still have a solid three months to play and learn under Beukeboom. Hopefully the Whale can qualify...
Rose over at The Henrik Lundqvist Blog has this great pic of "The King" on the cover of King Magazine... ...how so very appropriate. Speaking of Lundqvist, Rose also has his thoughts on the lockout... "I feel lost and weird mentally. I feel lost. For the first time since I was seven, I do not play hockey in November." ...i think we're...
If you've been frequenting this blog for a while, then you know that we aren't exactly fans of the plus/minus statistic. It's useful in some cases, especially when measuring some prospect's defensive value when they are in a shutdown role (Sam Noreau and Peter Ceresnak come to mind here). But at the NHL level, when other metrics are readily available, the plus/minus stat...
NHL News

Delivered to your inbox

You'll also receive Yardbarker's daily Top 10, featuring the best sports stories from around the web. Customize your newsletter to get articles on your favorite sports and teams. And the best part? It's free!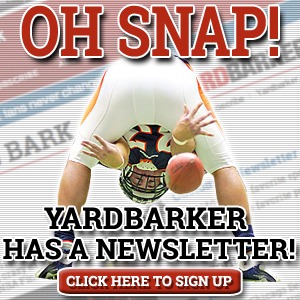 Latest Rumors
Best of Yardbarker

Today's Best Stuff

For Bloggers

Join the Yardbarker Network for more promotion, traffic, and money.

Company Info

Help

What is Yardbarker?

Yardbarker is the largest network of sports blogs and pro athlete blogs on the web. This site is the hub of the Yardbarker Network, where our editors and algorithms curate the best sports content from our network and beyond.