Found August 02, 2012 on Blue Seat Blogs:
PLAYERS:
John Tavares
,
Anton Stralman
,
Tim Erixon
,
Rick Nash
,
Ryan Callahan
,
Peter Laviolette
,
Carl Hagelin
,
Glen Sather
,
Brandon Prust
,
Michael Sauer
,
Chris Kreider
TEAMS:
New York Islanders
,
New York Rangers
,
Philadelphia Flyers
,
Montreal Canadiens
It truly is the low point of the off season. The Rangers are quiet, at least publicly, and attention around the league is primarily focussed on the CBA talks. There are still a few things we can talk about though so welcome to another musings. Jump on in. The Hockey News wrote an article recently on why the North West division is the league's worst. It got me thinking again about the Atlantic. It is comfortably the best in the league in my humble opinion. It's full of depth, big market teams and is stacked with superstar, marquee names including the division worst Islanders if you respect John Tavares' ability like I do. Given how tough the Atlantic is it really puts the Rangers' last season performance in greater context. Just to recap on the Anton Stralman contract; he recently signed a 2 year $3.4m contract. While I think he has a fair bit of room for improvement when you look at what other defensemen signed for this summer, its good value for a player that got better as the year progressed and who is still very young. Stralman could realistically be a 30 point player for the Rangers and if he hits that number then 1.7m/year is a bargain. Dubi watch: I think he hits 25 goals as a Blue Jacket next year. He'll rebound and make himself a valuable commodity once again. The Rangers will still have won the trade however and I don't think Dubinsky will be a Jacket long term. Tim Erixon on the other hand, has it tough. He's clearly a big talent but Columbus actually has quite a bit of talent on the back end and it's by no means certain he starts on opening night (whenever that may be). If Erixon struggles to establish himself next year the Nash trade looks even better for the Rangers. First Rangers prediction for next year: they'll have two 30 goal scorers: Rick Nash and Ryan Callahan. I'd pencil Gaborik in too if he was healthy to start the year. (Side note: who can tell me the last time the Rangers had 3 30 goal scorers in one year?) We've seen several coaches get new contracts this past few months with the latest being Peter Laviolette in Philly. I wonder if Tortorella gets a new deal. I know he signed a three year deal in April 2011 but after the brilliant season the team just enjoyed I'm sure they don't want him reaching the end of the upcoming season with just one year left on his deal. No unnecessary distractions. Given the additional depth up front for the Rangers (the regular season with Kreider, adding Nash et al) I wonder if Carl Hagelin can even 'just' replicate his 38 point, 14 goal rookie season, achieved in 64 games. I think it will be tough for the Swede but he is a player that shouldn't solely be judged on numbers. His speed is a game changing dynamic and he can play up and down the line up giving the team great flexibility. If I were Glen Sather I'd have an eye toward the future and be looking to move Mats Zuccarello for a draft pick. Clubs like Detroit who aren't afraid to use small forwards, who missed out on several targets this offseason and who are looking to add offense would probably throw a conditional pick to the Rangers for the talented winger who clearly has no future with the Rangers. Even a mid-round pick would be worth it given the Rangers draft success in recent times. Question Time:
Who scores more goals for their new team: Brandon Prust or Aaron Asham
Michael Sauer: over or under 50 games played this coming season?
Who scores more points on the blueline, McDonagh, Del Zotto or another?
Will Chris Kreider break the twenty goal barrier as a rookie?
How many Rangers will break the 70 point barrier?
Original Story:
http://www.blueseatblogs.com/2012/08/...
THE BACKYARD
BEST OF MAXIM
RELATED ARTICLES
Recent reports from radio color commentator Dave Maloney and from Jess Rubenstein at The Prospect Park that Michael Sauer has made "tremendous progress" have added to what has been a spectacular late-July for the New York Rangers. Though Tim Erixon was a necessary piece to acquire Rick Nash, trading him left the Blueshirts woefully thin on the blueline.  The top-four of Ryan...
After all the Rick Nash hullabaloo has now calmed down, here's the final part of the greatest European Rangers series. It's subjective and meant for debate and how much one man's opinion truly matters is really open for debate. Some players like Ulf Samuelsson and Radek Dvorak don't make the debate, some people may disagree but that's the beauty of lists like this.  Anyway...
Pretty much everyone knows that I'm a big Stu Bickel fan. While he may not have had a spectacular rookie season with the Rangers last season, he won my heart. He showed that with grit and determination, he could play in the NHL (longer than most had expected him to).  But his rookie season wasn't [...]
Now that the free agency period has more or less passed, Bovada, the sports betting agency in Las Vegas, has adjusted its odds for the NHL. And after adding Rick Nash (along with some other role players), the Rangers have jumped up all the way to second on the list, trailing only Atlantic Division rival Pittsburgh, who sits at 8/1. The Rangers, previously 7th at 12/1 odds, now sit...
Chris Peters over at The United States of Hockey breaks down the 17 American defensemen that will be looking to make the cut during the U.S. National Junior Evaluation Camp which kicks off in Lake Placid, N.Y. on Saturday, including Rangers 2012 first round pick Brady Skjei..."There's not a better skater among the defensemen in camp and that's going to be a key tool...
While I was away on vacation last week, the New York Rangers and Columbus Blue Jackets decided to do a little transferring of players. Even if I was here, I probably wouldn't have written anything until now. That's commitment! The Rangers acquired Rick Nash, someone they were rumored to be pursuing months ago leading up to their playoff run, along with Steve Delisle, in exchange...
If reports are to be believed, Shane Doan is currently seeking a four-year contract worth around $30 million if and when he concludes remaining in Phoenix is no longer a desirable scenario. A deal of that magnitude would call for a salary cap expenditure of $7.5 million annually. Doan will be 36 by the start [...]
Most Rangers fans were relatively unconcerned when the team parted with its 2013 first-round pick to help acquire Rick Nash.  They recognized that the pick was likely to fall late in the 20s, giving it less value, and that New York's farm system is already stocked with top tier prospects, making the pick less important to the club than it might have been a couple years ago. The...
With Rick Nash in the mix, there appears to be only one more target for the Rangers, and that is Shane Doan. Adding Doan to the club would solidify the Rangers depth at forward, making them true Stanley Cup contenders, and possibly the Cup favorites come October. Since the Phoenix ownership situation is still up in the air, Doan has already begun shopping his services, which included...
Today marks the beginning of August, which is most often the very worst month of the year for hockey fans. Most of the major transactions, as well as the minor ones, go down in July in the weeks that follow the opening of free agency, and then the fire dies down to a small flame come August. There's an extremely small chance we a see a move of the magnitude or larger than that...
NHL News

Delivered to your inbox

You'll also receive Yardbarker's daily Top 10, featuring the best sports stories from around the web. Customize your newsletter to get articles on your favorite sports and teams. And the best part? It's free!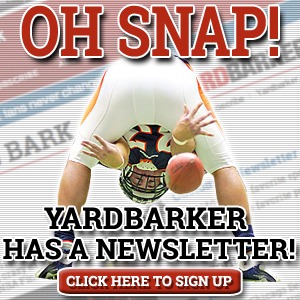 Latest Rumors
Best of Yardbarker

Today's Best Stuff

For Bloggers

Join the Yardbarker Network for more promotion, traffic, and money.

Company Info

Help

What is Yardbarker?

Yardbarker is the largest network of sports blogs and pro athlete blogs on the web. This site is the hub of the Yardbarker Network, where our editors and algorithms curate the best sports content from our network and beyond.