Found April 19, 2012 on Blue Seat Blogs:
PLAYERS:
Mark Messier
,
Ryan McDonagh
,
Ruslan Fedotenko
,
Craig Anderson
,
Marian Gaborik
,
Brad Richards
,
Derek Stepan
,
Carl Hagelin
,
Brandon Dubinsky
,
Artem Anisimov
,
Chris Kreider
,
John Tortorella
,
Michael Del Zotto
TEAMS:
New York Rangers
,
Ottawa Senators
So the Rangers lost another heartbreaker last night in overtime. It's their second loss to the Senators in the series, both coming in overtime. The fan base is on edge, and for good reason. The Senators are a good team, and a team that the Rangers do not match up well against. It's going to be a stressful series, that's for sure. But enough of that, let's get to the musings for the day. I'm in the process of reading a book called "Losing the Edge: The Rise and Fall of the Stanley Cup Champion New York Rangers", and there was a great quote in the book, from none other than Mark Messier:
"Leadership isn't about the win, it's about how you rebound after the loss."
This statement is more true now, in this series, than ever before. The Rangers have more leaders on this team with Cup experience than the Senators. It's time for the leaders to take charge. In fact, one of the leaders –Mike Rupp– almost won the game for the Rangers in overtime with his forecheck in the Senators zone.  People still rip on Rupp for no reason whatsoever. Maybe it's the contract, but I get the sense that it's a feeling of "he doesn't do anything for this club." That is so false, it pains me every time I see it. Hockey is more than goals and assists. It's about dirty work, especially playoff hockey. Speaking of playoff hockey, is last night's game what we are reduced to? There were a toal of 12 penalties last night totaling 24 PIMs. Some were legitimate calls, but I can point to two penalties, one per team, that were questionable at best. Ryan McDonagh's "trip" on Zenon Kenopka in the first period and Zach Smith's "interference" on Ruslan Fedotenko in the second period were very iffy calls. But such is the life after a dirty first two games. The refs aren't going to allow this stuff to fly. This is now a special teams series, and that makes most people nervous. With a special teams series comes powerplay discussion, and the first two Ranger powerplays were perfect. Not perfect in the sense that they looked good, perfect in the sense that they actually put pucks on net and exploited weaknesses in Craig Anderson. Justin said it best when he noted that Anderson's rebound control and lateral movement are big weaknesses, and the Rangers exploited that on the first two goals. They got shots on net on the powerplay, and capitalized. The rest of the powerplays were spent passing the puck and not getting enough pucks on net. You can't score if you don't shoot. On to the scoring issue, the Rangers need to get contributions from other people on this roster. People are falsely pointing to Marian Gaborik and Brad Richards, but they both have a goal and two assists, and are tied for the team lead in points (with five others). The players that need to pick it up are the ones that the Rangers leaned on for secondary scoring all season: Derek Stepan, Carl Hagelin (when he comes back), Michael Del Zotto, and Brandon Dubinsky. Even Artem Anisimov has three points (all assists). The Rangers need to start getting full team contributions. My Twitter feed keeps filling up with people asking me if I'm nervous about the series now. I was nervous when the Rangers drew the Senators in the first place. The Senators are a dangerous team that the Rangers do not match up well against. Yes, I predicted Rangers in 5 in my preview because I'm confident the Rangers can win, but the Senators are very capable of pulling the "upset." My Twitter feed is also filled with questions about Chris Kreider's ice time. Why burn the year of his ELC if he's only going to play four minutes a night? Well, last night's game was a bit of an odd one. Kreider played 11 minutes in his first game, all at even strength. It's very obvious that John Tortorella will not play the rookie on special teams. With 24 minutes of special teams play in last night's game, that leaves just 36 minutes of even strength time –not including overtime– for Kreider to get in the game. Take into account the third period and the need to defend the lead, an area where Torts does not necessarily trust Kreider yet, and the kid's playing time gets reduced more. Want Kreider to play more? Stop taking penalties. Quick questions:
Which Ranger needs to step up more – Stepan or Dubinsky?
Are you surprised that Del Zotto is currently the team leader in hits with 16?
Brad Richards has 19 SOG, but only 1 goal. Do you think he will progress back to the mean shooting percentage?
Are you worried about this series?
Original Story:
http://www.blueseatblogs.com/2012/04/...
THE BACKYARD
BEST OF MAXIM
RELATED ARTICLES
The New York Rangers held practice this morning at Madison Square Garden, where they will play Game 5 of their series against the Senators tomorrow night. Per Andrew Gross, head coach John Tortorella kept sniping winger Marian Gaborik and star centerman Brad Richards on separate offensive lines from Wednesday's overtime loss in Ottawa.  This top line that performed so well...
The Connecticut Whale keep adding on the prospects. Yesterday it was J.T. Miller, now it's Sam Noreau. The Rangers 5th round draft pick last year will be joining the Whale for the playoff push. In 58 games with Baie-Comeau Drakkar of the QMJHL, Noreau put up a line of 5-12-17 with 92 PIMs. In eight playoff games, Noreau did not record a point, but had 18 PIMs. Noreau is a big kid...
Per Larry Brooks, Rangers 2011 first round pick J.T. Miller will join the Connecticut Whale for their playoff push this week. Miller joins fellow CHL prospects Shane McColgan, Christian Thomas, Andrew Yogan, and Peter Ceresnak on the Whale, all with ATO's. Of the group, only Ceresnak does not have a professional contract with the Rangers organization. In 62 games with the Plymouth...
When there are seven games allotted to decide a playoff series, momentum often swings many different ways over the course of time. Between games, between periods, between goals and between shifts - it's always changing. This is where the heart of the battle in the postseason lies, and this quarterfinal series between the New York Rangers and Ottawa Senators has seen much of...
The Rangers made it through the regular season by dominating teams at even strength. Their powerplay was nothing to write home about, and it was actually considered the biggest weakness in their game. But now, four games into the series with Ottawa, the Senators have managed to expose the Rangers at even strength. The last even strength goal: Brian Boyle's goal in the third period...
Series: Rangers lead 2-1. NYR Regular Season Leading Scorer: Marian Gaborik (41-35-76) OTT Regular Season Leading Scorer: Jason Spezza (34-50-84) NYR Goaltender: Henrik Lundqvist (62 GS, 1.97 GAA, .931 SV%) OTT Goaltender: Craig Anderson (60 GS, 2.83 GAA, .910 SV%) Rangers Lines (looks like these are the official lines to start the game): Chris Kreider-Brad Richards-Marian Gaborik...
HARTFORD, April 20, 2012:  Connecticut Whale general manager Jim Schoenfeld announced today that the parent New York Rangers have reassigned forward J.T. Miller to the Whale from the Plymouth Whalers of the Ontario Hockey League. Miller, 19, a 6-2, 195-pound native of East Palestine, Ohio, was the Rangers' first-round pick (15th overall) in the 2011 NHL Draft.  In 61 games with...
TONIGHT'S GAME: The Rangers will face-off against the Ottawa Senators tonight at Scotiabank Place (7:30 p.m.; TV: MSG Plus; Radio: Bloomberg Radio), in Game 4 of their Eastern Conference Quarterfinal matchup. The Blueshirts lead the series, 2-1, following a 1-0 win in Game 3 on Monday at Scotiabank Place. The win was New York's 200th [...]
Through the first three games of the Rangers/Senators series, Ottawa's top scorers Jason Spezza and Milan Michalek have combined for just two assists. The reason? Dan Girardi and Ryan McDonagh.Here's Girardi and McDonagh's teammates on their importance to the team's success (via NHL.com)...Brad Richards..."Everybody's had a shot playing against them at different...
Coach John Tortorella tweaked the New York Rangers' top two lines during practice on Friday ahead of Game 5 of the Eastern Conference playoff series against the Ottawa Senators. The series is tied 2-2 after New York's 3-2 overtime loss on Wednesday in Ottawa. After a day off, the Rangers returned to practice on Friday at Madison Square Garden. The Rangers have scored nine...
During the second period last night, Marc Staal nailed Jason Spezza with an unpenalized high hit that forced the Senators center to leave the game for a short while... To watch on YouTube, click here.Here's Staal on the hit (via ESPN NY)..."My read was that he had the puck pulled to the outside. I kind of bit on it and he pulls right back into me and his head...
NHL News

Delivered to your inbox

You'll also receive Yardbarker's daily Top 10, featuring the best sports stories from around the web. Customize your newsletter to get articles on your favorite sports and teams. And the best part? It's free!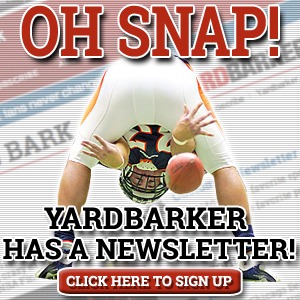 Latest Rumors
Best of Yardbarker

Today's Best Stuff

For Bloggers

Join the Yardbarker Network for more promotion, traffic, and money.

Company Info

Help

What is Yardbarker?

Yardbarker is the largest network of sports blogs and pro athlete blogs on the web. This site is the hub of the Yardbarker Network, where our editors and algorithms curate the best sports content from our network and beyond.